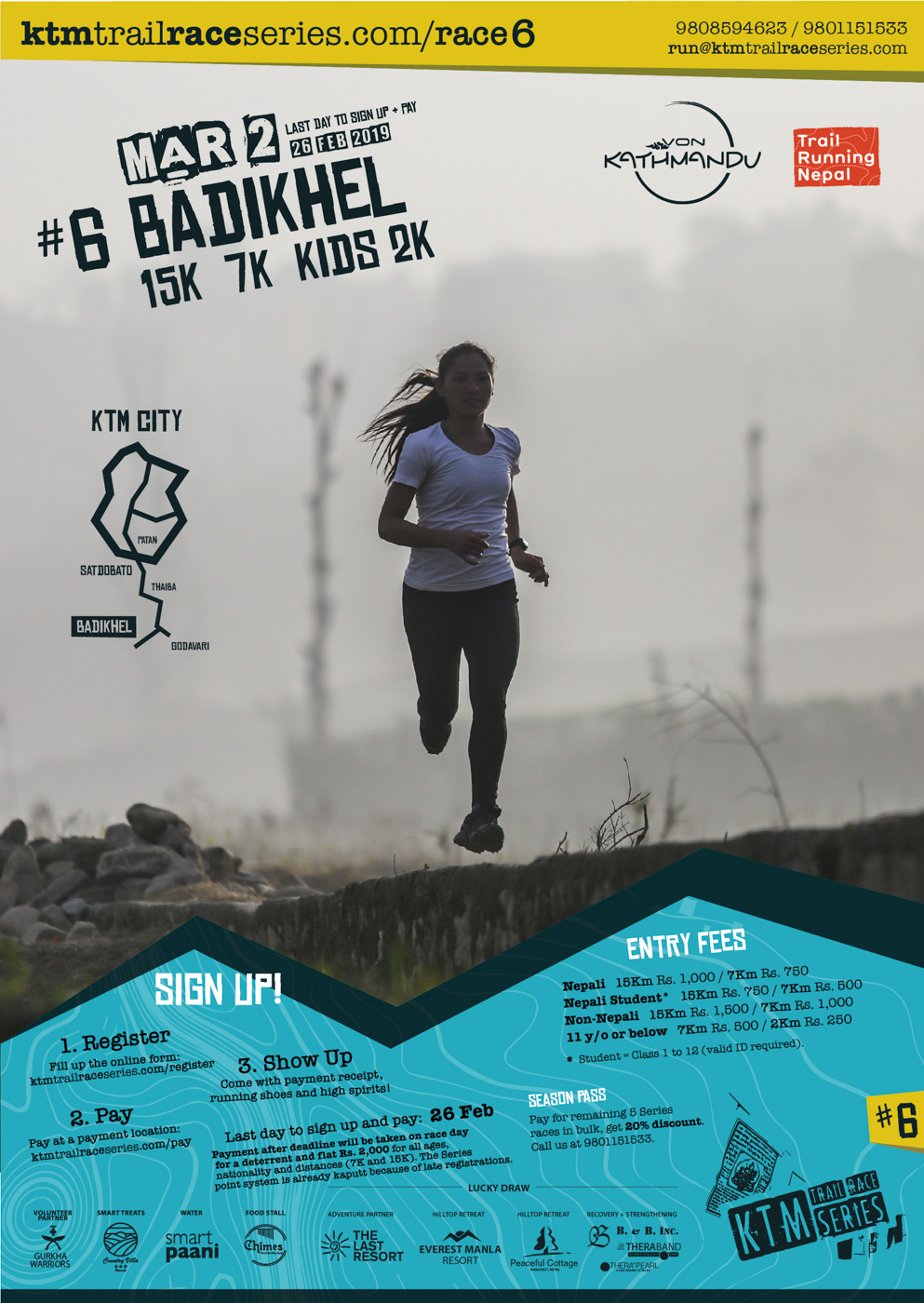 Event Date
March 2, 2019
Venue
Padh Pradashak Vidhyalaya
Located at Badikhel, Lalitpur
Open pin on Google Map
Distances
21K, 12K, 6K and 3K
Observations, updates and note to self
Season Pass B (refundable) introduced to tackle late and on-spot entires.
Flat and deterrent late fees of Rs. 2000 levied to avoid admin issues on race day.
3 additional crew added for bib distribution and admin table.
First instance of zero timing error.
Results and photos published the next day for first time. Results dynamically generated and published on the website (instead of static PDF).
Mandatory bib policy enforced to ensure everybody's safety on the trails.
Race pack available on the website, instead via only email.
Photo sales discontinued - incredibly taxing and time-consuming for admin team.
Lucky draw decommissioned - lack of participant interest.
Trails
242 photos by:
Trails and some finish
150 photos by:
| | |
| --- | --- |
| | Samdup Gurung |
Start and Finish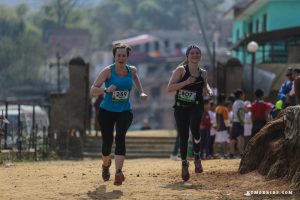 283 photos by:
| | | | |
| --- | --- | --- | --- |
| 84 | | Nepal | |
| 10 | | United States | |
| 9 | | United Kingdom | |
| 8 | | | |
| 6 | | France | |
| 5 | | Australia | |
| 4 | | Denmark | |
| 4 | | Canada | |
| 4 | | Finland | |
| | | | |
| --- | --- | --- | --- |
| 3 | | Norway | |
| 3 | | Netherlands | |
| 2 | | India | |
| 2 | | Germany | |
| 2 | | Costa Rica | |
| 2 | | Colombia | |
| 1 | | Belgium | |
| 1 | | Indonesia | |
| 1 | | Argentina | |
| | | | |
| --- | --- | --- | --- |
| 1 | | Albania | |
| 1 | | Switzerland | |
| 1 | | Uzbekistan | |
| 1 | | Bangladesh | |
| 1 | | Japan | |
| 1 | | Spain | |
| 1 | | Hong Kong S.A.R. | |
15K
Male
17 and below
| | | | | | |
| --- | --- | --- | --- | --- | --- |
| 1 | 521 | | Sunil Tamang | 17 and below | 1:26:19 |
| 2 | 110 | | Amrit Basnet | 17 and below | 1:35:52 |
| 3 | 651 | | Tenzin Tsering Lama | 17 and below | 1:46:25 |
| 4 | 647 | | Subash Rawal | 17 and below | 1:56:13 |
| 5 | 653 | | Tenzin Gyalpo Gurung | 17 and below | 1:58:11 |
| 6 | 280 | | Kushal Lamichhane | 17 and below | 2:10:28 |
| 7 | 642 | | Sabin Dahal | 17 and below | 2:26:21 |
18 to 39
| | | | | | |
| --- | --- | --- | --- | --- | --- |
| 1 | 292 | | Phurpa Singi Tamang | 18 to 39 | 1:19:53 |
| 2 | 288 | | Nor Lama | 18 to 39 | 1:19:55 |
| 3 | 523 | | Bikash Tamang | 18 to 39 | 1:19:59 |
| 4 | 454 | | Giri Ram Rai | 18 to 39 | 1:23:55 |
| 5 | 813 | | Dipesh Joshi | 18 to 39 | 1:26:53 |
| 6 | 221 | | Jeevan Lama | 18 to 39 | 1:29:52 |
| 7 | 2010 | | Prazol Bista | 18 to 39 | 1:32:28 |
| 8 | 808 | | Samuel Johns | 18 to 39 | 1:34:25 |
| 9 | 291 | | Pemba Dorje Tamang | 18 to 39 | 1:34:55 |
| 10 | 564 | | Jonathan Oldenburger | 18 to 39 | 1:40:48 |
| 11 | 552 | | Arjun Bhusal | 18 to 39 | 1:42:36 |
| 12 | 631 | | Ashok Lama | 18 to 39 | 1:49:47 |
| 13 | 245 | | Abishek Rajbahak | 18 to 39 | 1:58:00 |
| 14 | 185 | | Deepak Shah | 18 to 39 | 2:08:02 |
| 15 | 112 | | Shashank Agrawal | 18 to 39 | 2:09:40 |
| 16 | 124 | | Krishna Kumar Maharjan | 18 to 39 | 2:13:20 |
| 17 | 131 | | Ram Gopal Awale | 18 to 39 | 2:14:46 |
| 18 | 774 | | Halvard Lange | 18 to 39 | 2:15:18 |
| 19 | 785 | | Vishwadeep Moktan | 18 to 39 | 2:17:05 |
| 20 | 646 | | Karma Tashi Gurung | 18 to 39 | 2:26:24 |
| 21 | 823 | | Derek Sarchet | 18 to 39 | 2:27:42 |
| 22 | 816 | | Suman Chettri | 18 to 39 | 2:39:08 |
| 23 | 192 | | Hussain Uddin | 18 to 39 | 2:55:20 |
40 and above
| | | | | | |
| --- | --- | --- | --- | --- | --- |
| 1 | 195 | | Damodar Budha Magar | 40 and above | 1:15:26 |
| 2 | 207 | | Simon Castro-Wooldridge | 40 and above | 1:20:03 |
| 3 | 3003 | | Denis | 40 and above | 1:52:17 |
| 4 | 244 | | Richard Mccabe | 40 and above | 1:52:58 |
| 5 | 287 | | Juan Marmol | 40 and above | 2:07:36 |
| 6 | 310 | | Shant Kumar Mehta | 40 and above | 2:10:42 |
| 7 | 168 | | Peter Fleming | 40 and above | 2:13:36 |
| 8 | 272 | | Tom Robertson | 40 and above | 2:13:52 |
| 9 | 305 | | Juha Markus Valta | 40 and above | 2:14:22 |
| 10 | 814 | | Badal Pradhan | 40 and above | 2:16:28 |
| 11 | 826 | | James Delaney | 40 and above | 2:18:34 |
| 12 | 148 | | Nic Raastrup | 40 and above | 2:21:50 |
| 13 | 368 | | Matthew Stinson | 40 and above | 2:34:54 |
| 14 | 570 | | Suman Basnet | 40 and above | 2:39:11 |
| 15 | 777 | | David Entwisle | 40 and above | 2:57:03 |
| 16 | 190 | | Dr. Ganesh Lal Shakya | 40 and above | 3:02:11 |
| 17 | 161 | | Petrit Skenderi | 40 and above | 3:07:53 |
| | | | | | |
| --- | --- | --- | --- | --- | --- |
| 1 | 195 | | Damodar Budha Magar | 40 and above | 1:15:26 |
| 2 | 292 | | Phurpa Singi Tamang | 18 to 39 | 1:19:53 |
| 3 | 288 | | Nor Lama | 18 to 39 | 1:19:55 |
| 4 | 523 | | Bikash Tamang | 18 to 39 | 1:19:59 |
| 5 | 207 | | Simon Castro-Wooldridge | 40 and above | 1:20:03 |
| 6 | 454 | | Giri Ram Rai | 18 to 39 | 1:23:55 |
| 7 | 521 | | Sunil Tamang | 17 and below | 1:26:19 |
| 8 | 813 | | Dipesh Joshi | 18 to 39 | 1:26:53 |
| 9 | 221 | | Jeevan Lama | 18 to 39 | 1:29:52 |
| 10 | 2010 | | Prazol Bista | 18 to 39 | 1:32:28 |
| 11 | 808 | | Samuel Johns | 18 to 39 | 1:34:25 |
| 12 | 291 | | Pemba Dorje Tamang | 18 to 39 | 1:34:55 |
| 13 | 110 | | Amrit Basnet | 17 and below | 1:35:52 |
| 14 | 564 | | Jonathan Oldenburger | 18 to 39 | 1:40:48 |
| 15 | 552 | | Arjun Bhusal | 18 to 39 | 1:42:36 |
| 16 | 651 | | Tenzin Tsering Lama | 17 and below | 1:46:25 |
| 17 | 631 | | Ashok Lama | 18 to 39 | 1:49:47 |
| 18 | 3003 | | Denis | 40 and above | 1:52:17 |
| 19 | 244 | | Richard Mccabe | 40 and above | 1:52:58 |
| 20 | 647 | | Subash Rawal | 17 and below | 1:56:13 |
| 21 | 245 | | Abishek Rajbahak | 18 to 39 | 1:58:00 |
| 22 | 653 | | Tenzin Gyalpo Gurung | 17 and below | 1:58:11 |
| 23 | 287 | | Juan Marmol | 40 and above | 2:07:36 |
| 24 | 185 | | Deepak Shah | 18 to 39 | 2:08:02 |
| 25 | 112 | | Shashank Agrawal | 18 to 39 | 2:09:40 |
| 26 | 280 | | Kushal Lamichhane | 17 and below | 2:10:28 |
| 27 | 310 | | Shant Kumar Mehta | 40 and above | 2:10:42 |
| 28 | 124 | | Krishna Kumar Maharjan | 18 to 39 | 2:13:20 |
| 29 | 168 | | Peter Fleming | 40 and above | 2:13:36 |
| 30 | 272 | | Tom Robertson | 40 and above | 2:13:52 |
| 31 | 305 | | Juha Markus Valta | 40 and above | 2:14:22 |
| 32 | 131 | | Ram Gopal Awale | 18 to 39 | 2:14:46 |
| 33 | 774 | | Halvard Lange | 18 to 39 | 2:15:18 |
| 34 | 814 | | Badal Pradhan | 40 and above | 2:16:28 |
| 35 | 785 | | Vishwadeep Moktan | 18 to 39 | 2:17:05 |
| 36 | 826 | | James Delaney | 40 and above | 2:18:34 |
| 37 | 148 | | Nic Raastrup | 40 and above | 2:21:50 |
| 38 | 642 | | Sabin Dahal | 17 and below | 2:26:21 |
| 39 | 646 | | Karma Tashi Gurung | 18 to 39 | 2:26:24 |
| 40 | 823 | | Derek Sarchet | 18 to 39 | 2:27:42 |
| 41 | 368 | | Matthew Stinson | 40 and above | 2:34:54 |
| 42 | 816 | | Suman Chettri | 18 to 39 | 2:39:08 |
| 43 | 570 | | Suman Basnet | 40 and above | 2:39:11 |
| 44 | 192 | | Hussain Uddin | 18 to 39 | 2:55:20 |
| 45 | 777 | | David Entwisle | 40 and above | 2:57:03 |
| 46 | 190 | | Dr. Ganesh Lal Shakya | 40 and above | 3:02:11 |
| 47 | 161 | | Petrit Skenderi | 40 and above | 3:07:53 |
Female
17 and below
| | | | | | |
| --- | --- | --- | --- | --- | --- |
| 1 | 3005 | | Priya Tamang | 17 and below | 1:40:08 |
| 2 | 196 | | Neeta Lama | 17 and below | 2:03:59 |
18 to 39
| | | | | | |
| --- | --- | --- | --- | --- | --- |
| 1 | 210 | | Humi Budha Magar | 18 to 39 | 1:34:40 |
| 2 | 211 | | Sharada Rai | 18 to 39 | 1:51:12 |
| 3 | 517 | | Claire Swingle | 18 to 39 | 1:53:37 |
| 4 | 815 | | Emily | 18 to 39 | 2:01:50 |
| 5 | 577 | | Mingma Sherpa | 18 to 39 | 2:04:01 |
| 6 | 629 | | Petra Maria Sigrist | 18 to 39 | 2:04:33 |
| 7 | 111 | | Amy Elizabeth Austin | 18 to 39 | 2:08:42 |
| 8 | 304 | | Mathilde Lefebvre | 18 to 39 | 2:09:03 |
| 9 | 579 | | Saideh Samantha Kent | 18 to 39 | 2:09:23 |
| 10 | 811 | | Julia Conley | 18 to 39 | 2:09:32 |
| 11 | 126 | | Gogi Grewal | 18 to 39 | 2:11:12 |
| 12 | 138 | | Nari Blackett | 18 to 39 | 2:21:14 |
| 13 | 130 | | Ruth Mcpake | 18 to 39 | 2:28:50 |
| 14 | 718 | | Anika Fletcher | 18 to 39 | 2:31:41 |
| 15 | 783 | | Philippa Jefferis | 18 to 39 | 2:34:52 |
| 16 | 793 | | Alexandra Wrigley | 18 to 39 | 2:37:28 |
| 17 | 285 | | Inka Koch | 18 to 39 | 3:02:20 |
40 and above
| | | | | | |
| --- | --- | --- | --- | --- | --- |
| 1 | 122 | | Stine Heiselberg | 40 and above | 2:08:53 |
| 2 | 708 | | Edle Hamre | 40 and above | 2:18:27 |
| | | | | | |
| --- | --- | --- | --- | --- | --- |
| 1 | 210 | | Humi Budha Magar | 18 to 39 | 1:34:40 |
| 2 | 3005 | | Priya Tamang | 17 and below | 1:40:08 |
| 3 | 211 | | Sharada Rai | 18 to 39 | 1:51:12 |
| 4 | 517 | | Claire Swingle | 18 to 39 | 1:53:37 |
| 5 | 815 | | Emily | 18 to 39 | 2:01:50 |
| 6 | 196 | | Neeta Lama | 17 and below | 2:03:59 |
| 7 | 577 | | Mingma Sherpa | 18 to 39 | 2:04:01 |
| 8 | 629 | | Petra Maria Sigrist | 18 to 39 | 2:04:33 |
| 9 | 111 | | Amy Elizabeth Austin | 18 to 39 | 2:08:42 |
| 10 | 122 | | Stine Heiselberg | 40 and above | 2:08:53 |
| 11 | 304 | | Mathilde Lefebvre | 18 to 39 | 2:09:03 |
| 12 | 579 | | Saideh Samantha Kent | 18 to 39 | 2:09:23 |
| 13 | 811 | | Julia Conley | 18 to 39 | 2:09:32 |
| 14 | 126 | | Gogi Grewal | 18 to 39 | 2:11:12 |
| 15 | 708 | | Edle Hamre | 40 and above | 2:18:27 |
| 16 | 138 | | Nari Blackett | 18 to 39 | 2:21:14 |
| 17 | 130 | | Ruth Mcpake | 18 to 39 | 2:28:50 |
| 18 | 718 | | Anika Fletcher | 18 to 39 | 2:31:41 |
| 19 | 783 | | Philippa Jefferis | 18 to 39 | 2:34:52 |
| 20 | 793 | | Alexandra Wrigley | 18 to 39 | 2:37:28 |
| 21 | 285 | | Inka Koch | 18 to 39 | 3:02:20 |
7K
Male
17 and below
| | | | | | |
| --- | --- | --- | --- | --- | --- |
| 1 | 648 | | Pasang Tenzin Gurung | 17 and below | 1:04:38 |
| 2 | 3008 | | Oman Pahari | 17 and below | 1:04:48 |
| 3 | 634 | | Norbu Shimizu | 17 and below | 1:04:53 |
| 4 | 649 | | Sujan Gurung | 17 and below | 1:07:30 |
| 5 | 806 | | Molam Wangyal Gurung | 17 and below | 1:08:31 |
| 6 | 654 | | Rinzin Khedup Gurung | 17 and below | 1:09:36 |
| 7 | 805 | | Sonam Gyatso Loptsen | 17 and below | 1:11:33 |
| 8 | 650 | | Dipesh Neupane | 17 and below | 1:24:32 |
| 9 | 652 | | Namgyal Tsering Tamang | 17 and below | 1:24:34 |
| 10 | 526 | | Noa Castro-Wooldridge | 17 and below | 1:48:34 |
| 11 | 216 | | Simon Cams | 17 and below | 2:24:29 |
| 12 | 163 | | Oskar Edwards | 17 and below | 2:24:35 |
| 13 | 753 | | Octavian Bagas Howard | 17 and below | 2:58:13 |
18 to 39
| | | | | | |
| --- | --- | --- | --- | --- | --- |
| 1 | 772 | | Bige Jeremy | 18 to 39 | 0:48:49 |
| 2 | 773 | | Francois Didier Bourret | 18 to 39 | 0:55:26 |
| 3 | 771 | | Aubin Durif | 18 to 39 | 0:55:28 |
| 4 | 722 | | Ujjwal Rai | 18 to 39 | 0:59:51 |
| 5 | 445 | | Shreyansh Sethia | 18 to 39 | 1:04:13 |
| 6 | 320 | | Tyler Mcmahon | 18 to 39 | 1:07:42 |
| 7 | 595 | | Hugh Pennicook | 18 to 39 | 1:09:50 |
| 8 | 584 | | Binay Raj Dangol | 18 to 39 | 1:10:18 |
| 9 | 778 | | Sameer Rana | 18 to 39 | 1:10:53 |
| 10 | 449 | | Sailendra Dongol | 18 to 39 | 1:16:48 |
| 11 | 205 | | Shivam Agrawal | 18 to 39 | 1:19:09 |
| 12 | 360 | | Santosh Nath Karmacharya | 18 to 39 | 1:20:13 |
| 13 | 728 | | Niranjan Kunwar | 18 to 39 | 1:21:21 |
| 14 | 270 | | Sujan Dhoju | 18 to 39 | 1:27:07 |
| 15 | 265 | | Santosh K.C. | 18 to 39 | 1:29:50 |
| 16 | 780 | | Rabindra Khadka | 18 to 39 | 1:34:46 |
| 17 | 786 | | Ashish Shrestha | 18 to 39 | 1:36:09 |
| 18 | 371 | | Suyog Prajapati | 18 to 39 | 2:05:33 |
| 19 | 789 | | Raj Deol | 18 to 39 | 2:20:26 |
| 20 | 548 | | Ragindra Man Rajbhandari | 18 to 39 | 2:27:36 |
40 and above
| | | | | | |
| --- | --- | --- | --- | --- | --- |
| 1 | 203 | | Rushil Shakya | 40 and above | 1:00:02 |
| 2 | 198 | | Joan Casanova | 40 and above | 1:14:39 |
| 3 | 752 | | Richard Stephen Howard | 40 and above | 1:27:58 |
| 4 | 795 | | Anand Subedi | 40 and above | 1:29:14 |
| 5 | 817 | | Michael Kenneth | 40 and above | 1:48:18 |
| 6 | 775 | | Anil Chandrika | 40 and above | 2:33:27 |
| | | | | | |
| --- | --- | --- | --- | --- | --- |
| 1 | 772 | | Bige Jeremy | 18 to 39 | 0:48:49 |
| 2 | 773 | | Francois Didier Bourret | 18 to 39 | 0:55:26 |
| 3 | 771 | | Aubin Durif | 18 to 39 | 0:55:28 |
| 4 | 722 | | Ujjwal Rai | 18 to 39 | 0:59:51 |
| 5 | 203 | | Rushil Shakya | 40 and above | 1:00:02 |
| 6 | 445 | | Shreyansh Sethia | 18 to 39 | 1:04:13 |
| 7 | 648 | | Pasang Tenzin Gurung | 17 and below | 1:04:38 |
| 8 | 3008 | | Oman Pahari | 17 and below | 1:04:48 |
| 9 | 634 | | Norbu Shimizu | 17 and below | 1:04:53 |
| 10 | 649 | | Sujan Gurung | 17 and below | 1:07:30 |
| 11 | 320 | | Tyler Mcmahon | 18 to 39 | 1:07:42 |
| 12 | 806 | | Molam Wangyal Gurung | 17 and below | 1:08:31 |
| 13 | 654 | | Rinzin Khedup Gurung | 17 and below | 1:09:36 |
| 14 | 595 | | Hugh Pennicook | 18 to 39 | 1:09:50 |
| 15 | 584 | | Binay Raj Dangol | 18 to 39 | 1:10:18 |
| 16 | 778 | | Sameer Rana | 18 to 39 | 1:10:53 |
| 17 | 805 | | Sonam Gyatso Loptsen | 17 and below | 1:11:33 |
| 18 | 198 | | Joan Casanova | 40 and above | 1:14:39 |
| 19 | 449 | | Sailendra Dongol | 18 to 39 | 1:16:48 |
| 20 | 205 | | Shivam Agrawal | 18 to 39 | 1:19:09 |
| 21 | 360 | | Santosh Nath Karmacharya | 18 to 39 | 1:20:13 |
| 22 | 728 | | Niranjan Kunwar | 18 to 39 | 1:21:21 |
| 23 | 650 | | Dipesh Neupane | 17 and below | 1:24:32 |
| 24 | 652 | | Namgyal Tsering Tamang | 17 and below | 1:24:34 |
| 25 | 270 | | Sujan Dhoju | 18 to 39 | 1:27:07 |
| 26 | 752 | | Richard Stephen Howard | 40 and above | 1:27:58 |
| 27 | 795 | | Anand Subedi | 40 and above | 1:29:14 |
| 28 | 265 | | Santosh K.C. | 18 to 39 | 1:29:50 |
| 29 | 780 | | Rabindra Khadka | 18 to 39 | 1:34:46 |
| 30 | 786 | | Ashish Shrestha | 18 to 39 | 1:36:09 |
| 31 | 817 | | Michael Kenneth | 40 and above | 1:48:18 |
| 32 | 526 | | Noa Castro-Wooldridge | 17 and below | 1:48:34 |
| 33 | 371 | | Suyog Prajapati | 18 to 39 | 2:05:33 |
| 34 | 789 | | Raj Deol | 18 to 39 | 2:20:26 |
| 35 | 216 | | Simon Cams | 17 and below | 2:24:29 |
| 36 | 163 | | Oskar Edwards | 17 and below | 2:24:35 |
| 37 | 548 | | Ragindra Man Rajbhandari | 18 to 39 | 2:27:36 |
| 38 | 775 | | Anil Chandrika | 40 and above | 2:33:27 |
| 39 | 753 | | Octavian Bagas Howard | 17 and below | 2:58:13 |
Female
17 and below
| | | | | | |
| --- | --- | --- | --- | --- | --- |
| 1 | 522 | | Salina Tamang | 17 and below | 1:08:50 |
| 2 | 655 | | Lhakpa Dolma Sherpa | 17 and below | 1:30:40 |
| 3 | 666 | | Chemi Lhanze Gurung | 17 and below | 1:31:31 |
| 4 | 663 | | Choeten Magar | 17 and below | 1:32:34 |
| 5 | 668 | | Preeti Bika | 17 and below | 1:39:52 |
| 6 | 804 | | Tenzin Dolker Lama | 17 and below | 1:40:02 |
| 7 | 802 | | Dorjee Khando Gurung | 17 and below | 1:43:12 |
| 8 | 662 | | Yeshi Tsomo Gurung | 17 and below | 1:43:58 |
| 9 | 531 | | Pratikshya Adhikari | 17 and below | 1:45:32 |
| 10 | 802 | | Dorjee Khando Gurung | 17 and below | 1:48:22 |
| 11 | 665 | | Dechen Yangzom | 17 and below | 1:50:16 |
| 12 | 667 | | Tsering Yangzin Lama | 17 and below | 1:55:01 |
| 13 | 657 | | Lhamo Gurung | 17 and below | 1:55:04 |
| 14 | 669 | | Asmita Bika | 17 and below | 1:59:05 |
| 15 | 661 | | Samten Lhamu Lama | 17 and below | 1:59:43 |
| 16 | 658 | | Pempa Lhamu Gurung | 17 and below | 2:06:58 |
| 17 | 803 | | Tsering Palzom | 17 and below | 2:08:49 |
| 18 | 656 | | Tenzin Tashi Lama | 17 and below | 2:08:51 |
| 19 | 528 | | Paloma Castro-Wooldridge | 17 and below | 2:45:33 |
18 to 39
| | | | | | |
| --- | --- | --- | --- | --- | --- |
| 1 | 792 | | Hannah Vissers | 18 to 39 | 1:09:46 |
| 2 | 723 | | Manasi Kogekar | 18 to 39 | 1:12:16 |
| 3 | 332 | | Lauren Figuet | 18 to 39 | 1:12:25 |
| 4 | 3004 | | Rakel | 18 to 39 | 1:13:41 |
| 5 | 807 | | Angela Geiger | 18 to 39 | 1:14:21 |
| 6 | 574 | | Aino Efraimsson | 18 to 39 | 1:18:23 |
| 7 | 549 | | Oda Misje Haug | 18 to 39 | 1:18:26 |
| 8 | 782 | | Apurba K.C. | 18 to 39 | 1:19:24 |
| 9 | 799 | | Kunsang Choedon Lama | 18 to 39 | 1:21:32 |
| 10 | 264 | | Linda Ris | 18 to 39 | 1:24:29 |
| 11 | 810 | | Hannah Rodgers | 18 to 39 | 1:28:48 |
| 12 | 3002 | | Lisa | 18 to 39 | 1:35:18 |
| 13 | 311 | | Mamta Mehta | 18 to 39 | 1:35:29 |
| 14 | 134 | | Amy Delamaide | 18 to 39 | 1:51:26 |
| 15 | 450 | | Sevara S Hamzaeva | 18 to 39 | 2:12:07 |
| 16 | 545 | | Kalawati Chand | 18 to 39 | 2:26:43 |
| 17 | 544 | | Durga Kumari Lohar | 18 to 39 | 2:27:31 |
| 18 | 547 | | Drishtant Karki | 18 to 39 | 2:27:33 |
40 and above
| | | | | | |
| --- | --- | --- | --- | --- | --- |
| 1 | 259 | | Mette Nielsen | 40 and above | 1:14:13 |
| 2 | 3001 | | Mani-Sisko Khadgi | 40 and above | 1:19:53 |
| 3 | 474 | | Mamta Gurung | 40 and above | 1:29:45 |
| 4 | 787 | | Sudha Basnet | 40 and above | 1:32:24 |
| 5 | 797 | | Tseten Dolkar | 40 and above | 1:39:37 |
| 6 | 202 | | Luna Ranjit | 40 and above | 1:45:59 |
| 7 | 769 | | Leena Maria Tamang | 40 and above | 2:04:18 |
| 8 | 770 | | Elina Johanna Laiho | 40 and above | 2:04:25 |
| 9 | 540 | | Valerie Julliand | 40 and above | 2:59:25 |
| 10 | 781 | | Paula Castillo | 40 and above | 2:59:30 |
| 11 | 776 | | Carmen Dm Van Heese | 40 and above | 2:59:48 |
| 12 | 781 | | Paula Castillo | 40 and above | 2:59:56 |
| 13 | 776 | | Carmen Dm Van Heese | 40 and above | 3:00:02 |
| 14 | 394 | | Rownak Khan | 40 and above | 3:01:30 |
| | | | | | |
| --- | --- | --- | --- | --- | --- |
| 1 | 522 | | Salina Tamang | 17 and below | 1:08:50 |
| 2 | 792 | | Hannah Vissers | 18 to 39 | 1:09:46 |
| 3 | 723 | | Manasi Kogekar | 18 to 39 | 1:12:16 |
| 4 | 332 | | Lauren Figuet | 18 to 39 | 1:12:25 |
| 5 | 3004 | | Rakel | 18 to 39 | 1:13:41 |
| 6 | 259 | | Mette Nielsen | 40 and above | 1:14:13 |
| 7 | 807 | | Angela Geiger | 18 to 39 | 1:14:21 |
| 8 | 574 | | Aino Efraimsson | 18 to 39 | 1:18:23 |
| 9 | 549 | | Oda Misje Haug | 18 to 39 | 1:18:26 |
| 10 | 782 | | Apurba K.C. | 18 to 39 | 1:19:24 |
| 11 | 3001 | | Mani-Sisko Khadgi | 40 and above | 1:19:53 |
| 12 | 799 | | Kunsang Choedon Lama | 18 to 39 | 1:21:32 |
| 13 | 264 | | Linda Ris | 18 to 39 | 1:24:29 |
| 14 | 810 | | Hannah Rodgers | 18 to 39 | 1:28:48 |
| 15 | 474 | | Mamta Gurung | 40 and above | 1:29:45 |
| 16 | 655 | | Lhakpa Dolma Sherpa | 17 and below | 1:30:40 |
| 17 | 666 | | Chemi Lhanze Gurung | 17 and below | 1:31:31 |
| 18 | 787 | | Sudha Basnet | 40 and above | 1:32:24 |
| 19 | 663 | | Choeten Magar | 17 and below | 1:32:34 |
| 20 | 3002 | | Lisa | 18 to 39 | 1:35:18 |
| 21 | 311 | | Mamta Mehta | 18 to 39 | 1:35:29 |
| 22 | 797 | | Tseten Dolkar | 40 and above | 1:39:37 |
| 23 | 668 | | Preeti Bika | 17 and below | 1:39:52 |
| 24 | 804 | | Tenzin Dolker Lama | 17 and below | 1:40:02 |
| 25 | 802 | | Dorjee Khando Gurung | 17 and below | 1:43:12 |
| 26 | 662 | | Yeshi Tsomo Gurung | 17 and below | 1:43:58 |
| 27 | 531 | | Pratikshya Adhikari | 17 and below | 1:45:32 |
| 28 | 202 | | Luna Ranjit | 40 and above | 1:45:59 |
| 29 | 802 | | Dorjee Khando Gurung | 17 and below | 1:48:22 |
| 30 | 665 | | Dechen Yangzom | 17 and below | 1:50:16 |
| 31 | 134 | | Amy Delamaide | 18 to 39 | 1:51:26 |
| 32 | 667 | | Tsering Yangzin Lama | 17 and below | 1:55:01 |
| 33 | 657 | | Lhamo Gurung | 17 and below | 1:55:04 |
| 34 | 669 | | Asmita Bika | 17 and below | 1:59:05 |
| 35 | 661 | | Samten Lhamu Lama | 17 and below | 1:59:43 |
| 36 | 769 | | Leena Maria Tamang | 40 and above | 2:04:18 |
| 37 | 770 | | Elina Johanna Laiho | 40 and above | 2:04:25 |
| 38 | 658 | | Pempa Lhamu Gurung | 17 and below | 2:06:58 |
| 39 | 803 | | Tsering Palzom | 17 and below | 2:08:49 |
| 40 | 656 | | Tenzin Tashi Lama | 17 and below | 2:08:51 |
| 41 | 450 | | Sevara S Hamzaeva | 18 to 39 | 2:12:07 |
| 42 | 545 | | Kalawati Chand | 18 to 39 | 2:26:43 |
| 43 | 544 | | Durga Kumari Lohar | 18 to 39 | 2:27:31 |
| 44 | 547 | | Drishtant Karki | 18 to 39 | 2:27:33 |
| 45 | 528 | | Paloma Castro-Wooldridge | 17 and below | 2:45:33 |
| 46 | 540 | | Valerie Julliand | 40 and above | 2:59:25 |
| 47 | 781 | | Paula Castillo | 40 and above | 2:59:30 |
| 48 | 776 | | Carmen Dm Van Heese | 40 and above | 2:59:48 |
| 49 | 781 | | Paula Castillo | 40 and above | 2:59:56 |
| 50 | 776 | | Carmen Dm Van Heese | 40 and above | 3:00:02 |
| 51 | 394 | | Rownak Khan | 40 and above | 3:01:30 |