Event Date
March 19, 2022
Venue
Bishnudole Farm House
Located at Mahalaxmi Municipality, Lalitpur
Open pin on Google Map
Distances
21K, 12K, 6K and 3K
Observations, updates and note to self
Start time needs to be shifted an hour, maybe half, early to avoid the midday heat. The trails also need more jungles and shade. But we all know what jungles come with here… more climbs!
Even the timekeeping computer froze in the heat. The irony. We'll get a canopy tent for the laptop.
We had the venue at the top this time, hoping to make the trail less steep and what not, but that meant driving on narrow winding roads. To simplify matters, we'll stick to what we used to do, ie start at the base.
We'll update how the pre-race information is presented on the website. A few people went to the wrong school, several missed the deadline, and a couple of folks came for bus pickup far too late. Speaking of which…
…there was a 25min delay for 10K start, caused by the bus waiting for late arrivals. We might allow a grace time of 10mins sharp. But 25mins? :S
We've gotten a lot of requests for 15K, 7K and 3K, which used to be our original distances. We'll need additional resources for this (admin/marshal/photographer teams, result displays, checkpoints, food, transportation, etc) and thanks to inflation, our breakeven has shifted from 90 to 130. Distances and entry fees will likely be revised in a couple of months.
We'll start revamping marketing and promotions for the race, now that the team and workflow are all set. Please help us spread the word with your contacts and organizations.
Trails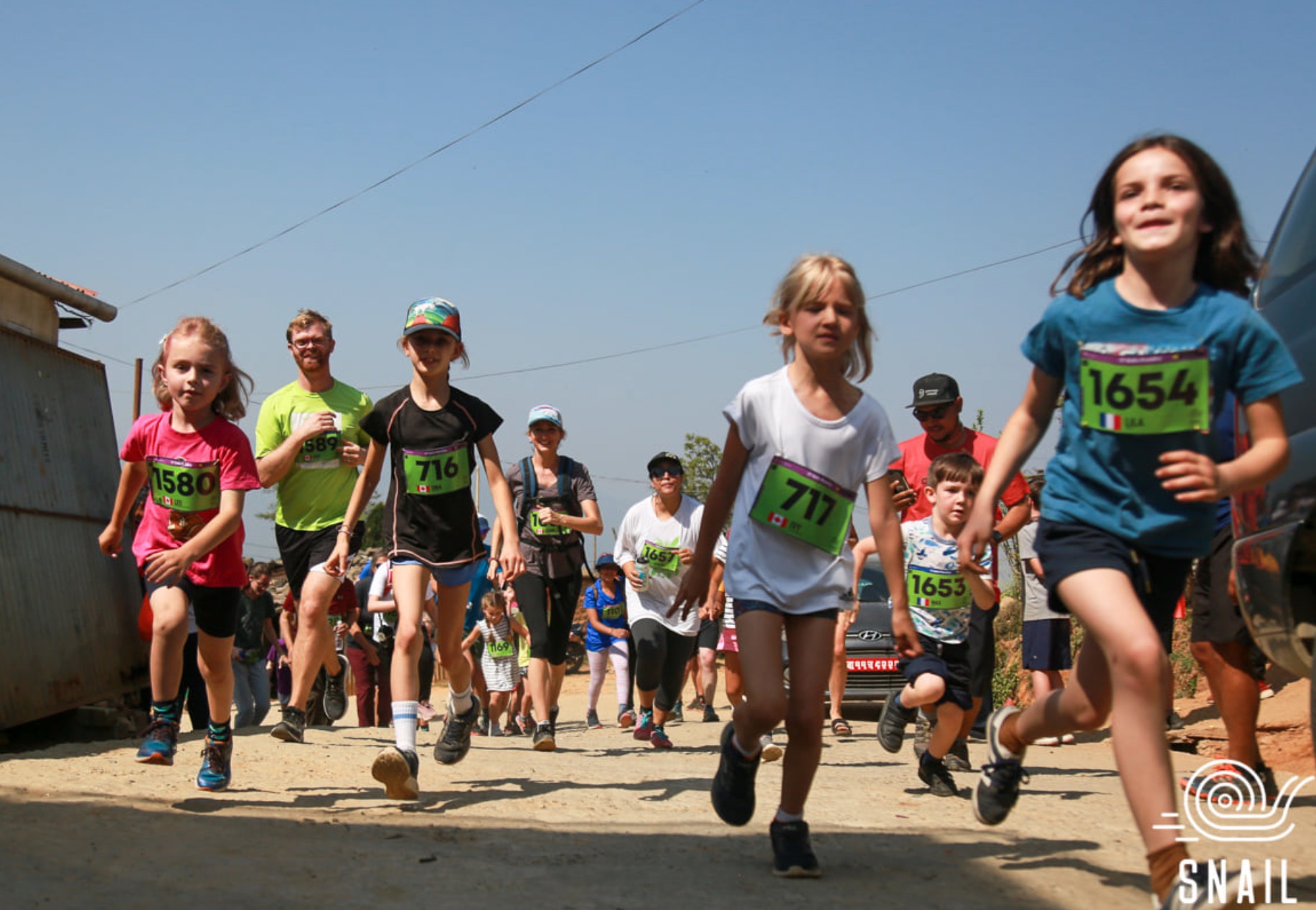 217 photos by:
| | |
| --- | --- |
| | Rakesh Prajapati |
Trails and finish
232 photos by:
| | |
| --- | --- |
| | Jeevan Lama |
| | | | |
| --- | --- | --- | --- |
| 39 | | Nepal | |
| 17 | | United States | |
| 10 | | Canada | |
| 8 | | United Kingdom | |
| 6 | | France | |
| | | | |
| --- | --- | --- | --- |
| 4 | | Indonesia | |
| 3 | | Denmark | |
| 2 | | Bangladesh | |
| 2 | | Germany | |
| 1 | | Italy | |
| | | | |
| --- | --- | --- | --- |
| 1 | | Austria | |
| 1 | | Botswana | |
| 1 | | Netherlands | |
| 1 | | Madagascar | |
| 1 | | Kenya | |
10K
Male
9 to 12
| | | | | | |
| --- | --- | --- | --- | --- | --- |
| 1 | 163 | | Oskar Edwards | 9 to 12 | 3:21:43 |
| 2 | 1630 | | Peter Pandu Setiawan | 9 to 12 | 6:24:04 |
13 to 17
| | | | | | |
| --- | --- | --- | --- | --- | --- |
| 1 | 845 | | Mahatia Syam Rajaofetra | 13 to 17 | 2:29:08 |
| 2 | 1648 | | Budhi Mahardhika Warabrata | 13 to 17 | 6:24:23 |
18 to 39
| | | | | | |
| --- | --- | --- | --- | --- | --- |
| 1 | 1547 | | DeMark Schulze | 18 to 39 | 1:35:21 |
| 2 | 1651 | | Nicolas Marie | 18 to 39 | 1:36:33 |
| 3 | 433 | | Tobias Pantel | 18 to 39 | 1:40:29 |
| 4 | 1567 | | Siddhartha Singh | 18 to 39 | 1:40:35 |
| 5 | 1632 | | Saujan Khapung | 18 to 39 | 1:42:55 |
| 6 | 857 | | Adrien Gobry | 18 to 39 | 1:45:02 |
| 7 | 1633 | | Sumit Khapung | 18 to 39 | 1:51:58 |
| 8 | 1619 | | Rastra Raj Bhandari | 18 to 39 | 1:54:34 |
| 9 | 1655 | | Amish Raj Mulmi | 18 to 39 | 1:58:13 |
| 10 | 1571 | | Saroj Bista | 18 to 39 | 2:01:52 |
| 11 | 192 | | Hussain Bolt Uddin | 18 to 39 | 2:09:54 |
| 12 | 143 | | Bijay Arpit | 18 to 39 | 2:20:10 |
| 13 | 1661 | | Bibhatsu Thapa | 18 to 39 | 2:35:41 |
| 14 | 1644 | | Sunil Acharya | 18 to 39 | 6:24:20 |
40 to 49
| | | | | | |
| --- | --- | --- | --- | --- | --- |
| 1 | 1083 | | David Chalmers | 40 to 49 | 1:09:11 |
| 2 | 155 | | Bibhusan Bista | 40 to 49 | 1:32:26 |
| 3 | 1618 | | Kushal Gurung | 40 to 49 | 1:39:13 |
| 4 | 1093 | | Egbert Pos | 40 to 49 | 1:39:19 |
| 5 | 1660 | | Binay Shrestha | 40 to 49 | 1:40:45 |
| 6 | 732 | | Santosh Shrestha | 40 to 49 | 1:42:23 |
| 7 | 1647 | | Bipin Karki | 40 to 49 | 1:46:16 |
| 8 | 728 | | Niranjan Kunwar | 40 to 49 | 1:51:28 |
| 9 | 1527 | | David Alan Ratliff | 40 to 49 | 2:05:50 |
| 10 | 1645 | | Sanjib Kumar Chaudhary | 40 to 49 | 2:05:56 |
| 11 | 1662 | | Enoki Raj Dali | 40 to 49 | 2:07:26 |
| 12 | 1248 | | Tom Adams | 40 to 49 | 2:33:51 |
| 13 | 1625 | | Budhi Setiawan | 40 to 49 | 6:23:59 |
50 and above
| | | | | | |
| --- | --- | --- | --- | --- | --- |
| 1 | 1068 | | Bernardo Cocco | 50 and above | 1:19:46 |
| 2 | 267 | | Jaddon Park | 50 and above | 1:38:18 |
| 3 | 881 | | Raj Gyawali | 50 and above | 1:50:44 |
| 4 | 272 | | Tom Robertson | 50 and above | 1:52:04 |
| 5 | 190 | | Ganesh Lal Shakya | 50 and above | 1:59:31 |
| 6 | 570 | | Suman Basnet | 50 and above | 2:15:43 |
| 7 | 453 | | Rajesh Maskey | 50 and above | 3:23:45 |
| 8 | 1663 | | Shyam Dhoj Silwal | 50 and above | 6:24:26 |
| | | | | | |
| --- | --- | --- | --- | --- | --- |
| 1 | 1083 | | David Chalmers | 40 to 49 | 1:09:11 |
| 2 | 1068 | | Bernardo Cocco | 50 and above | 1:19:46 |
| 3 | 155 | | Bibhusan Bista | 40 to 49 | 1:32:26 |
| 4 | 1547 | | DeMark Schulze | 18 to 39 | 1:35:21 |
| 5 | 1651 | | Nicolas Marie | 18 to 39 | 1:36:33 |
| 6 | 267 | | Jaddon Park | 50 and above | 1:38:18 |
| 7 | 1618 | | Kushal Gurung | 40 to 49 | 1:39:13 |
| 8 | 1093 | | Egbert Pos | 40 to 49 | 1:39:19 |
| 9 | 433 | | Tobias Pantel | 18 to 39 | 1:40:29 |
| 10 | 1567 | | Siddhartha Singh | 18 to 39 | 1:40:35 |
| 11 | 1660 | | Binay Shrestha | 40 to 49 | 1:40:45 |
| 12 | 732 | | Santosh Shrestha | 40 to 49 | 1:42:23 |
| 13 | 1632 | | Saujan Khapung | 18 to 39 | 1:42:55 |
| 14 | 857 | | Adrien Gobry | 18 to 39 | 1:45:02 |
| 15 | 1647 | | Bipin Karki | 40 to 49 | 1:46:16 |
| 16 | 881 | | Raj Gyawali | 50 and above | 1:50:44 |
| 17 | 728 | | Niranjan Kunwar | 40 to 49 | 1:51:28 |
| 18 | 1633 | | Sumit Khapung | 18 to 39 | 1:51:58 |
| 19 | 272 | | Tom Robertson | 50 and above | 1:52:04 |
| 20 | 1619 | | Rastra Raj Bhandari | 18 to 39 | 1:54:34 |
| 21 | 1655 | | Amish Raj Mulmi | 18 to 39 | 1:58:13 |
| 22 | 190 | | Ganesh Lal Shakya | 50 and above | 1:59:31 |
| 23 | 1571 | | Saroj Bista | 18 to 39 | 2:01:52 |
| 24 | 1527 | | David Alan Ratliff | 40 to 49 | 2:05:50 |
| 25 | 1645 | | Sanjib Kumar Chaudhary | 40 to 49 | 2:05:56 |
| 26 | 1662 | | Enoki Raj Dali | 40 to 49 | 2:07:26 |
| 27 | 192 | | Hussain Bolt Uddin | 18 to 39 | 2:09:54 |
| 28 | 570 | | Suman Basnet | 50 and above | 2:15:43 |
| 29 | 143 | | Bijay Arpit | 18 to 39 | 2:20:10 |
| 30 | 845 | | Mahatia Syam Rajaofetra | 13 to 17 | 2:29:08 |
| 31 | 1248 | | Tom Adams | 40 to 49 | 2:33:51 |
| 32 | 1661 | | Bibhatsu Thapa | 18 to 39 | 2:35:41 |
| 33 | 163 | | Oskar Edwards | 9 to 12 | 3:21:43 |
| 34 | 453 | | Rajesh Maskey | 50 and above | 3:23:45 |
| 35 | 1625 | | Budhi Setiawan | 40 to 49 | 6:23:59 |
| 36 | 1630 | | Peter Pandu Setiawan | 9 to 12 | 6:24:04 |
| 37 | 1644 | | Sunil Acharya | 18 to 39 | 6:24:20 |
| 38 | 1648 | | Budhi Mahardhika Warabrata | 13 to 17 | 6:24:23 |
| 39 | 1663 | | Shyam Dhoj Silwal | 50 and above | 6:24:26 |
Female
9 to 12
| | | | | | |
| --- | --- | --- | --- | --- | --- |
| 1 | 162 | | Freja Edwards | 9 to 12 | 3:23:39 |
| 2 | 452 | | Nala Josephine Maskey | 9 to 12 | 3:23:40 |
18 to 39
| | | | | | |
| --- | --- | --- | --- | --- | --- |
| 1 | 1631 | | Kate Julia Middlebrook | 18 to 39 | 1:47:35 |
| 2 | 1534 | | Lindsay Seuc | 18 to 39 | 1:48:38 |
| 3 | 1167 | | Helen Lydia Craig | 18 to 39 | 1:50:30 |
| 4 | 1659 | | Thatcher N. | 18 to 39 | 1:54:41 |
| 5 | 1595 | | Nilima Rai | 18 to 39 | 2:01:03 |
| 6 | 1649 | | Anna-Marie Bradley | 18 to 39 | 2:05:31 |
| 7 | 1641 | | Amuda Mishra | 18 to 39 | 2:35:35 |
| 8 | 598 | | Smriti Pant | 18 to 39 | 6:23:48 |
| 9 | 1621 | | Monica Manandhar Shrestha | 18 to 39 | 6:23:51 |
| 10 | 1624 | | Saroj Kumari Chaudhary | 18 to 39 | 6:23:57 |
| 11 | 1643 | | Sefina Joshi | 18 to 39 | 6:24:17 |
40 to 49
| | | | | | |
| --- | --- | --- | --- | --- | --- |
| 1 | 1529 | | Carly Anderson-Ratliff | 40 to 49 | 1:41:15 |
| 2 | 485 | | Charu Arjyal | 40 to 49 | 1:43:23 |
| 3 | 122 | | Stine Heiselberg | 40 to 49 | 1:52:00 |
| 4 | 883 | | Birgit Lienhart-Gyawali | 40 to 49 | 2:05:22 |
| 5 | 1622 | | Sama Shahi | 40 to 49 | 6:23:54 |
| 6 | 1626 | | Ester Suryawati | 40 to 49 | 6:24:02 |
| 7 | 1634 | | Jyotsna Pant | 40 to 49 | 6:24:09 |
| 8 | 1636 | | Bontle Keboife | 40 to 49 | 6:24:13 |
50 and above
| | | | | | |
| --- | --- | --- | --- | --- | --- |
| 1 | 1512 | | Sabrina Schmidt-Koschella | 50 and above | 1:51:17 |
| 2 | 1552 | | Anne Stronach Goldie | 50 and above | 1:51:55 |
| 3 | 787 | | Sudha Basnet | 50 and above | 2:15:46 |
| 4 | 1249 | | Hilary Adams | 50 and above | 2:30:44 |
| | | | | | |
| --- | --- | --- | --- | --- | --- |
| 1 | 1529 | | Carly Anderson-Ratliff | 40 to 49 | 1:41:15 |
| 2 | 485 | | Charu Arjyal | 40 to 49 | 1:43:23 |
| 3 | 1631 | | Kate Julia Middlebrook | 18 to 39 | 1:47:35 |
| 4 | 1534 | | Lindsay Seuc | 18 to 39 | 1:48:38 |
| 5 | 1167 | | Helen Lydia Craig | 18 to 39 | 1:50:30 |
| 6 | 1512 | | Sabrina Schmidt-Koschella | 50 and above | 1:51:17 |
| 7 | 1552 | | Anne Stronach Goldie | 50 and above | 1:51:55 |
| 8 | 122 | | Stine Heiselberg | 40 to 49 | 1:52:00 |
| 9 | 1659 | | Thatcher N. | 18 to 39 | 1:54:41 |
| 10 | 1595 | | Nilima Rai | 18 to 39 | 2:01:03 |
| 11 | 883 | | Birgit Lienhart-Gyawali | 40 to 49 | 2:05:22 |
| 12 | 1649 | | Anna-Marie Bradley | 18 to 39 | 2:05:31 |
| 13 | 787 | | Sudha Basnet | 50 and above | 2:15:46 |
| 14 | 1249 | | Hilary Adams | 50 and above | 2:30:44 |
| 15 | 1641 | | Amuda Mishra | 18 to 39 | 2:35:35 |
| 16 | 162 | | Freja Edwards | 9 to 12 | 3:23:39 |
| 17 | 452 | | Nala Josephine Maskey | 9 to 12 | 3:23:40 |
| 18 | 598 | | Smriti Pant | 18 to 39 | 6:23:48 |
| 19 | 1621 | | Monica Manandhar Shrestha | 18 to 39 | 6:23:51 |
| 20 | 1622 | | Sama Shahi | 40 to 49 | 6:23:54 |
| 21 | 1624 | | Saroj Kumari Chaudhary | 18 to 39 | 6:23:57 |
| 22 | 1626 | | Ester Suryawati | 40 to 49 | 6:24:02 |
| 23 | 1634 | | Jyotsna Pant | 40 to 49 | 6:24:09 |
| 24 | 1636 | | Bontle Keboife | 40 to 49 | 6:24:13 |
| 25 | 1643 | | Sefina Joshi | 18 to 39 | 6:24:17 |
3K
Male
8 and below
| | | | | | |
| --- | --- | --- | --- | --- | --- |
| 1 | 1024 | | Raul Chaudhary | 8 and below | 0:18:44 |
| 2 | 1528 | | Finley MacGyver Ratliff | 8 and below | 0:25:20 |
| 3 | 1653 | | Max Marie | 8 and below | 0:32:50 |
| 4 | 1533 | | Elliot Seuc | 8 and below | 0:37:19 |
9 to 12
| | | | | | |
| --- | --- | --- | --- | --- | --- |
| 1 | 987 | | Axel Gobry | 9 to 12 | 0:31:35 |
18 to 39
| | | | | | |
| --- | --- | --- | --- | --- | --- |
| 1 | 1168 | | Richard Marshall Craig | 18 to 39 | 0:48:41 |
40 to 49
| | | | | | |
| --- | --- | --- | --- | --- | --- |
| 1 | 1589 | | Luke Marie Jantzi | 40 to 49 | 0:23:32 |
| 2 | 1628 | | Dipu Shakya | 40 to 49 | 0:42:20 |
| 3 | 1099 | | Mohammad Harun Or Rashid | 40 to 49 | 0:45:48 |
| | | | | | |
| --- | --- | --- | --- | --- | --- |
| 1 | 1024 | | Raul Chaudhary | 8 and below | 0:18:44 |
| 2 | 1589 | | Luke Marie Jantzi | 40 to 49 | 0:23:32 |
| 3 | 1528 | | Finley MacGyver Ratliff | 8 and below | 0:25:20 |
| 4 | 987 | | Axel Gobry | 9 to 12 | 0:31:35 |
| 5 | 1653 | | Max Marie | 8 and below | 0:32:50 |
| 6 | 1533 | | Elliot Seuc | 8 and below | 0:37:19 |
| 7 | 1628 | | Dipu Shakya | 40 to 49 | 0:42:20 |
| 8 | 1099 | | Mohammad Harun Or Rashid | 40 to 49 | 0:45:48 |
| 9 | 1168 | | Richard Marshall Craig | 18 to 39 | 0:48:41 |
Female
8 and below
| | | | | | |
| --- | --- | --- | --- | --- | --- |
| 1 | 1580 | | Leo Jantzi | 8 and below | 0:23:26 |
| 2 | 1654 | | Lila Marie | 8 and below | 0:24:25 |
| 3 | 717 | | Ivy Irma Malcolm | 8 and below | 0:24:28 |
| 4 | 1650 | | Emma Houk | 8 and below | 0:25:43 |
| 5 | 1562 | | Athena Pujari | 8 and below | 0:30:36 |
| 6 | 1532 | | Penelope Seuc | 8 and below | 0:37:14 |
| 7 | 1304 | | Serena Sue Chalmers | 8 and below | 0:40:13 |
| 8 | 1656 | | Ashlesha Tara Shrestha Dongol | 8 and below | 0:41:32 |
| 9 | 1341 | | Amara Chalmers | 8 and below | 0:48:30 |
| 10 | 1169 | | Lily Florence Craig | 8 and below | 0:48:39 |
| 11 | 1581 | | Mirabel Mira Fern Jantzi | 8 and below | 0:48:45 |
| 12 | 1549 | | Poe Schulze | 8 and below | 0:49:42 |
| 13 | 1586 | | Odine Park | 8 and below | 4:39:32 |
9 to 12
| | | | | | |
| --- | --- | --- | --- | --- | --- |
| 1 | 716 | | Una Rose Park | 9 to 12 | 0:25:56 |
| 2 | 1530 | | Annika Medi Ratliff | 9 to 12 | 0:28:45 |
| 3 | 1629 | | Reina Shakya | 9 to 12 | 0:42:22 |
| 4 | 1101 | | Wafia Rashid | 9 to 12 | 0:45:52 |
18 to 39
| | | | | | |
| --- | --- | --- | --- | --- | --- |
| 1 | 1433 | | Michelle Houk | 18 to 39 | 0:25:47 |
| 2 | 1652 | | Camille Hanesse | 18 to 39 | 0:32:55 |
| 3 | 1657 | | Sumeera Shrestha | 18 to 39 | 0:41:36 |
| 4 | 1588 | | Kaitlyn Marie Jantzi | 18 to 39 | 0:49:09 |
| 5 | 1548 | | Colleen O'Donnell | 18 to 39 | 0:49:53 |
40 to 49
| | | | | | |
| --- | --- | --- | --- | --- | --- |
| 1 | 1064 | | Alison Malcolm | 40 to 49 | 0:27:05 |
50 and above
| | | | | | |
| --- | --- | --- | --- | --- | --- |
| 1 | 1640 | | Gloria Kaitlyn Kropf | 50 and above | 0:48:58 |
| | | | | | |
| --- | --- | --- | --- | --- | --- |
| 1 | 1580 | | Leo Jantzi | 8 and below | 0:23:26 |
| 2 | 1654 | | Lila Marie | 8 and below | 0:24:25 |
| 3 | 717 | | Ivy Irma Malcolm | 8 and below | 0:24:28 |
| 4 | 1650 | | Emma Houk | 8 and below | 0:25:43 |
| 5 | 1433 | | Michelle Houk | 18 to 39 | 0:25:47 |
| 6 | 716 | | Una Rose Park | 9 to 12 | 0:25:56 |
| 7 | 1064 | | Alison Malcolm | 40 to 49 | 0:27:05 |
| 8 | 1530 | | Annika Medi Ratliff | 9 to 12 | 0:28:45 |
| 9 | 1562 | | Athena Pujari | 8 and below | 0:30:36 |
| 10 | 1652 | | Camille Hanesse | 18 to 39 | 0:32:55 |
| 11 | 1532 | | Penelope Seuc | 8 and below | 0:37:14 |
| 12 | 1304 | | Serena Sue Chalmers | 8 and below | 0:40:13 |
| 13 | 1656 | | Ashlesha Tara Shrestha Dongol | 8 and below | 0:41:32 |
| 14 | 1657 | | Sumeera Shrestha | 18 to 39 | 0:41:36 |
| 15 | 1629 | | Reina Shakya | 9 to 12 | 0:42:22 |
| 16 | 1101 | | Wafia Rashid | 9 to 12 | 0:45:52 |
| 17 | 1341 | | Amara Chalmers | 8 and below | 0:48:30 |
| 18 | 1169 | | Lily Florence Craig | 8 and below | 0:48:39 |
| 19 | 1581 | | Mirabel Mira Fern Jantzi | 8 and below | 0:48:45 |
| 20 | 1640 | | Gloria Kaitlyn Kropf | 50 and above | 0:48:58 |
| 21 | 1588 | | Kaitlyn Marie Jantzi | 18 to 39 | 0:49:09 |
| 22 | 1549 | | Poe Schulze | 8 and below | 0:49:42 |
| 23 | 1548 | | Colleen O'Donnell | 18 to 39 | 0:49:53 |
| 24 | 1586 | | Odine Park | 8 and below | 4:39:32 |