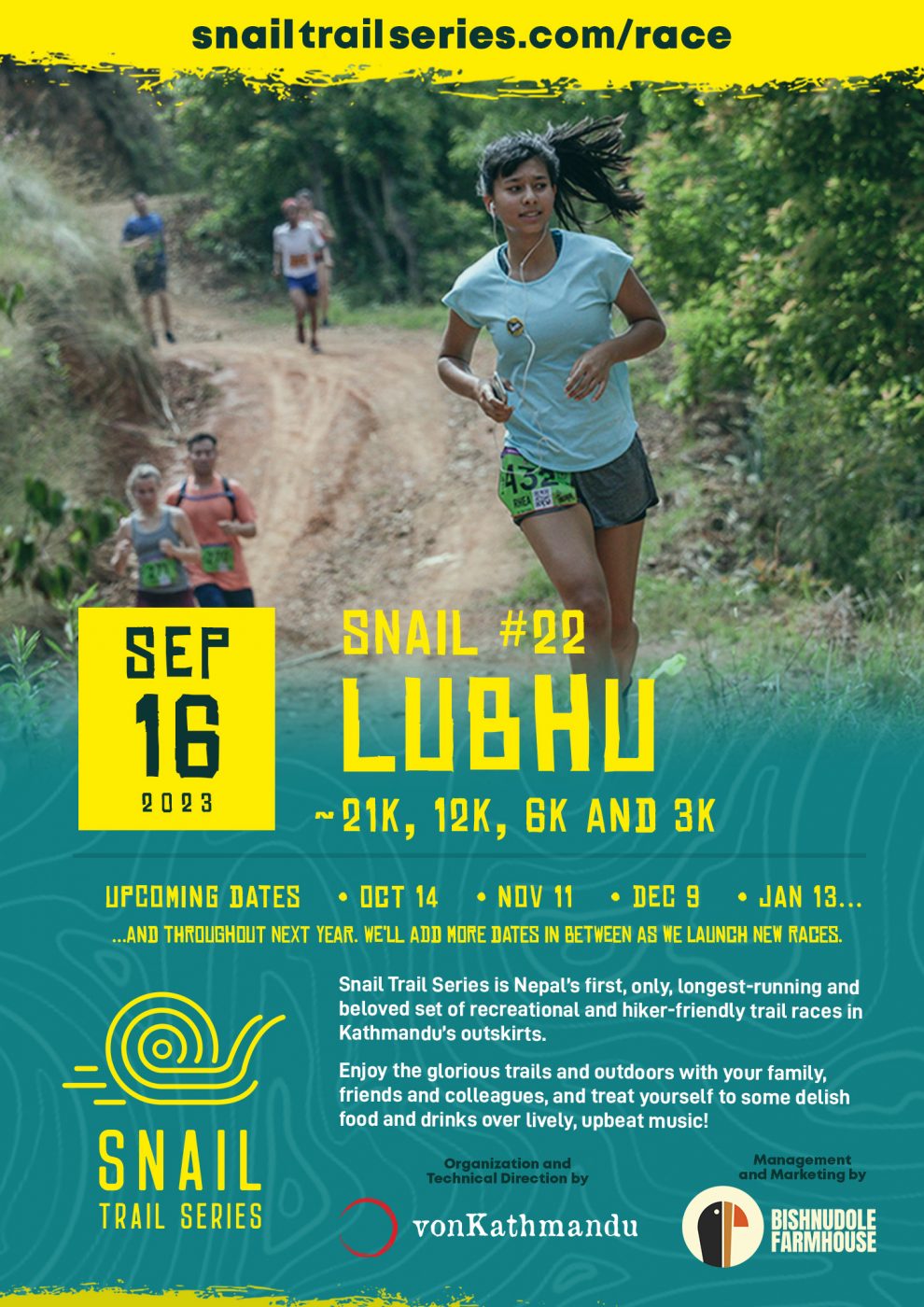 Event Date
September 16, 2023
Venue
Bishnudole Farm House
Located at Mahalaxmi Municipality, Lalitpur
Open pin on Google Map
Distances
21K, 12K, 6K and 3K
Observations, updates and note to self
Each trailmarking ribbon was 3in x 18in (as opposed to 2in x 10in last race) and placed every 30m or so. Wrong and confusing splits were marked with giant red crosses. Bright fluorescent spray used instead of normal spray. Number of people lost/DNF on trails down to only one.
Prepare bib, waivers and medals by Thursday afternoon. Thanks to Michelle and the Houks for volunteering to finish preparing medals on race day, which made change in award ceremony time possible.
3K and 6K medal ceremony to be done separately at ~10:15am; 12K at ~11:15am; and 21K at ~12:15pm. Exact timings to be decided and contingent on starttimes.
Write clearly in bold text and stern language on the website that Snail Trail Series is a fun outdoors event and that any form of yelling, smack talking, pushing, tugging or making demeaning remarks between participants on the trails is unmistakably, strictly forbidden and non-negotiable. Some parents said they experienced this misfortune on 3K distance.
For seamless timekeeping during (multiple) medal ceremonies and mass finishes, set two computers for timekeeping + three people (two for entry and one "bib number shouter"). Thanks to Fernanda P Bochembuzo for being bib number shouter extraordinaire!
Display results on screen, ideally on an interactive device (computer or preferably tablet). A few people left early, not knowing they won a medal. Despite having the software and hardware tech, we didn't get a chance to set up the display this time, to be honest. Just overlooked planning on this end. Hire a dedicated venue crew for this, plus for sticking labels and keeping the premises nice, clean and safe.
...which brings us to the next point: secure the banners. It fell on people a few times, that's a few times too many.
We gave out 3K medals to over-18 categories for the first time. We normally don't, in order to prevent 3K from becoming an overly competitive distance (between parents, sprinters etc). Hope you enjoyed this rare moment! We're trying to think if we should continue this, but safety (and sanity) first.
Set starttime gap of 20mins (instead of 15mins) for all distances. Mobilize two sprinters instead of one (for 21K and 6K; and for 12K and 3K).
Add more trail crew at and near the finish, so people don't get confused on the last approach.
| | | | |
| --- | --- | --- | --- |
| 101 | | Nepal | |
| 20 | | United States | |
| 10 | | Canada | |
| 9 | | France | |
| 5 | | Germany | |
| 5 | | Austria | |
| 4 | | United Kingdom | |
| | | | |
| --- | --- | --- | --- |
| 4 | | Denmark | |
| 3 | | Netherlands | |
| 3 | | India | |
| 3 | | Australia | |
| 2 | | Brazil | |
| 2 | | Switzerland | |
| 1 | | Sri Lanka | |
| | | | |
| --- | --- | --- | --- |
| 1 | | Honduras | |
| 1 | | Czechia | |
| 1 | | Belgium | |
| 1 | | Ireland | |
| 1 | | New Zealand | |
| 1 | | Finland | |
| 1 | | Mongolia | |
21K
Male
18 to 39
| | | | | | |
| --- | --- | --- | --- | --- | --- |
| 1 | 1522 | | David Jamieson | 18 to 39 | 02:16:40 |
| 2 | 5002 | | Janis Idler | 18 to 39 | 02:32:14 |
| 3 | 2027 | | Mathias Adam Maurin | 18 to 39 | 02:36:42 |
| 4 | 1920 | | Tenzing Nuru Sherpa | 18 to 39 | 03:03:34 |
| 5 | 1740 | | Adam Moore | 18 to 39 | 03:05:30 |
| 6 | 1619 | | Rastra Raj Bhandari | 18 to 39 | 03:32:38 |
| 7 | 2026 | | Saral Karki | 18 to 39 | 03:32:42 |
| 8 | 1942 | | Fahd Hassan Sheriff | 18 to 39 | 03:56:55 |
| 9 | 1977 | | Abhishek Dahal | 18 to 39 | 04:40:12 |
40 to 49
| | | | | | |
| --- | --- | --- | --- | --- | --- |
| 1 | 5001 | | Govinda Shah | 40 to 49 | 03:57:05 |
50 to 59
| | | | | | |
| --- | --- | --- | --- | --- | --- |
| 1 | 431 | | Raj Pradhan | 50 to 59 | 02:22:43 |
| 2 | 881 | | Raj Gyawali | 50 to 59 | 04:08:19 |
60 and above
| | | | | | |
| --- | --- | --- | --- | --- | --- |
| 1 | 570 | | Suman Basnet | 60 and above | 03:42:54 |
| 2 | 190 | | Ganesh Lal Shakya | 60 and above | 04:37:49 |
| | | | | | |
| --- | --- | --- | --- | --- | --- |
| 1 | 1522 | | David Jamieson | 18 to 39 | 02:16:40 |
| 2 | 431 | | Raj Pradhan | 50 to 59 | 02:22:43 |
| 3 | 5002 | | Janis Idler | 18 to 39 | 02:32:14 |
| 4 | 2027 | | Mathias Adam Maurin | 18 to 39 | 02:36:42 |
| 5 | 1920 | | Tenzing Nuru Sherpa | 18 to 39 | 03:03:34 |
| 6 | 1740 | | Adam Moore | 18 to 39 | 03:05:30 |
| 7 | 1619 | | Rastra Raj Bhandari | 18 to 39 | 03:32:38 |
| 8 | 2026 | | Saral Karki | 18 to 39 | 03:32:42 |
| 9 | 570 | | Suman Basnet | 60 and above | 03:42:54 |
| 10 | 1942 | | Fahd Hassan Sheriff | 18 to 39 | 03:56:55 |
| 11 | 5001 | | Govinda Shah | 40 to 49 | 03:57:05 |
| 12 | 881 | | Raj Gyawali | 50 to 59 | 04:08:19 |
| 13 | 190 | | Ganesh Lal Shakya | 60 and above | 04:37:49 |
| 14 | 1977 | | Abhishek Dahal | 18 to 39 | 04:40:12 |
Female
18 to 39
| | | | | | |
| --- | --- | --- | --- | --- | --- |
| 1 | 1928 | | Samantha Bishop | 18 to 39 | 03:47:41 |
| 2 | 1927 | | Lorene Sylvie Tonati | 18 to 39 | 04:05:59 |
40 to 49
| | | | | | |
| --- | --- | --- | --- | --- | --- |
| 1 | 122 | | Stine Heiselberg | 40 to 49 | 03:18:22 |
50 to 59
| | | | | | |
| --- | --- | --- | --- | --- | --- |
| 1 | 1512 | | Sabrina Schmidt-Koschella | 50 to 59 | 04:17:24 |
60 and above
| | | | | | |
| --- | --- | --- | --- | --- | --- |
| 1 | 1552 | | Anne Stronach Goldie | 60 and above | 03:47:30 |
| | | | | | |
| --- | --- | --- | --- | --- | --- |
| 1 | 122 | | Stine Heiselberg | 40 to 49 | 03:18:22 |
| 2 | 1552 | | Anne Stronach Goldie | 60 and above | 03:47:30 |
| 3 | 1928 | | Samantha Bishop | 18 to 39 | 03:47:41 |
| 4 | 1927 | | Lorene Sylvie Tonati | 18 to 39 | 04:05:59 |
| 5 | 1512 | | Sabrina Schmidt-Koschella | 50 to 59 | 04:17:24 |
12K
Male
13 to 17
| | | | | | |
| --- | --- | --- | --- | --- | --- |
| 1 | 2041 | | Aaron Draper | 13 to 17 | 01:19:46 |
| 2 | 2006 | | Binay Thapa | 13 to 17 | 01:47:49 |
| 3 | 757 | | Kritarth Bista | 13 to 17 | 02:01:03 |
| 4 | 216 | | Simon Cams | 13 to 17 | 03:05:27 |
| 5 | 163 | | Oskar Edwards | 13 to 17 | 03:05:36 |
18 to 39
| | | | | | |
| --- | --- | --- | --- | --- | --- |
| 1 | 2030 | | Nandan Gupta | 18 to 39 | 01:07:52 |
| 2 | 1727 | | Prashant Shrestha | 18 to 39 | 01:45:50 |
| 3 | 1106 | | Ayaz Ahmad Siddiqi | 18 to 39 | 01:49:53 |
| 4 | 1959 | | Bishwa Bista | 18 to 39 | 01:56:15 |
| 5 | 1973 | | Bishal Tripathi | 18 to 39 | 01:56:28 |
| 6 | 2014 | | Ranjit Tamang | 18 to 39 | 01:56:45 |
| 7 | 1998 | | Ulav Pradhan | 18 to 39 | 01:57:59 |
| 8 | 1571 | | Saroj Bista | 18 to 39 | 02:00:07 |
| 9 | 1948 | | Aseem Sangachhe | 18 to 39 | 02:01:11 |
| 10 | 1692 | | Suresh Thapa | 18 to 39 | 02:04:27 |
| 11 | 1312 | | Wasim Ahmad Siddique | 18 to 39 | 02:09:33 |
| 12 | 1988 | | Sandesh Sapkota | 18 to 39 | 02:28:44 |
40 to 49
| | | | | | |
| --- | --- | --- | --- | --- | --- |
| 1 | 1930 | | Saral Pradhan | 40 to 49 | 01:45:32 |
| 2 | 1929 | | Bikram Maharjan | 40 to 49 | 01:54:55 |
| 3 | 1958 | | Pujan Amatya | 40 to 49 | 01:56:37 |
| 4 | 1779 | | Prawesh Shrestha | 40 to 49 | 02:15:40 |
| 5 | 2019 | | Srijesh Gyawali | 40 to 49 | 02:22:11 |
| 6 | 1701 | | Santosh Ranjitkar | 40 to 49 | 02:22:15 |
| 7 | 955 | | Philippe Turenne | 40 to 49 | 02:28:05 |
50 to 59
| | | | | | |
| --- | --- | --- | --- | --- | --- |
| 1 | 2040 | | Chris Draper | 50 to 59 | 01:41:10 |
| 2 | 305 | | Juha Markus Valta | 50 to 59 | 01:50:03 |
| 3 | 2037 | | Sanjay Kumar Yadav | 50 to 59 | 04:34:33 |
60 and above
| | | | | | |
| --- | --- | --- | --- | --- | --- |
| 1 | 1996 | | Janardan Raj Pandey | 60 and above | 03:43:12 |
| | | | | | |
| --- | --- | --- | --- | --- | --- |
| 1 | 2030 | | Nandan Gupta | 18 to 39 | 01:07:52 |
| 2 | 2041 | | Aaron Draper | 13 to 17 | 01:19:46 |
| 3 | 2040 | | Chris Draper | 50 to 59 | 01:41:10 |
| 4 | 1930 | | Saral Pradhan | 40 to 49 | 01:45:32 |
| 5 | 1727 | | Prashant Shrestha | 18 to 39 | 01:45:50 |
| 6 | 2006 | | Binay Thapa | 13 to 17 | 01:47:49 |
| 7 | 1106 | | Ayaz Ahmad Siddiqi | 18 to 39 | 01:49:53 |
| 8 | 305 | | Juha Markus Valta | 50 to 59 | 01:50:03 |
| 9 | 1929 | | Bikram Maharjan | 40 to 49 | 01:54:55 |
| 10 | 1959 | | Bishwa Bista | 18 to 39 | 01:56:15 |
| 11 | 1973 | | Bishal Tripathi | 18 to 39 | 01:56:28 |
| 12 | 1958 | | Pujan Amatya | 40 to 49 | 01:56:37 |
| 13 | 2014 | | Ranjit Tamang | 18 to 39 | 01:56:45 |
| 14 | 1998 | | Ulav Pradhan | 18 to 39 | 01:57:59 |
| 15 | 1571 | | Saroj Bista | 18 to 39 | 02:00:07 |
| 16 | 757 | | Kritarth Bista | 13 to 17 | 02:01:03 |
| 17 | 1948 | | Aseem Sangachhe | 18 to 39 | 02:01:11 |
| 18 | 1692 | | Suresh Thapa | 18 to 39 | 02:04:27 |
| 19 | 1312 | | Wasim Ahmad Siddique | 18 to 39 | 02:09:33 |
| 20 | 1779 | | Prawesh Shrestha | 40 to 49 | 02:15:40 |
| 21 | 2019 | | Srijesh Gyawali | 40 to 49 | 02:22:11 |
| 22 | 1701 | | Santosh Ranjitkar | 40 to 49 | 02:22:15 |
| 23 | 955 | | Philippe Turenne | 40 to 49 | 02:28:05 |
| 24 | 1988 | | Sandesh Sapkota | 18 to 39 | 02:28:44 |
| 25 | 216 | | Simon Cams | 13 to 17 | 03:05:27 |
| 26 | 163 | | Oskar Edwards | 13 to 17 | 03:05:36 |
| 27 | 1996 | | Janardan Raj Pandey | 60 and above | 03:43:12 |
| 28 | 2037 | | Sanjay Kumar Yadav | 50 to 59 | 04:34:33 |
Female
9 to 12
| | | | | | |
| --- | --- | --- | --- | --- | --- |
| 1 | 162 | | Freja Edwards | 9 to 12 | 03:05:31 |
13 to 17
| | | | | | |
| --- | --- | --- | --- | --- | --- |
| 1 | 882 | | Tara Sinsoke Gyawali | 13 to 17 | 03:05:33 |
18 to 39
| | | | | | |
| --- | --- | --- | --- | --- | --- |
| 1 | 166 | | Prativa Pandey | 18 to 39 | 01:45:01 |
| 2 | 1957 | | Manvi Shah | 18 to 39 | 01:59:30 |
| 3 | 2038 | | Dikshya Yadav | 18 to 39 | 04:34:37 |
40 to 49
| | | | | | |
| --- | --- | --- | --- | --- | --- |
| 1 | 1922 | | Erica Meeks | 40 to 49 | 02:09:48 |
| 2 | 1919 | | Maya Thapa | 40 to 49 | 02:11:46 |
| 3 | 883 | | Birgit Lienhart-Gyawali | 40 to 49 | 02:11:52 |
| 4 | 1947 | | Laura M Simkiss | 40 to 49 | 02:37:16 |
50 to 59
| | | | | | |
| --- | --- | --- | --- | --- | --- |
| 1 | 5000 | | Sarita Joshi | 50 to 59 | 03:42:59 |
| 2 | 1997 | | Susma Kumari Pandey | 50 to 59 | 03:43:07 |
| | | | | | |
| --- | --- | --- | --- | --- | --- |
| 1 | 166 | | Prativa Pandey | 18 to 39 | 01:45:01 |
| 2 | 1957 | | Manvi Shah | 18 to 39 | 01:59:30 |
| 3 | 1922 | | Erica Meeks | 40 to 49 | 02:09:48 |
| 4 | 1919 | | Maya Thapa | 40 to 49 | 02:11:46 |
| 5 | 883 | | Birgit Lienhart-Gyawali | 40 to 49 | 02:11:52 |
| 6 | 1947 | | Laura M Simkiss | 40 to 49 | 02:37:16 |
| 7 | 162 | | Freja Edwards | 9 to 12 | 03:05:31 |
| 8 | 882 | | Tara Sinsoke Gyawali | 13 to 17 | 03:05:33 |
| 9 | 5000 | | Sarita Joshi | 50 to 59 | 03:42:59 |
| 10 | 1997 | | Susma Kumari Pandey | 50 to 59 | 03:43:07 |
| 11 | 2038 | | Dikshya Yadav | 18 to 39 | 04:34:37 |
6K
Male
6 to 8
| | | | | | |
| --- | --- | --- | --- | --- | --- |
| 1 | 2029 | | Nil Contreras | 6 to 8 | 00:51:54 |
| 2 | 337 | | Artur Satya Shakya | 6 to 8 | 01:03:45 |
9 to 12
| | | | | | |
| --- | --- | --- | --- | --- | --- |
| 1 | 1859 | | Pierre Heckmann | 9 to 12 | 00:51:08 |
13 to 17
| | | | | | |
| --- | --- | --- | --- | --- | --- |
| 1 | 1954 | | Kai Simkiss | 13 to 17 | 00:40:34 |
| 2 | 1990 | | Avinash Ghale | 13 to 17 | 00:43:52 |
| 3 | 5007 | | Aarav Golcha | 13 to 17 | 00:44:59 |
| 4 | 2036 | | Ruhaan Bhatta | 13 to 17 | 00:49:34 |
| 5 | 1982 | | Adamya Aryal | 13 to 17 | 00:50:58 |
18 to 39
| | | | | | |
| --- | --- | --- | --- | --- | --- |
| 1 | 1908 | | Nima Jangbu Sherpa | 18 to 39 | 00:40:55 |
| 2 | 1778 | | Aashren Manandhar | 18 to 39 | 00:46:50 |
| 3 | 1978 | | Barun Pradhan | 18 to 39 | 00:46:54 |
| 4 | 5013 | | Jakub V | 18 to 39 | 00:51:36 |
| 5 | 5004 | | Pragyan Gautam | 18 to 39 | 00:51:41 |
| 6 | 2028 | | Jose Contreras | 18 to 39 | 00:52:03 |
| 7 | 1951 | | Rohit Mahato | 18 to 39 | 00:52:58 |
| 8 | 1993 | | Bimal Parajuli | 18 to 39 | 00:53:01 |
| 9 | 1912 | | Ajay Shrestha | 18 to 39 | 00:54:26 |
| 10 | 1945 | | Projjwal Kafle | 18 to 39 | 01:02:04 |
| 11 | 1944 | | Sumit Baniya | 18 to 39 | 01:02:10 |
| 12 | 1943 | | Anubhav Bhattarai | 18 to 39 | 01:02:21 |
| 13 | 1708 | | Sudip Pokharel | 18 to 39 | 01:09:44 |
| 14 | 1976 | | Dibash Bikram Thapa | 18 to 39 | 01:09:47 |
| 15 | 2044 | | Dhiraj Golchha | 18 to 39 | 01:29:34 |
40 to 49
| | | | | | |
| --- | --- | --- | --- | --- | --- |
| 1 | 1991 | | Ashim Karmacharya | 40 to 49 | 00:41:30 |
| 2 | 1964 | | Ojashwi SJB Rana | 40 to 49 | 00:48:55 |
| 3 | 1980 | | Prasidha Aryal | 40 to 49 | 00:50:34 |
| 4 | 1992 | | Arvindra Ranjit | 40 to 49 | 00:52:36 |
| 5 | 1950 | | Amit Bajracharya | 40 to 49 | 00:52:49 |
| 6 | 2039 | | Dipendra Kumar Bhatta | 40 to 49 | 01:00:17 |
| 7 | 5011 | | Shreejesh G | 40 to 49 | 01:00:40 |
| 8 | 1647 | | Bipin Karki | 40 to 49 | 01:03:14 |
| 9 | 1983 | | Bibhu Rawal | 40 to 49 | 01:11:02 |
| 10 | 1860 | | Arnaud Heckmann | 40 to 49 | 01:14:52 |
| 11 | 1915 | | Roshan Joshi | 40 to 49 | 01:29:44 |
50 to 59
| | | | | | |
| --- | --- | --- | --- | --- | --- |
| 1 | 2035 | | Arnaud Cauchois | 50 to 59 | 00:51:04 |
| 2 | 1989 | | Kancha Bahadur Ghale | 50 to 59 | 00:51:10 |
| 3 | 5003 | | Ishwor Gautam | 50 to 59 | 00:51:22 |
| | | | | | |
| --- | --- | --- | --- | --- | --- |
| 1 | 1954 | | Kai Simkiss | 13 to 17 | 00:40:34 |
| 2 | 1908 | | Nima Jangbu Sherpa | 18 to 39 | 00:40:55 |
| 3 | 1991 | | Ashim Karmacharya | 40 to 49 | 00:41:30 |
| 4 | 1990 | | Avinash Ghale | 13 to 17 | 00:43:52 |
| 5 | 5007 | | Aarav Golcha | 13 to 17 | 00:44:59 |
| 6 | 1778 | | Aashren Manandhar | 18 to 39 | 00:46:50 |
| 7 | 1978 | | Barun Pradhan | 18 to 39 | 00:46:54 |
| 8 | 1964 | | Ojashwi SJB Rana | 40 to 49 | 00:48:55 |
| 9 | 2036 | | Ruhaan Bhatta | 13 to 17 | 00:49:34 |
| 10 | 1980 | | Prasidha Aryal | 40 to 49 | 00:50:34 |
| 11 | 1982 | | Adamya Aryal | 13 to 17 | 00:50:58 |
| 12 | 2035 | | Arnaud Cauchois | 50 to 59 | 00:51:04 |
| 13 | 1859 | | Pierre Heckmann | 9 to 12 | 00:51:08 |
| 14 | 1989 | | Kancha Bahadur Ghale | 50 to 59 | 00:51:10 |
| 15 | 5003 | | Ishwor Gautam | 50 to 59 | 00:51:22 |
| 16 | 5013 | | Jakub V | 18 to 39 | 00:51:36 |
| 17 | 5004 | | Pragyan Gautam | 18 to 39 | 00:51:41 |
| 18 | 2029 | | Nil Contreras | 6 to 8 | 00:51:54 |
| 19 | 2028 | | Jose Contreras | 18 to 39 | 00:52:03 |
| 20 | 1992 | | Arvindra Ranjit | 40 to 49 | 00:52:36 |
| 21 | 1950 | | Amit Bajracharya | 40 to 49 | 00:52:49 |
| 22 | 1951 | | Rohit Mahato | 18 to 39 | 00:52:58 |
| 23 | 1993 | | Bimal Parajuli | 18 to 39 | 00:53:01 |
| 24 | 1912 | | Ajay Shrestha | 18 to 39 | 00:54:26 |
| 25 | 2039 | | Dipendra Kumar Bhatta | 40 to 49 | 01:00:17 |
| 26 | 5011 | | Shreejesh G | 40 to 49 | 01:00:40 |
| 27 | 1945 | | Projjwal Kafle | 18 to 39 | 01:02:04 |
| 28 | 1944 | | Sumit Baniya | 18 to 39 | 01:02:10 |
| 29 | 1943 | | Anubhav Bhattarai | 18 to 39 | 01:02:21 |
| 30 | 1647 | | Bipin Karki | 40 to 49 | 01:03:14 |
| 31 | 337 | | Artur Satya Shakya | 6 to 8 | 01:03:45 |
| 32 | 1708 | | Sudip Pokharel | 18 to 39 | 01:09:44 |
| 33 | 1976 | | Dibash Bikram Thapa | 18 to 39 | 01:09:47 |
| 34 | 1983 | | Bibhu Rawal | 40 to 49 | 01:11:02 |
| 35 | 1860 | | Arnaud Heckmann | 40 to 49 | 01:14:52 |
| 36 | 2044 | | Dhiraj Golchha | 18 to 39 | 01:29:34 |
| 37 | 1915 | | Roshan Joshi | 40 to 49 | 01:29:44 |
Female
9 to 12
| | | | | | |
| --- | --- | --- | --- | --- | --- |
| 1 | 1832 | | Maya Nina Ringius | 9 to 12 | 00:51:16 |
| 2 | 1956 | | Aila Y Simkiss | 9 to 12 | 00:52:55 |
| 3 | 1858 | | Marion Heckmann | 9 to 12 | 01:14:57 |
| 4 | 5006 | | Athalia Draper | 9 to 12 | 01:15:17 |
13 to 17
| | | | | | |
| --- | --- | --- | --- | --- | --- |
| 1 | 1004 | | Advaya Witt-Doerring | 13 to 17 | 00:51:23 |
| 2 | 1005 | | Maya Witt-Doerring | 13 to 17 | 01:26:23 |
| 3 | 1000 | | Annette Turenne | 13 to 17 | 01:26:27 |
18 to 39
| | | | | | |
| --- | --- | --- | --- | --- | --- |
| 1 | 2017 | | Omi Shakya | 18 to 39 | 00:51:34 |
| 2 | 5012 | | Julia Jaeger | 18 to 39 | 00:51:38 |
| 3 | 2015 | | Sristi Shrestha | 18 to 39 | 00:53:49 |
| 4 | 332 | | Lauren Figuet | 18 to 39 | 01:03:48 |
| 5 | 1972 | | Birgit Amtmann | 18 to 39 | 01:20:52 |
| 6 | 1999 | | Dimpi Singh | 18 to 39 | 01:26:30 |
40 to 49
| | | | | | |
| --- | --- | --- | --- | --- | --- |
| 1 | 1979 | | Samyukta Bista Karki | 40 to 49 | 01:11:59 |
| 2 | 1857 | | Astrid Heckmann | 40 to 49 | 01:14:49 |
| 3 | 5005 | | Nerida Draper | 40 to 49 | 01:15:11 |
| 4 | 2034 | | Gwen Witt-Doerring | 40 to 49 | 01:19:58 |
| 5 | 1916 | | Shailee Gorkhali | 40 to 49 | 01:29:47 |
| | | | | | |
| --- | --- | --- | --- | --- | --- |
| 1 | 1832 | | Maya Nina Ringius | 9 to 12 | 00:51:16 |
| 2 | 1004 | | Advaya Witt-Doerring | 13 to 17 | 00:51:23 |
| 3 | 2017 | | Omi Shakya | 18 to 39 | 00:51:34 |
| 4 | 5012 | | Julia Jaeger | 18 to 39 | 00:51:38 |
| 5 | 1956 | | Aila Y Simkiss | 9 to 12 | 00:52:55 |
| 6 | 2015 | | Sristi Shrestha | 18 to 39 | 00:53:49 |
| 7 | 332 | | Lauren Figuet | 18 to 39 | 01:03:48 |
| 8 | 1979 | | Samyukta Bista Karki | 40 to 49 | 01:11:59 |
| 9 | 1857 | | Astrid Heckmann | 40 to 49 | 01:14:49 |
| 10 | 1858 | | Marion Heckmann | 9 to 12 | 01:14:57 |
| 11 | 5005 | | Nerida Draper | 40 to 49 | 01:15:11 |
| 12 | 5006 | | Athalia Draper | 9 to 12 | 01:15:17 |
| 13 | 2034 | | Gwen Witt-Doerring | 40 to 49 | 01:19:58 |
| 14 | 1972 | | Birgit Amtmann | 18 to 39 | 01:20:52 |
| 15 | 1005 | | Maya Witt-Doerring | 13 to 17 | 01:26:23 |
| 16 | 1000 | | Annette Turenne | 13 to 17 | 01:26:27 |
| 17 | 1999 | | Dimpi Singh | 18 to 39 | 01:26:30 |
| 18 | 1916 | | Shailee Gorkhali | 40 to 49 | 01:29:47 |
3K
Male
5 and below
| | | | | | |
| --- | --- | --- | --- | --- | --- |
| 1 | 1775 | | Ruman Thapa | 5 and below | 00:35:00 |
| 2 | 2024 | | Kiran Leo Khatiwada | 5 and below | 00:44:15 |
6 to 8
| | | | | | |
| --- | --- | --- | --- | --- | --- |
| 1 | 1985 | | Abhiraj Rawal | 6 to 8 | 00:20:15 |
| 2 | 1968 | | Toby Cheng | 6 to 8 | 00:21:40 |
| 3 | 1885 | | Saumya Silakar | 6 to 8 | 00:25:35 |
| 4 | 1965 | | Viaan SJB Rana | 6 to 8 | 00:32:45 |
| 5 | 1995 | | Sanskar Ratna Bajracharya | 6 to 8 | 00:34:49 |
| 6 | 2023 | | Samuel Victor Khatiwada | 6 to 8 | 00:35:32 |
| 7 | 2001 | | Shaurya Singh Bisht | 6 to 8 | 00:37:38 |
9 to 12
| | | | | | |
| --- | --- | --- | --- | --- | --- |
| 1 | 1962 | | Noah Houk | 9 to 12 | 00:18:19 |
| 2 | 1897 | | Arohan Karki | 9 to 12 | 00:19:51 |
| 3 | 2009 | | Tiago Bochembuzo Morand | 9 to 12 | 00:20:37 |
| 4 | 1963 | | Eli Shank | 9 to 12 | 00:25:06 |
| 5 | 1774 | | Aahan Shrestha | 9 to 12 | 00:30:37 |
| 6 | 2005 | | Trigyesh Bom Malla | 9 to 12 | 00:32:41 |
| 7 | 2043 | | Noah Ivan Chettri | 9 to 12 | 00:32:47 |
| 8 | 1934 | | Arya Bajracharya | 9 to 12 | 00:47:55 |
18 to 39
| | | | | | |
| --- | --- | --- | --- | --- | --- |
| 1 | 1974 | | Pur Bahadur Ghale | 18 to 39 | 00:32:32 |
| 2 | 1700 | | Rajiv Chand | 18 to 39 | 00:33:38 |
| 3 | 2032 | | Samyak Ratna Bajracharya | 18 to 39 | 00:34:47 |
| 4 | 2010 | | Ayush Shrestha Joshi | 18 to 39 | 00:47:08 |
| 5 | 2047 | | Keshav Agarwal | 18 to 39 | 00:50:50 |
40 to 49
| | | | | | |
| --- | --- | --- | --- | --- | --- |
| 1 | 1589 | | Luke Marie Jantzi | 40 to 49 | 00:20:24 |
| 2 | 2049 | | Gabriel Carvalho Morand | 40 to 49 | 00:20:45 |
| 3 | 1961 | | Jared Houk | 40 to 49 | 00:24:43 |
| 4 | 1886 | | Manish Silakar | 40 to 49 | 00:25:33 |
| 5 | 1969 | | Eric Cheng | 40 to 49 | 00:30:45 |
| 6 | 2046 | | Gyan Ghale | 40 to 49 | 00:34:42 |
| 7 | 2022 | | Sameer Khatiwada | 40 to 49 | 00:35:30 |
| 8 | 2000 | | Paraag Bisht | 40 to 49 | 00:37:42 |
| 9 | 1925 | | Jason Meeks | 40 to 49 | 00:44:37 |
50 to 59
| | | | | | |
| --- | --- | --- | --- | --- | --- |
| 1 | 1096 | | Rakesh Manandhar | 50 to 59 | 00:33:27 |
| | | | | | |
| --- | --- | --- | --- | --- | --- |
| 1 | 1962 | | Noah Houk | 9 to 12 | 00:18:19 |
| 2 | 1897 | | Arohan Karki | 9 to 12 | 00:19:51 |
| 3 | 1985 | | Abhiraj Rawal | 6 to 8 | 00:20:15 |
| 4 | 1589 | | Luke Marie Jantzi | 40 to 49 | 00:20:24 |
| 5 | 2009 | | Tiago Bochembuzo Morand | 9 to 12 | 00:20:37 |
| 6 | 2049 | | Gabriel Carvalho Morand | 40 to 49 | 00:20:45 |
| 7 | 1968 | | Toby Cheng | 6 to 8 | 00:21:40 |
| 8 | 1961 | | Jared Houk | 40 to 49 | 00:24:43 |
| 9 | 1963 | | Eli Shank | 9 to 12 | 00:25:06 |
| 10 | 1886 | | Manish Silakar | 40 to 49 | 00:25:33 |
| 11 | 1885 | | Saumya Silakar | 6 to 8 | 00:25:35 |
| 12 | 1774 | | Aahan Shrestha | 9 to 12 | 00:30:37 |
| 13 | 1969 | | Eric Cheng | 40 to 49 | 00:30:45 |
| 14 | 1974 | | Pur Bahadur Ghale | 18 to 39 | 00:32:32 |
| 15 | 2005 | | Trigyesh Bom Malla | 9 to 12 | 00:32:41 |
| 16 | 1965 | | Viaan SJB Rana | 6 to 8 | 00:32:45 |
| 17 | 2043 | | Noah Ivan Chettri | 9 to 12 | 00:32:47 |
| 18 | 1096 | | Rakesh Manandhar | 50 to 59 | 00:33:27 |
| 19 | 1700 | | Rajiv Chand | 18 to 39 | 00:33:38 |
| 20 | 2046 | | Gyan Ghale | 40 to 49 | 00:34:42 |
| 21 | 2032 | | Samyak Ratna Bajracharya | 18 to 39 | 00:34:47 |
| 22 | 1995 | | Sanskar Ratna Bajracharya | 6 to 8 | 00:34:49 |
| 23 | 1775 | | Ruman Thapa | 5 and below | 00:35:00 |
| 24 | 2022 | | Sameer Khatiwada | 40 to 49 | 00:35:30 |
| 25 | 2023 | | Samuel Victor Khatiwada | 6 to 8 | 00:35:32 |
| 26 | 2001 | | Shaurya Singh Bisht | 6 to 8 | 00:37:38 |
| 27 | 2000 | | Paraag Bisht | 40 to 49 | 00:37:42 |
| 28 | 2024 | | Kiran Leo Khatiwada | 5 and below | 00:44:15 |
| 29 | 1925 | | Jason Meeks | 40 to 49 | 00:44:37 |
| 30 | 2010 | | Ayush Shrestha Joshi | 18 to 39 | 00:47:08 |
| 31 | 1934 | | Arya Bajracharya | 9 to 12 | 00:47:55 |
| 32 | 2047 | | Keshav Agarwal | 18 to 39 | 00:50:50 |
Female
5 and below
| | | | | | |
| --- | --- | --- | --- | --- | --- |
| 1 | 1695 | | Ananya Chand | 5 and below | 00:33:31 |
| 2 | 1986 | | Aahana Rawal | 5 and below | 00:47:20 |
6 to 8
| | | | | | |
| --- | --- | --- | --- | --- | --- |
| 1 | 1580 | | Leo Jantzi | 6 to 8 | 00:19:37 |
| 2 | 1967 | | Kaelyn Cheng | 6 to 8 | 00:30:41 |
| 3 | 1975 | | Priyanshi Ghale | 6 to 8 | 00:32:27 |
| 4 | 2045 | | Advika Ghale | 6 to 8 | 00:32:30 |
| 5 | 1707 | | Amina Pokharel | 6 to 8 | 00:32:59 |
| 6 | 1591 | | Aariya Manandhar | 6 to 8 | 00:33:23 |
| 7 | 1581 | | Mirabel Mira Fern Jantzi | 6 to 8 | 00:34:27 |
| 8 | 2021 | | Sorya Gyawali | 6 to 8 | 00:37:59 |
9 to 12
| | | | | | |
| --- | --- | --- | --- | --- | --- |
| 1 | 1960 | | Kate Houk | 9 to 12 | 00:24:38 |
| 2 | 1650 | | Emma Houk | 9 to 12 | 00:24:40 |
| 3 | 2020 | | Suvaan Gyawali | 9 to 12 | 00:33:46 |
| 4 | 1955 | | Manali L Simkiss | 9 to 12 | 00:36:42 |
| 5 | 2002 | | Abhisha Subedi | 9 to 12 | 00:37:54 |
| 6 | 1924 | | Athena Meeks | 9 to 12 | 00:44:08 |
13 to 17
| | | | | | |
| --- | --- | --- | --- | --- | --- |
| 1 | 1923 | | Leila Meeks | 13 to 17 | 00:36:45 |
| 2 | 985 | | Camille Cauchois | 13 to 17 | 00:50:54 |
18 to 39
| | | | | | |
| --- | --- | --- | --- | --- | --- |
| 1 | 1706 | | Lena Michaels | 18 to 39 | 00:33:12 |
| 2 | 2042 | | Anna Chhetri | 18 to 39 | 00:33:45 |
| 3 | 1588 | | Kaitlyn Marie Jantzi | 18 to 39 | 00:34:30 |
| 4 | 1773 | | Nisha Shrestha | 18 to 39 | 00:45:49 |
40 to 49
| | | | | | |
| --- | --- | --- | --- | --- | --- |
| 1 | 1433 | | Michelle Houk | 40 to 49 | 00:18:22 |
| 2 | 1432 | | Kari Danette Shank | 40 to 49 | 00:25:12 |
| 3 | 1887 | | Sabina Manandhar | 40 to 49 | 00:25:36 |
| 4 | 1970 | | Becky Cheng | 40 to 49 | 00:30:43 |
| 5 | 2003 | | Samhita Malla | 40 to 49 | 00:37:45 |
| 6 | 485 | | Charu Arjyal | 40 to 49 | 00:37:52 |
| 7 | 1981 | | Julie Gurung | 40 to 49 | 00:47:10 |
| 8 | 1987 | | Sweta Pradhan | 40 to 49 | 00:47:16 |
| 9 | 1984 | | Shradha Shah | 40 to 49 | 00:47:30 |
| 10 | 2048 | | Aniva Khawaunju | 40 to 49 | 00:47:51 |
| | | | | | |
| --- | --- | --- | --- | --- | --- |
| 1 | 1433 | | Michelle Houk | 40 to 49 | 00:18:22 |
| 2 | 1580 | | Leo Jantzi | 6 to 8 | 00:19:37 |
| 3 | 1960 | | Kate Houk | 9 to 12 | 00:24:38 |
| 4 | 1650 | | Emma Houk | 9 to 12 | 00:24:40 |
| 5 | 1432 | | Kari Danette Shank | 40 to 49 | 00:25:12 |
| 6 | 1887 | | Sabina Manandhar | 40 to 49 | 00:25:36 |
| 7 | 1967 | | Kaelyn Cheng | 6 to 8 | 00:30:41 |
| 8 | 1970 | | Becky Cheng | 40 to 49 | 00:30:43 |
| 9 | 1975 | | Priyanshi Ghale | 6 to 8 | 00:32:27 |
| 10 | 2045 | | Advika Ghale | 6 to 8 | 00:32:30 |
| 11 | 1707 | | Amina Pokharel | 6 to 8 | 00:32:59 |
| 12 | 1706 | | Lena Michaels | 18 to 39 | 00:33:12 |
| 13 | 1591 | | Aariya Manandhar | 6 to 8 | 00:33:23 |
| 14 | 1695 | | Ananya Chand | 5 and below | 00:33:31 |
| 15 | 2042 | | Anna Chhetri | 18 to 39 | 00:33:45 |
| 16 | 2020 | | Suvaan Gyawali | 9 to 12 | 00:33:46 |
| 17 | 1581 | | Mirabel Mira Fern Jantzi | 6 to 8 | 00:34:27 |
| 18 | 1588 | | Kaitlyn Marie Jantzi | 18 to 39 | 00:34:30 |
| 19 | 1955 | | Manali L Simkiss | 9 to 12 | 00:36:42 |
| 20 | 1923 | | Leila Meeks | 13 to 17 | 00:36:45 |
| 21 | 2003 | | Samhita Malla | 40 to 49 | 00:37:45 |
| 22 | 485 | | Charu Arjyal | 40 to 49 | 00:37:52 |
| 23 | 2002 | | Abhisha Subedi | 9 to 12 | 00:37:54 |
| 24 | 2021 | | Sorya Gyawali | 6 to 8 | 00:37:59 |
| 25 | 1924 | | Athena Meeks | 9 to 12 | 00:44:08 |
| 26 | 1773 | | Nisha Shrestha | 18 to 39 | 00:45:49 |
| 27 | 1981 | | Julie Gurung | 40 to 49 | 00:47:10 |
| 28 | 1987 | | Sweta Pradhan | 40 to 49 | 00:47:16 |
| 29 | 1986 | | Aahana Rawal | 5 and below | 00:47:20 |
| 30 | 1984 | | Shradha Shah | 40 to 49 | 00:47:30 |
| 31 | 2048 | | Aniva Khawaunju | 40 to 49 | 00:47:51 |
| 32 | 985 | | Camille Cauchois | 13 to 17 | 00:50:54 |