Event Date
April 15, 2023
Venue
Base Camp 1975
Located at Thali (past Bouddha and Gokarna), Kathmandu
Open pin on Google Map
Distances
~10K and Kids ~3K
Observations, updates and note to self
Too many first-timer kids by themselves on the trails, without a guardian. Some clearly struggling and dehydrated. Mandate at least one guardian (signed up) for every two kids.
Add a waterpoint for 3K.
For the first time we had more 3K runners than 10K.
Add more timekeepers for 3K - many runners finishing together, missed some numbers.
3K start time to start 30mins earlier than usual.
Mention on the website that for 3K, only kids below 18 get medals and podium. 3K adults don't, in order to prevent the 3K from becoming a sprint distance.
Brief runners about making the bib numbers visible at finish.
Fastest upload of race photos and results till date.
Far fewer people lost on trails than usual. Add more markings and marshals to further minimize this number.
Use neon marking spray than the normal ones. Possibly change orange color to pink for better visibility.
Give clear instructions to the driver. He missed picking up a henchman in the morning, costing 45mins of race set up time.
Don't have a race right after a public holiday. Rushes pre-race print and admin work.
Optimized the medals - used sticker prints instead of glossy. Amount of medal task decreased significantly.
Purchase medals in bulk and print new stickers. Cuts down time consumed and hikes up the quality. Maybe print medal straps as well.
Get a couple of tabs instead of laptop+monitor to display results. Pain in the butt to set it up, and can barely see in the sun.
The laptop overheats, get something to cover it while timekeeping.
Double-check startlist before sending bibs for print. The Gyawalis (our poster people) got handcrafted artisan bibs because I missed their name on the registration.
Announce race date a few weeks in advance but open registrations no earlier than a week before the race. 22 people signed up but didn't show up.
Overall, Thali race was one of the smoothest it has been for Snail Trail Series.
Start, Finish, Trails, Medals
236 photos by:
| | |
| --- | --- |
| | Rakesh Prajapati |
Trails, Medals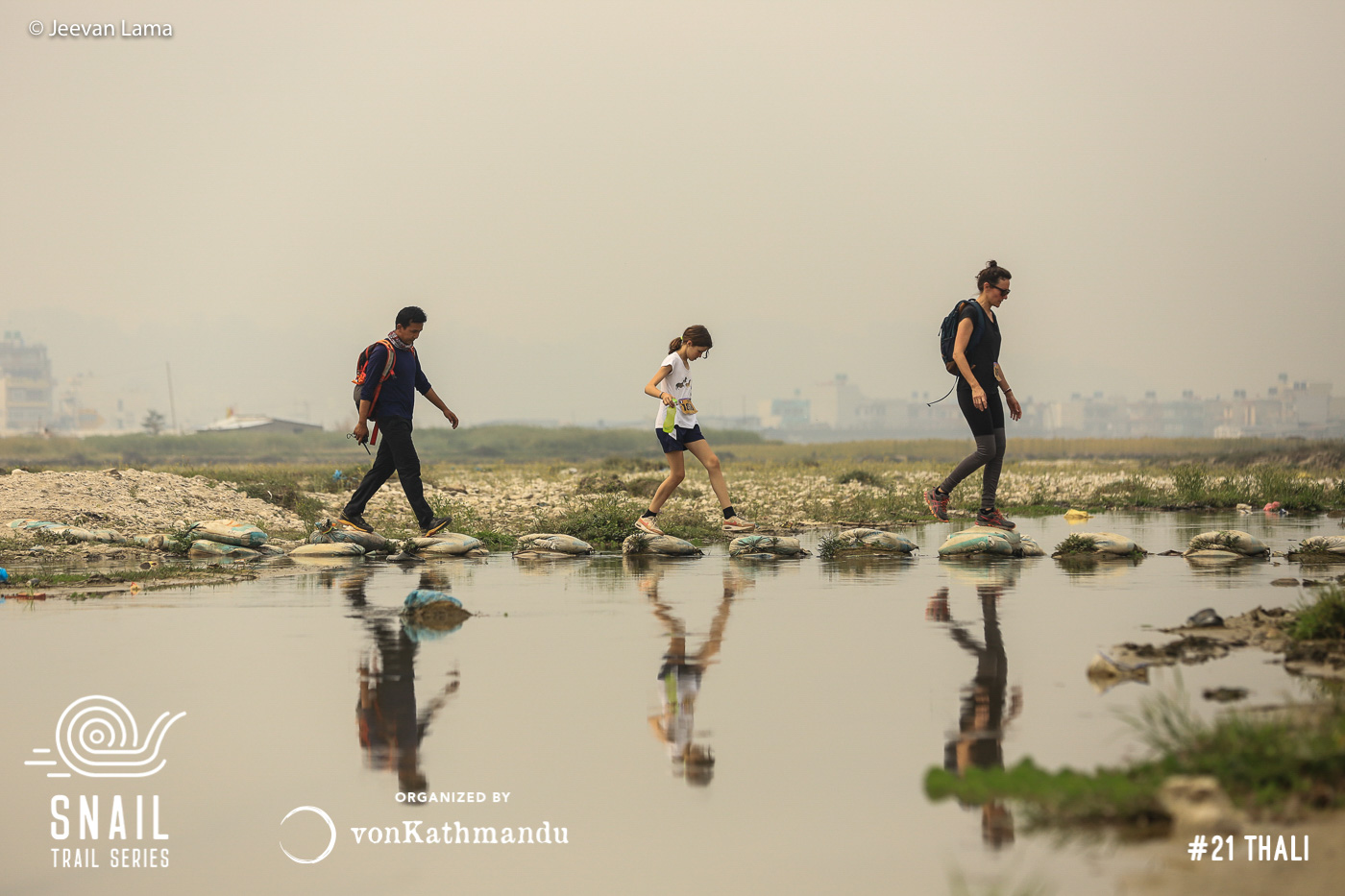 250 photos by:
| | |
| --- | --- |
| | Jeevan Lama |
Start, Finish, Medals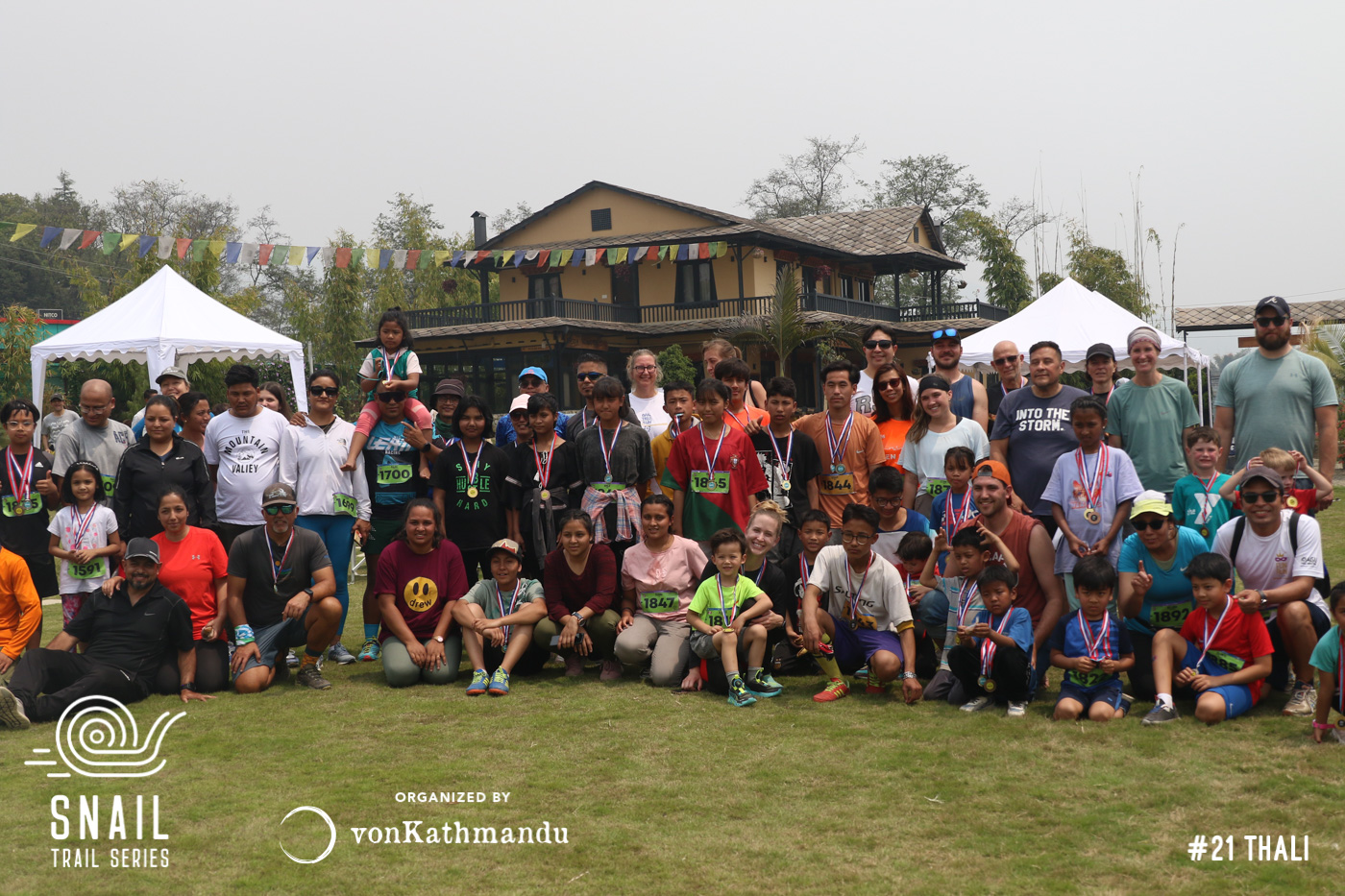 151 photos by:
| | | | |
| --- | --- | --- | --- |
| 55 | | Nepal | |
| 10 | | United States | |
| 6 | | Germany | |
| 5 | | Denmark | |
| | | | |
| --- | --- | --- | --- |
| 4 | | Canada | |
| 3 | | Netherlands | |
| 3 | | France | |
| 3 | | United Kingdom | |
10K
Male
9 to 12
| | | | | | |
| --- | --- | --- | --- | --- | --- |
| 1 | 1864 | | Ashok Tamang | 9 to 12 | 01:15:59 |
| 2 | 757 | | Kritarth Bista | 9 to 12 | 01:23:27 |
| 3 | 1859 | | Pierre Heckmann | 9 to 12 | 02:03:53 |
13 to 17
| | | | | | |
| --- | --- | --- | --- | --- | --- |
| 1 | 1843 | | David KC | 13 to 17 | 01:06:52 |
| 2 | 1865 | | Dukchung Lhomi | 13 to 17 | 01:07:04 |
| 3 | 216 | | Simon Cams | 13 to 17 | 02:01:58 |
| 4 | 163 | | Oskar Edwards | 13 to 17 | 02:02:01 |
18 to 39
| | | | | | |
| --- | --- | --- | --- | --- | --- |
| 1 | 1894 | | Will Lloyd | 18 to 39 | 00:52:46 |
| 2 | 1844 | | Sidar Bhote | 18 to 39 | 00:58:27 |
| 3 | 1838 | | Bishav Narshing Rajbhandari | 18 to 39 | 01:04:57 |
| 4 | 1840 | | Milan Marck | 18 to 39 | 01:05:00 |
| 5 | 1619 | | Rastra Raj Bhandari | 18 to 39 | 01:05:17 |
| 6 | 1837 | | Nawaraj Sanjel | 18 to 39 | 01:12:49 |
| 7 | 1884 | | Sudin Awal | 18 to 39 | 01:13:05 |
| 8 | 1891 | | Harry Johnson | 18 to 39 | 01:13:28 |
| 9 | 5001 | | Ram Chandra Basnet | 18 to 39 | 01:53:05 |
40 to 49
| | | | | | |
| --- | --- | --- | --- | --- | --- |
| 1 | 382 | | Yves Cams | 40 to 49 | 01:07:53 |
| 2 | 1889 | | Abhishek Ram Bhakta Mathema | 40 to 49 | 01:10:21 |
| 3 | 1855 | | Daz Clarkson | 40 to 49 | 01:21:26 |
| 4 | 155 | | Bibhusan Bista | 40 to 49 | 01:22:54 |
| 5 | 1882 | | Tanka Bhatta | 40 to 49 | 01:35:09 |
50 and above
| | | | | | |
| --- | --- | --- | --- | --- | --- |
| 1 | 881 | | Raj Gyawali | 50 and above | 01:16:11 |
| 2 | 570 | | Suman Basnet | 50 and above | 01:33:35 |
| 3 | 1839 | | Frank Boemer | 50 and above | 01:52:05 |
| | | | | | |
| --- | --- | --- | --- | --- | --- |
| 1 | 1894 | | Will Lloyd | 18 to 39 | 00:52:46 |
| 2 | 1844 | | Sidar Bhote | 18 to 39 | 00:58:27 |
| 3 | 1838 | | Bishav Narshing Rajbhandari | 18 to 39 | 01:04:57 |
| 4 | 1840 | | Milan Marck | 18 to 39 | 01:05:00 |
| 5 | 1619 | | Rastra Raj Bhandari | 18 to 39 | 01:05:17 |
| 6 | 1843 | | David KC | 13 to 17 | 01:06:52 |
| 7 | 1865 | | Dukchung Lhomi | 13 to 17 | 01:07:04 |
| 8 | 382 | | Yves Cams | 40 to 49 | 01:07:53 |
| 9 | 1889 | | Abhishek Ram Bhakta Mathema | 40 to 49 | 01:10:21 |
| 10 | 1837 | | Nawaraj Sanjel | 18 to 39 | 01:12:49 |
| 11 | 1884 | | Sudin Awal | 18 to 39 | 01:13:05 |
| 12 | 1891 | | Harry Johnson | 18 to 39 | 01:13:28 |
| 13 | 1864 | | Ashok Tamang | 9 to 12 | 01:15:59 |
| 14 | 881 | | Raj Gyawali | 50 and above | 01:16:11 |
| 15 | 1855 | | Daz Clarkson | 40 to 49 | 01:21:26 |
| 16 | 155 | | Bibhusan Bista | 40 to 49 | 01:22:54 |
| 17 | 757 | | Kritarth Bista | 9 to 12 | 01:23:27 |
| 18 | 570 | | Suman Basnet | 50 and above | 01:33:35 |
| 19 | 1882 | | Tanka Bhatta | 40 to 49 | 01:35:09 |
| 20 | 1839 | | Frank Boemer | 50 and above | 01:52:05 |
| 21 | 5001 | | Ram Chandra Basnet | 18 to 39 | 01:53:05 |
| 22 | 216 | | Simon Cams | 13 to 17 | 02:01:58 |
| 23 | 163 | | Oskar Edwards | 13 to 17 | 02:02:01 |
| 24 | 1859 | | Pierre Heckmann | 9 to 12 | 02:03:53 |
Female
9 to 12
| | | | | | |
| --- | --- | --- | --- | --- | --- |
| 1 | 162 | | Freja Edwards | 9 to 12 | 02:04:07 |
| 2 | 1858 | | Marion Heckmann | 9 to 12 | 02:04:15 |
13 to 17
| | | | | | |
| --- | --- | --- | --- | --- | --- |
| 1 | 1849 | | Srijana BK | 13 to 17 | 01:35:02 |
| 2 | 882 | | Tara Sinsoke Gyawali | 13 to 17 | 02:04:10 |
18 to 39
| | | | | | |
| --- | --- | --- | --- | --- | --- |
| 1 | 1817 | | Jenny Lee Chen | 18 to 39 | 01:17:15 |
| 2 | 1854 | | Simone Weichenrieder | 18 to 39 | 01:17:44 |
| 3 | 1900 | | Justine Feighery | 18 to 39 | 01:17:52 |
| 4 | 1846 | | Anita BK | 18 to 39 | 01:26:47 |
| 5 | 5002 | | Januka Khadka | 18 to 39 | 01:53:14 |
| 6 | 598 | | Smriti Pant | 18 to 39 | 01:56:04 |
40 to 49
| | | | | | |
| --- | --- | --- | --- | --- | --- |
| 1 | 122 | | Stine Heiselberg | 40 to 49 | 01:05:21 |
| 2 | 485 | | Charu Arjyal | 40 to 49 | 01:17:12 |
| 3 | 215 | | Maya Sherpa | 40 to 49 | 01:25:57 |
| 4 | 1836 | | Martina Voss | 40 to 49 | 01:30:02 |
| 5 | 883 | | Birgit Lienhart-Gyawali | 40 to 49 | 01:52:14 |
| 6 | 1888 | | Sabita Mool | 40 to 49 | 01:56:40 |
| 7 | 1857 | | Astrid Heckmann | 40 to 49 | 02:04:12 |
50 and above
| | | | | | |
| --- | --- | --- | --- | --- | --- |
| 1 | 1512 | | Sabrina Schmidt-Koschella | 50 and above | 01:17:40 |
| 2 | 787 | | Sudha Basnet | 50 and above | 01:33:37 |
| | | | | | |
| --- | --- | --- | --- | --- | --- |
| 1 | 122 | | Stine Heiselberg | 40 to 49 | 01:05:21 |
| 2 | 485 | | Charu Arjyal | 40 to 49 | 01:17:12 |
| 3 | 1817 | | Jenny Lee Chen | 18 to 39 | 01:17:15 |
| 4 | 1512 | | Sabrina Schmidt-Koschella | 50 and above | 01:17:40 |
| 5 | 1854 | | Simone Weichenrieder | 18 to 39 | 01:17:44 |
| 6 | 1900 | | Justine Feighery | 18 to 39 | 01:17:52 |
| 7 | 215 | | Maya Sherpa | 40 to 49 | 01:25:57 |
| 8 | 1846 | | Anita BK | 18 to 39 | 01:26:47 |
| 9 | 1836 | | Martina Voss | 40 to 49 | 01:30:02 |
| 10 | 787 | | Sudha Basnet | 50 and above | 01:33:37 |
| 11 | 1849 | | Srijana BK | 13 to 17 | 01:35:02 |
| 12 | 883 | | Birgit Lienhart-Gyawali | 40 to 49 | 01:52:14 |
| 13 | 5002 | | Januka Khadka | 18 to 39 | 01:53:14 |
| 14 | 598 | | Smriti Pant | 18 to 39 | 01:56:04 |
| 15 | 1888 | | Sabita Mool | 40 to 49 | 01:56:40 |
| 16 | 162 | | Freja Edwards | 9 to 12 | 02:04:07 |
| 17 | 882 | | Tara Sinsoke Gyawali | 13 to 17 | 02:04:10 |
| 18 | 1857 | | Astrid Heckmann | 40 to 49 | 02:04:12 |
| 19 | 1858 | | Marion Heckmann | 9 to 12 | 02:04:15 |
3K
Male
8 and below
| | | | | | |
| --- | --- | --- | --- | --- | --- |
| 1 | 1851 | | Kumar BK | 8 and below | 00:40:48 |
| 2 | 1862 | | Prasant Rai | 8 and below | 00:42:55 |
| 3 | 1822 | | Pranit Shrestha | 8 and below | 00:49:52 |
| 4 | 1885 | | Saumya Silakar | 8 and below | 00:51:55 |
| 5 | 1818 | | Oliver Ezra Chen | 8 and below | 00:54:42 |
| 6 | 1904 | | Knox McCalmon | 8 and below | 01:00:07 |
| 7 | 1869 | | River Chen | 8 and below | 01:02:52 |
| 8 | 1870 | | Everest Chen | 8 and below | 01:02:57 |
| 9 | 1903 | | Griffin McCalmon | 8 and below | 01:17:54 |
9 to 12
| | | | | | |
| --- | --- | --- | --- | --- | --- |
| 1 | 1842 | | John Lhomi | 9 to 12 | 00:37:44 |
| 2 | 1835 | | Aaradhya Tandan | 9 to 12 | 00:39:08 |
| 3 | 1897 | | Arohan Karki | 9 to 12 | 00:40:17 |
18 to 39
| | | | | | |
| --- | --- | --- | --- | --- | --- |
| 1 | 1873 | | Jordan Reardon | 18 to 39 | 00:42:57 |
| 2 | 1867 | | Ashish Lamghate | 18 to 39 | 00:43:30 |
| 3 | 1700 | | Rajiv Chand | 18 to 39 | 00:56:42 |
| 4 | 1905 | | Madison McCalmon | 18 to 39 | 01:00:03 |
| 5 | 449 | | Sailendra Dongol | 18 to 39 | 01:01:35 |
| 6 | 1871 | | Clement Chen | 18 to 39 | 01:03:00 |
40 to 49
| | | | | | |
| --- | --- | --- | --- | --- | --- |
| 1 | 1647 | | Bipin Karki | 40 to 49 | 00:40:40 |
| 2 | 1824 | | Prabhakar Shrestha | 40 to 49 | 00:49:54 |
| 3 | 1886 | | Manish Silakar | 40 to 49 | 00:51:58 |
| 4 | 1096 | | Rakesh Manandhar | 40 to 49 | 00:55:48 |
50 and above
| | | | | | |
| --- | --- | --- | --- | --- | --- |
| 1 | 1874 | | Lenny Hernandez | 50 and above | 00:54:48 |
| | | | | | |
| --- | --- | --- | --- | --- | --- |
| 1 | 1842 | | John Lhomi | 9 to 12 | 00:37:44 |
| 2 | 1835 | | Aaradhya Tandan | 9 to 12 | 00:39:08 |
| 3 | 1897 | | Arohan Karki | 9 to 12 | 00:40:17 |
| 4 | 1647 | | Bipin Karki | 40 to 49 | 00:40:40 |
| 5 | 1851 | | Kumar BK | 8 and below | 00:40:48 |
| 6 | 1862 | | Prasant Rai | 8 and below | 00:42:55 |
| 7 | 1873 | | Jordan Reardon | 18 to 39 | 00:42:57 |
| 8 | 1867 | | Ashish Lamghate | 18 to 39 | 00:43:30 |
| 9 | 1822 | | Pranit Shrestha | 8 and below | 00:49:52 |
| 10 | 1824 | | Prabhakar Shrestha | 40 to 49 | 00:49:54 |
| 11 | 1885 | | Saumya Silakar | 8 and below | 00:51:55 |
| 12 | 1886 | | Manish Silakar | 40 to 49 | 00:51:58 |
| 13 | 1818 | | Oliver Ezra Chen | 8 and below | 00:54:42 |
| 14 | 1874 | | Lenny Hernandez | 50 and above | 00:54:48 |
| 15 | 1096 | | Rakesh Manandhar | 40 to 49 | 00:55:48 |
| 16 | 1700 | | Rajiv Chand | 18 to 39 | 00:56:42 |
| 17 | 1905 | | Madison McCalmon | 18 to 39 | 01:00:03 |
| 18 | 1904 | | Knox McCalmon | 8 and below | 01:00:07 |
| 19 | 449 | | Sailendra Dongol | 18 to 39 | 01:01:35 |
| 20 | 1869 | | River Chen | 8 and below | 01:02:52 |
| 21 | 1870 | | Everest Chen | 8 and below | 01:02:57 |
| 22 | 1871 | | Clement Chen | 18 to 39 | 01:03:00 |
| 23 | 1903 | | Griffin McCalmon | 8 and below | 01:17:54 |
Female
8 and below
| | | | | | |
| --- | --- | --- | --- | --- | --- |
| 1 | 1695 | | Ananya Chand | 8 and below | 00:56:40 |
| 2 | 1861 | | Sujita BK | 8 and below | 00:57:06 |
| 3 | 1656 | | Ashlesha Tara Shrestha Dongol | 8 and below | 01:01:39 |
| 4 | 1875 | | Mercy Khati | 8 and below | 01:05:33 |
| 5 | 1880 | | Niva Dali | 8 and below | 01:10:49 |
| 6 | 1591 | | Aariya Manandhar | 8 and below | 01:13:24 |
9 to 12
| | | | | | |
| --- | --- | --- | --- | --- | --- |
| 1 | 1863 | | Anushka Nepali | 9 to 12 | 00:42:43 |
| 2 | 1832 | | Maya Nina Ringius | 9 to 12 | 00:44:01 |
| 3 | 1833 | | Laura Mia Ringius | 9 to 12 | 00:46:51 |
| 4 | 1850 | | Sandhya Nepali | 9 to 12 | 00:48:44 |
| 5 | 1866 | | Nisha BK | 9 to 12 | 00:56:09 |
| 6 | 1879 | | Veda Dali | 9 to 12 | 00:56:53 |
13 to 17
| | | | | | |
| --- | --- | --- | --- | --- | --- |
| 1 | 1845 | | Pasang Lhomi | 13 to 17 | 00:49:21 |
| 2 | 1848 | | Ninji Lhomi | 13 to 17 | 00:56:25 |
18 to 39
| | | | | | |
| --- | --- | --- | --- | --- | --- |
| 1 | 1898 | | Anita Tandan | 18 to 39 | 00:46:20 |
| 2 | 1893 | | Ruth Lamghate | 18 to 39 | 00:46:47 |
| 3 | 1872 | | Sydney Fisher | 18 to 39 | 00:52:06 |
| 4 | 1699 | | Krittica Singh Chand | 18 to 39 | 00:56:45 |
| 5 | 1657 | | Sumeera Shrestha | 18 to 39 | 01:01:55 |
| 6 | 1847 | | Susma BK | 18 to 39 | 01:05:30 |
| 7 | 1876 | | Hannah Khati | 18 to 39 | 01:05:39 |
| 8 | 1878 | | Anya Vaverko | 18 to 39 | 01:10:46 |
| 9 | 1868 | | Sancho Maya Thami | 18 to 39 | 01:15:19 |
| 10 | 1902 | | Madelyn McCalmon | 18 to 39 | 01:17:51 |
40 to 49
| | | | | | |
| --- | --- | --- | --- | --- | --- |
| 1 | 1892 | | Rojina Manandhar | 40 to 49 | 00:46:42 |
| 2 | 1887 | | Sabina Manandhar | 40 to 49 | 00:52:02 |
50 and above
| | | | | | |
| --- | --- | --- | --- | --- | --- |
| 1 | 1834 | | Fanny Missfeldt Ringius | 50 and above | 00:56:29 |
| | | | | | |
| --- | --- | --- | --- | --- | --- |
| 1 | 1863 | | Anushka Nepali | 9 to 12 | 00:42:43 |
| 2 | 1832 | | Maya Nina Ringius | 9 to 12 | 00:44:01 |
| 3 | 1898 | | Anita Tandan | 18 to 39 | 00:46:20 |
| 4 | 1892 | | Rojina Manandhar | 40 to 49 | 00:46:42 |
| 5 | 1893 | | Ruth Lamghate | 18 to 39 | 00:46:47 |
| 6 | 1833 | | Laura Mia Ringius | 9 to 12 | 00:46:51 |
| 7 | 1850 | | Sandhya Nepali | 9 to 12 | 00:48:44 |
| 8 | 1845 | | Pasang Lhomi | 13 to 17 | 00:49:21 |
| 9 | 1887 | | Sabina Manandhar | 40 to 49 | 00:52:02 |
| 10 | 1872 | | Sydney Fisher | 18 to 39 | 00:52:06 |
| 11 | 1866 | | Nisha BK | 9 to 12 | 00:56:09 |
| 12 | 1848 | | Ninji Lhomi | 13 to 17 | 00:56:25 |
| 13 | 1834 | | Fanny Missfeldt Ringius | 50 and above | 00:56:29 |
| 14 | 1695 | | Ananya Chand | 8 and below | 00:56:40 |
| 15 | 1699 | | Krittica Singh Chand | 18 to 39 | 00:56:45 |
| 16 | 1879 | | Veda Dali | 9 to 12 | 00:56:53 |
| 17 | 1861 | | Sujita BK | 8 and below | 00:57:06 |
| 18 | 1656 | | Ashlesha Tara Shrestha Dongol | 8 and below | 01:01:39 |
| 19 | 1657 | | Sumeera Shrestha | 18 to 39 | 01:01:55 |
| 20 | 1847 | | Susma BK | 18 to 39 | 01:05:30 |
| 21 | 1875 | | Mercy Khati | 8 and below | 01:05:33 |
| 22 | 1876 | | Hannah Khati | 18 to 39 | 01:05:39 |
| 23 | 1878 | | Anya Vaverko | 18 to 39 | 01:10:46 |
| 24 | 1880 | | Niva Dali | 8 and below | 01:10:49 |
| 25 | 1591 | | Aariya Manandhar | 8 and below | 01:13:24 |
| 26 | 1868 | | Sancho Maya Thami | 18 to 39 | 01:15:19 |
| 27 | 1902 | | Madelyn McCalmon | 18 to 39 | 01:17:51 |