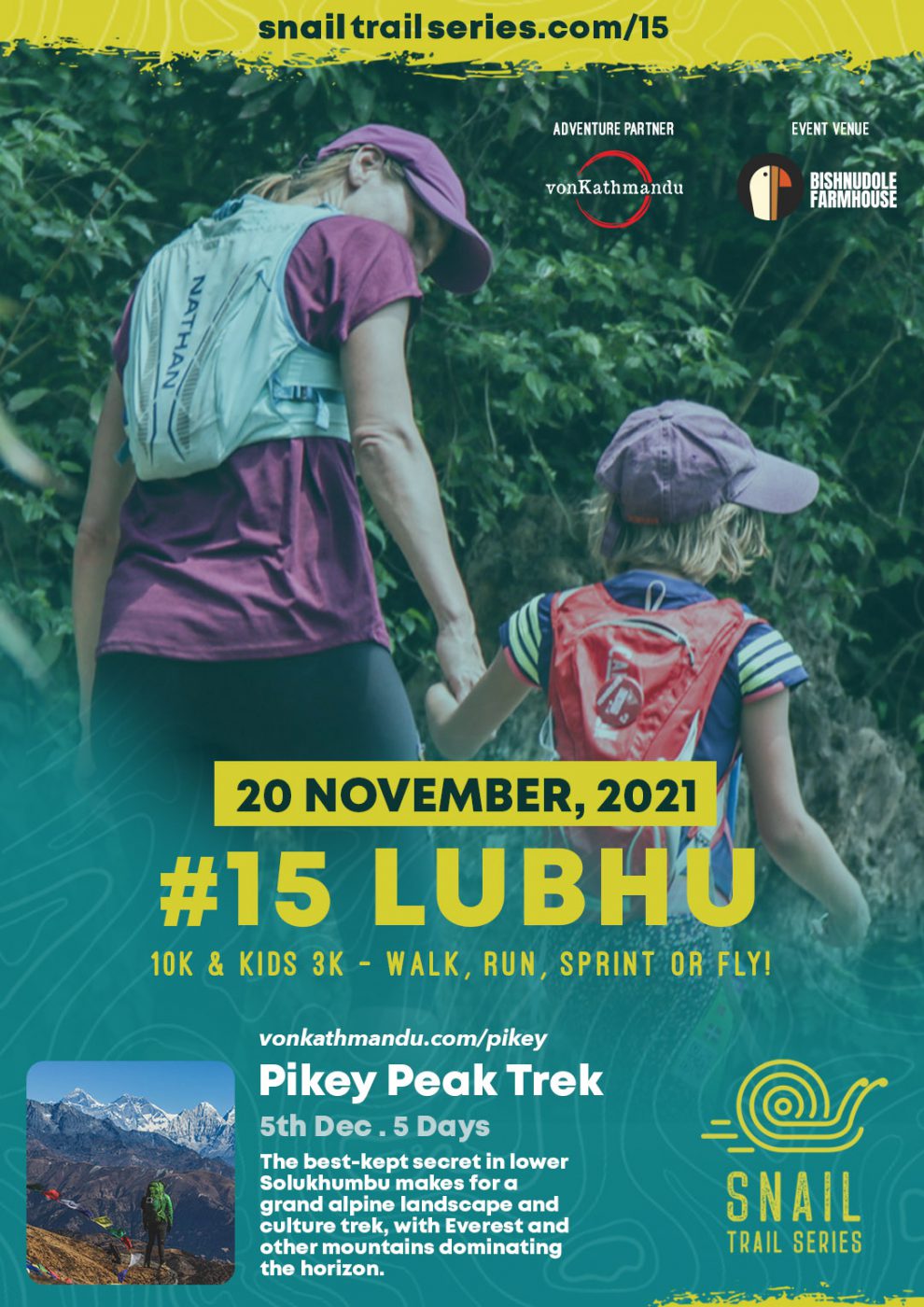 Event Date
November 20, 2021
Venue
Bishnudol Farm House
Located at Lubhu, Lalitpur
Open pin on Google Map
Distances
~10K and Kids ~3K
Observations, updates and note to self
Same prices for all nationalities - no discrimination
Charity component terminated. Profit-driven growth strategy implemented
7K and 15K merged to 10K
New timekeeping system rolled out
New age categories (8 and below, 9 to 12, and 50+)
Change in food team (now an extension of checkpoint food)
Change in media team (new photographers)
Season Pass discontinued
Website revamped. 9th redo in the works.
Become a Management and Operations Lead Expert and participate for free!
Race playlist heavily diversified. Expect quite a few 90's Bollywood!
Trails and Venue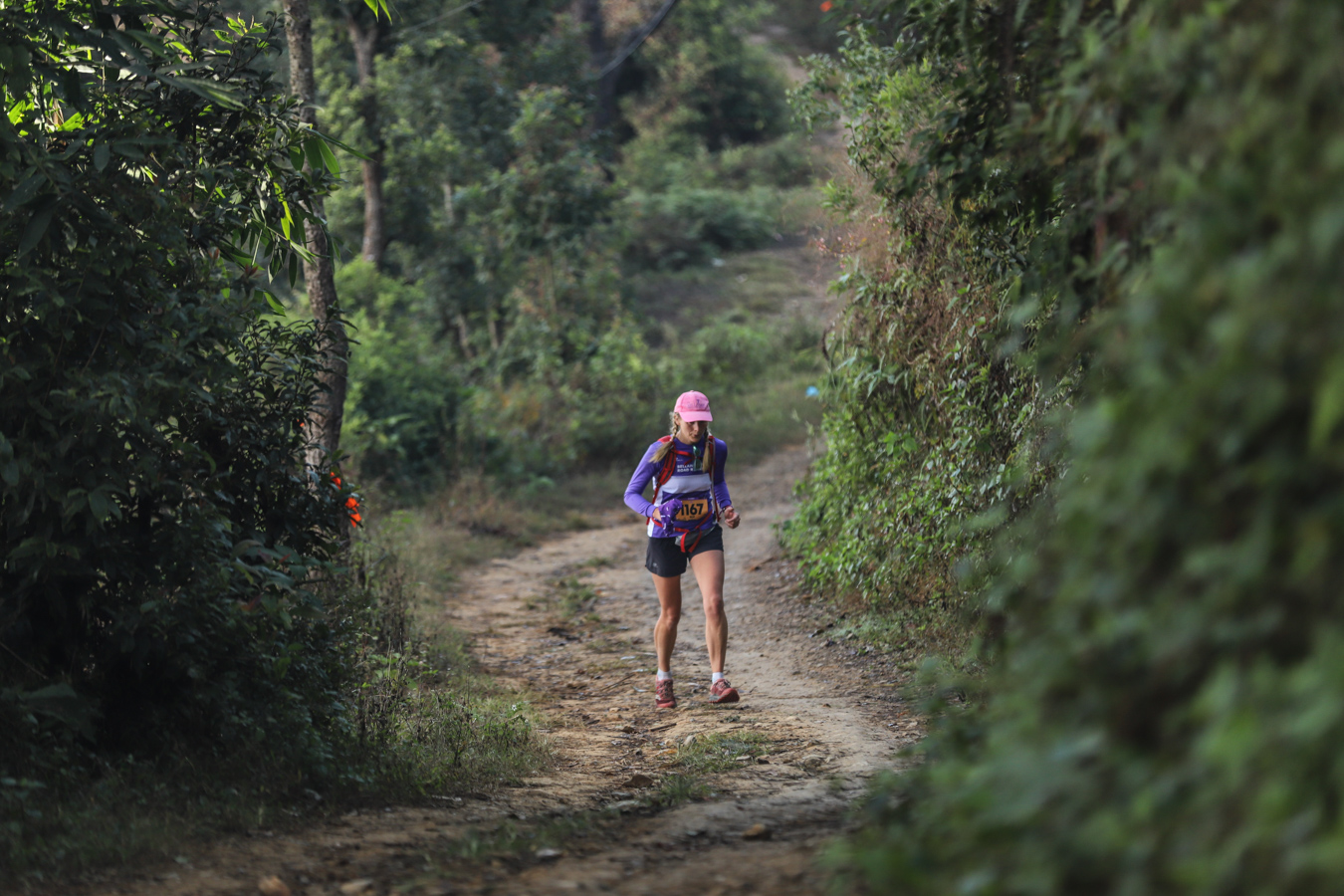 138 photos by:
| | |
| --- | --- |
| | Jeevan Lama |
Trails and Venue
397 photos by:
| | |
| --- | --- |
| | #15 Lubhu |
| | | | |
| --- | --- | --- | --- |
| 35 | | Nepal | |
| 18 | | United States | |
| 7 | | United Kingdom | |
| 6 | | Denmark | |
| | | | |
| --- | --- | --- | --- |
| 1 | | Poland | |
| 1 | | Italy | |
| 1 | | Australia | |
| 1 | | Canada | |
| | | | |
| --- | --- | --- | --- |
| 1 | | Netherlands | |
| 1 | | France | |
| 1 | | Germany | |
10K
Male
9 to 12
| | | | | | |
| --- | --- | --- | --- | --- | --- |
| 1 | 163 | | Oskar Edwards | 9 to 12 | 2:13:49 |
13 to 17
| | | | | | |
| --- | --- | --- | --- | --- | --- |
| 1 | 1542 | | Anil Sunar | 13 to 17 | 0:59:43 |
18 to 39
| | | | | | |
| --- | --- | --- | --- | --- | --- |
| 1 | 1539 | | Nirmal Ghale | 18 to 39 | 1:03:36 |
| 2 | 1547 | | DeMark Schulze | 18 to 39 | 1:17:08 |
| 3 | 185 | | Deepak Shah | 18 to 39 | 1:19:24 |
| 4 | 124 | | Krishna Kumar Maharjan | 18 to 39 | 1:24:52 |
| 5 | 1541 | | Ujjwol Pujari | 18 to 39 | 1:26:14 |
| 6 | 1576 | | Sworup Basnet | 18 to 39 | 1:31:46 |
| 7 | 1571 | | Saroj Bista | 18 to 39 | 1:31:59 |
| 8 | 1572 | | Amir Bista | 18 to 39 | 1:32:04 |
| 9 | 1567 | | Siddhartha Singh | 18 to 39 | 1:43:07 |
| 10 | 1560 | | Prajwal Gadtaula | 18 to 39 | 1:50:44 |
| 11 | 1551 | | Khagendra Prasad Chaudhary | 18 to 39 | 1:51:14 |
| 12 | 1553 | | Sailesh Kasaju | 18 to 39 | 1:51:45 |
| 13 | 1554 | | Sudin Pradhan | 18 to 39 | 1:51:46 |
| 14 | 1577 | | Suresh Giri | 18 to 39 | 1:57:30 |
| 15 | 1538 | | Subin Thakuri | 18 to 39 | 2:01:29 |
| 16 | 1575 | | Santosh Pokharel | 18 to 39 | 3:40:31 |
40 to 49
| | | | | | |
| --- | --- | --- | --- | --- | --- |
| 1 | 155 | | Bibhusan Bista | 40 to 49 | 1:22:24 |
| 2 | 1093 | | Egbert Pos | 40 to 49 | 1:22:50 |
| 3 | 131 | | Ram Gopal Awale | 40 to 49 | 1:25:07 |
| 4 | 1531 | | Jason Seuc | 40 to 49 | 1:26:18 |
| 5 | 584 | | Binay Raj Dangol | 40 to 49 | 1:28:03 |
| 6 | 360 | | Santosh Nath Karmacharya | 40 to 49 | 1:43:23 |
| 7 | 1248 | | Tom Adams | 40 to 49 | 2:06:26 |
| 8 | 1574 | | Purushottam Sapkota | 40 to 49 | 3:02:29 |
50 and above
| | | | | | |
| --- | --- | --- | --- | --- | --- |
| 1 | 1068 | | Bernardo Cocco | 50 and above | 1:17:26 |
| 2 | 190 | | Ganesh Lal Shakya | 50 and above | 1:38:00 |
| 3 | 1545 | | shreekrishna kayastha | 50 and above | 1:50:06 |
| 4 | 1557 | | Mark Templer | 50 and above | 1:50:38 |
| 5 | 1559 | | Douglas Sirkka | 50 and above | 1:59:24 |
| 6 | 1568 | | Paul Jeremy Cohn | 50 and above | 2:01:43 |
| | | | | | |
| --- | --- | --- | --- | --- | --- |
| 1 | 1542 | | Anil Sunar | 13 to 17 | 0:59:43 |
| 2 | 1539 | | Nirmal Ghale | 18 to 39 | 1:03:36 |
| 3 | 1547 | | DeMark Schulze | 18 to 39 | 1:17:08 |
| 4 | 1068 | | Bernardo Cocco | 50 and above | 1:17:26 |
| 5 | 185 | | Deepak Shah | 18 to 39 | 1:19:24 |
| 6 | 155 | | Bibhusan Bista | 40 to 49 | 1:22:24 |
| 7 | 1093 | | Egbert Pos | 40 to 49 | 1:22:50 |
| 8 | 124 | | Krishna Kumar Maharjan | 18 to 39 | 1:24:52 |
| 9 | 131 | | Ram Gopal Awale | 40 to 49 | 1:25:07 |
| 10 | 1541 | | Ujjwol Pujari | 18 to 39 | 1:26:14 |
| 11 | 1531 | | Jason Seuc | 40 to 49 | 1:26:18 |
| 12 | 584 | | Binay Raj Dangol | 40 to 49 | 1:28:03 |
| 13 | 1576 | | Sworup Basnet | 18 to 39 | 1:31:46 |
| 14 | 1571 | | Saroj Bista | 18 to 39 | 1:31:59 |
| 15 | 1572 | | Amir Bista | 18 to 39 | 1:32:04 |
| 16 | 190 | | Ganesh Lal Shakya | 50 and above | 1:38:00 |
| 17 | 1567 | | Siddhartha Singh | 18 to 39 | 1:43:07 |
| 18 | 360 | | Santosh Nath Karmacharya | 40 to 49 | 1:43:23 |
| 19 | 1545 | | shreekrishna kayastha | 50 and above | 1:50:06 |
| 20 | 1557 | | Mark Templer | 50 and above | 1:50:38 |
| 21 | 1560 | | Prajwal Gadtaula | 18 to 39 | 1:50:44 |
| 22 | 1551 | | Khagendra Prasad Chaudhary | 18 to 39 | 1:51:14 |
| 23 | 1553 | | Sailesh Kasaju | 18 to 39 | 1:51:45 |
| 24 | 1554 | | Sudin Pradhan | 18 to 39 | 1:51:46 |
| 25 | 1577 | | Suresh Giri | 18 to 39 | 1:57:30 |
| 26 | 1559 | | Douglas Sirkka | 50 and above | 1:59:24 |
| 27 | 1538 | | Subin Thakuri | 18 to 39 | 2:01:29 |
| 28 | 1568 | | Paul Jeremy Cohn | 50 and above | 2:01:43 |
| 29 | 1248 | | Tom Adams | 40 to 49 | 2:06:26 |
| 30 | 163 | | Oskar Edwards | 9 to 12 | 2:13:49 |
| 31 | 1574 | | Purushottam Sapkota | 40 to 49 | 3:02:29 |
| 32 | 1575 | | Santosh Pokharel | 18 to 39 | 3:40:31 |
Female
9 to 12
| | | | | | |
| --- | --- | --- | --- | --- | --- |
| 1 | 162 | | Freja Edwards | 9 to 12 | 3:01:47 |
18 to 39
| | | | | | |
| --- | --- | --- | --- | --- | --- |
| 1 | 1097 | | Lynn Schneider | 18 to 39 | 1:20:21 |
| 2 | 1534 | | Lindsay Seuc | 18 to 39 | 1:32:55 |
| 3 | 1167 | | Helen Lydia Craig | 18 to 39 | 1:37:29 |
| 4 | 1537 | | Marianne Pivot | 18 to 39 | 2:01:34 |
40 to 49
| | | | | | |
| --- | --- | --- | --- | --- | --- |
| 1 | 122 | | Stine Heiselberg | 40 to 49 | 1:43:52 |
| 2 | 1570 | | Cameron Coale Monti | 40 to 49 | 2:41:33 |
| 3 | 1561 | | Ania Julia Smithers | 40 to 49 | 2:42:09 |
| 4 | 1069 | | Samantha Megan Cocco-Klein | 40 to 49 | 3:01:40 |
50 and above
| | | | | | |
| --- | --- | --- | --- | --- | --- |
| 1 | 1512 | | Sabrina Schmidt-Koschella | 50 and above | 1:23:39 |
| 2 | 1552 | | Anne Stronach Goldie | 50 and above | 1:33:14 |
| 3 | 1249 | | Hilary Adams | 50 and above | 2:06:23 |
| 4 | 1222 | | Bindi Borg | 50 and above | 2:41:23 |
| | | | | | |
| --- | --- | --- | --- | --- | --- |
| 1 | 1097 | | Lynn Schneider | 18 to 39 | 1:20:21 |
| 2 | 1512 | | Sabrina Schmidt-Koschella | 50 and above | 1:23:39 |
| 3 | 1534 | | Lindsay Seuc | 18 to 39 | 1:32:55 |
| 4 | 1552 | | Anne Stronach Goldie | 50 and above | 1:33:14 |
| 5 | 1167 | | Helen Lydia Craig | 18 to 39 | 1:37:29 |
| 6 | 122 | | Stine Heiselberg | 40 to 49 | 1:43:52 |
| 7 | 1537 | | Marianne Pivot | 18 to 39 | 2:01:34 |
| 8 | 1249 | | Hilary Adams | 50 and above | 2:06:23 |
| 9 | 1222 | | Bindi Borg | 50 and above | 2:41:23 |
| 10 | 1570 | | Cameron Coale Monti | 40 to 49 | 2:41:33 |
| 11 | 1561 | | Ania Julia Smithers | 40 to 49 | 2:42:09 |
| 12 | 1069 | | Samantha Megan Cocco-Klein | 40 to 49 | 3:01:40 |
| 13 | 162 | | Freja Edwards | 9 to 12 | 3:01:47 |
3K
Male
8 and below
| | | | | | |
| --- | --- | --- | --- | --- | --- |
| 1 | 1355 | | Ishan Chaudhary | 8 and below | 0:31:23 |
| 2 | 1528 | | Finley MacGyver Ratliff | 8 and below | 0:35:44 |
| 3 | 1024 | | Raul Chaudhary | 8 and below | 0:38:34 |
| 4 | 1533 | | Elliot Seuc | 8 and below | 0:55:58 |
| 5 | 1563 | | Lue Dalgaard Andersen | 8 and below | 1:27:40 |
9 to 12
| | | | | | |
| --- | --- | --- | --- | --- | --- |
| 1 | 624 | | Rasan Awale | 9 to 12 | 0:38:38 |
| 2 | 1139 | | Hardik Maharjan | 9 to 12 | 0:41:27 |
18 to 39
| | | | | | |
| --- | --- | --- | --- | --- | --- |
| 1 | 1168 | | Richard Marshall Craig | 18 to 39 | 0:52:13 |
40 to 49
| | | | | | |
| --- | --- | --- | --- | --- | --- |
| 1 | 1527 | | David Alan Ratliff | 40 to 49 | 0:35:27 |
| 2 | 1555 | | Sijan R. Baral | 40 to 49 | 0:49:05 |
| 3 | 1565 | | Lasse Galschiot Markus | 40 to 49 | 1:27:46 |
| | | | | | |
| --- | --- | --- | --- | --- | --- |
| 1 | 1355 | | Ishan Chaudhary | 8 and below | 0:31:23 |
| 2 | 1527 | | David Alan Ratliff | 40 to 49 | 0:35:27 |
| 3 | 1528 | | Finley MacGyver Ratliff | 8 and below | 0:35:44 |
| 4 | 1024 | | Raul Chaudhary | 8 and below | 0:38:34 |
| 5 | 624 | | Rasan Awale | 9 to 12 | 0:38:38 |
| 6 | 1139 | | Hardik Maharjan | 9 to 12 | 0:41:27 |
| 7 | 1555 | | Sijan R. Baral | 40 to 49 | 0:49:05 |
| 8 | 1168 | | Richard Marshall Craig | 18 to 39 | 0:52:13 |
| 9 | 1533 | | Elliot Seuc | 8 and below | 0:55:58 |
| 10 | 1563 | | Lue Dalgaard Andersen | 8 and below | 1:27:40 |
| 11 | 1565 | | Lasse Galschiot Markus | 40 to 49 | 1:27:46 |
Female
8 and below
| | | | | | |
| --- | --- | --- | --- | --- | --- |
| 1 | 1530 | | Annika Medi Ratliff | 8 and below | 0:37:53 |
| 2 | 1562 | | Athena Pujari | 8 and below | 0:45:15 |
| 3 | 1556 | | Tejaswi Baral | 8 and below | 0:49:02 |
| 4 | 1169 | | Lily Florence Craig | 8 and below | 0:52:11 |
| 5 | 1549 | | Poe Schulze | 8 and below | 0:55:53 |
| 6 | 1532 | | Penelope Seuc | 8 and below | 0:56:08 |
| 7 | 1558 | | Vidhi Shrestha | 8 and below | 1:26:16 |
| 8 | 744 | | Prajnah Shakya | 8 and below | 1:26:35 |
18 to 39
| | | | | | |
| --- | --- | --- | --- | --- | --- |
| 1 | 1540 | | Laura Marie Parrott | 18 to 39 | 0:38:46 |
| 2 | 1535 | | Emma Leering | 18 to 39 | 0:41:42 |
| 3 | 1566 | | Jiya Sherpa | 18 to 39 | 0:56:10 |
| 4 | 1548 | | Colleen O'Donnell | 18 to 39 | 0:56:52 |
40 to 49
| | | | | | |
| --- | --- | --- | --- | --- | --- |
| 1 | 1529 | | Carly Anderson-Ratliff | 40 to 49 | 0:38:06 |
| 2 | 692 | | Shrija Lohani | 40 to 49 | 0:51:24 |
| 3 | 1564 | | Laila Dalgaard Andersen | 40 to 49 | 1:27:53 |
50 and above
| | | | | | |
| --- | --- | --- | --- | --- | --- |
| 1 | 1569 | | Abby Aronson | 50 and above | 0:56:03 |
| 2 | 1573 | | Sushila Lohani | 50 and above | 0:57:37 |
| | | | | | |
| --- | --- | --- | --- | --- | --- |
| 1 | 1530 | | Annika Medi Ratliff | 8 and below | 0:37:53 |
| 2 | 1529 | | Carly Anderson-Ratliff | 40 to 49 | 0:38:06 |
| 3 | 1540 | | Laura Marie Parrott | 18 to 39 | 0:38:46 |
| 4 | 1535 | | Emma Leering | 18 to 39 | 0:41:42 |
| 5 | 1562 | | Athena Pujari | 8 and below | 0:45:15 |
| 6 | 1556 | | Tejaswi Baral | 8 and below | 0:49:02 |
| 7 | 692 | | Shrija Lohani | 40 to 49 | 0:51:24 |
| 8 | 1169 | | Lily Florence Craig | 8 and below | 0:52:11 |
| 9 | 1549 | | Poe Schulze | 8 and below | 0:55:53 |
| 10 | 1569 | | Abby Aronson | 50 and above | 0:56:03 |
| 11 | 1532 | | Penelope Seuc | 8 and below | 0:56:08 |
| 12 | 1566 | | Jiya Sherpa | 18 to 39 | 0:56:10 |
| 13 | 1548 | | Colleen O'Donnell | 18 to 39 | 0:56:52 |
| 14 | 1573 | | Sushila Lohani | 50 and above | 0:57:37 |
| 15 | 1558 | | Vidhi Shrestha | 8 and below | 1:26:16 |
| 16 | 744 | | Prajnah Shakya | 8 and below | 1:26:35 |
| 17 | 1564 | | Laila Dalgaard Andersen | 40 to 49 | 1:27:53 |