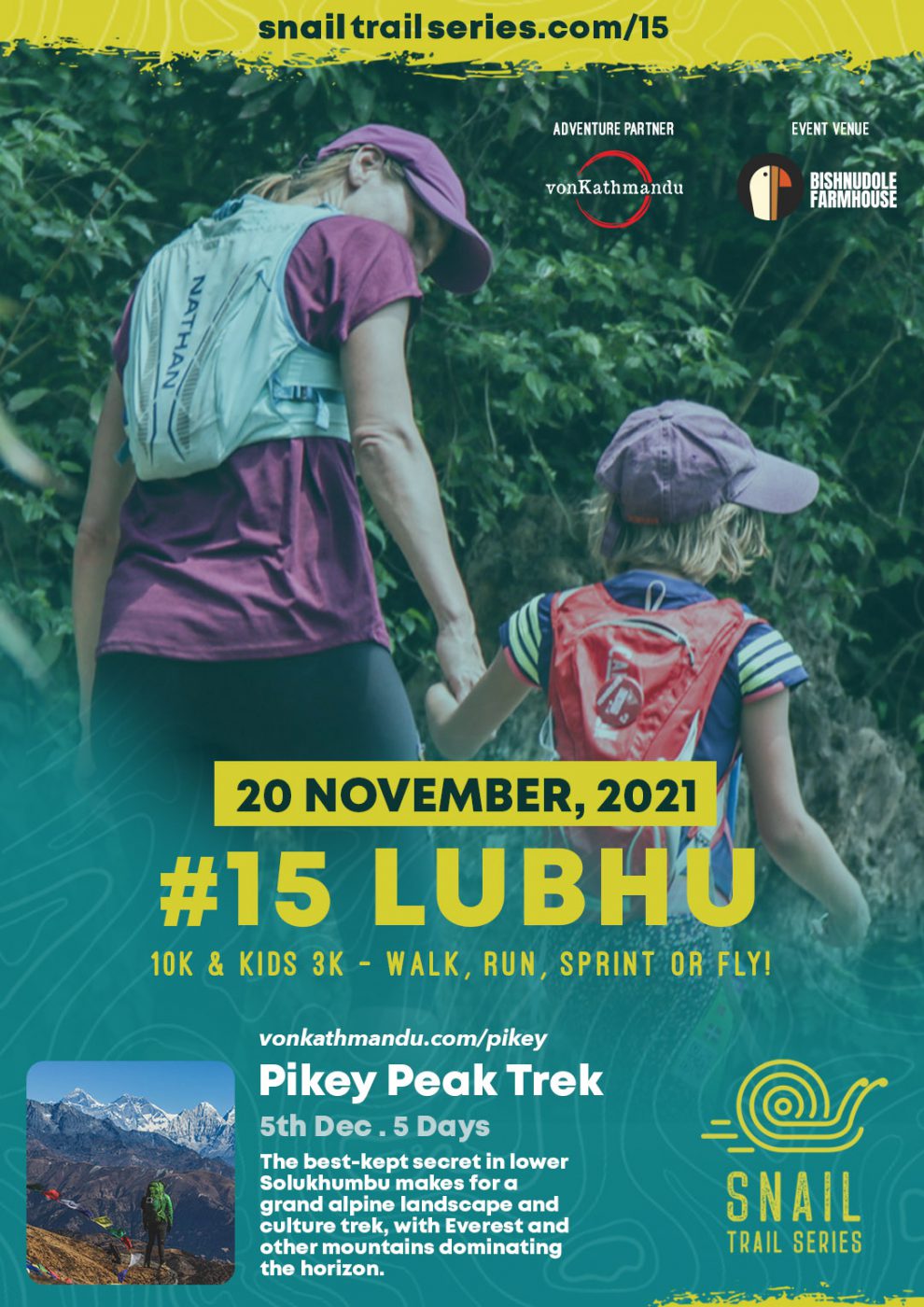 Event Date
November 20, 2021
Venue
Bishnudole Farm House
Located at Mahalaxmi Municipality, Lalitpur
Open pin on Google Map
Distances
12K, 6K and 3K
Observations, updates and note to self
Same prices for all nationalities - no discrimination
Charity component terminated. Profit-driven growth strategy implemented
7K and 15K merged to 10K
New timekeeping system rolled out
New age categories (8 and below, 9 to 12, and 50+)
Food team kicked out for horrible performance
Change in media team (new photographers)
Season Pass discontinued
Website revamped. 9th redo in the works.
Become a Management and Operations Lead Expert and participate for free!
Race playlist heavily diversified. Expect quite a few 90's Bollywood!
Trails and Venue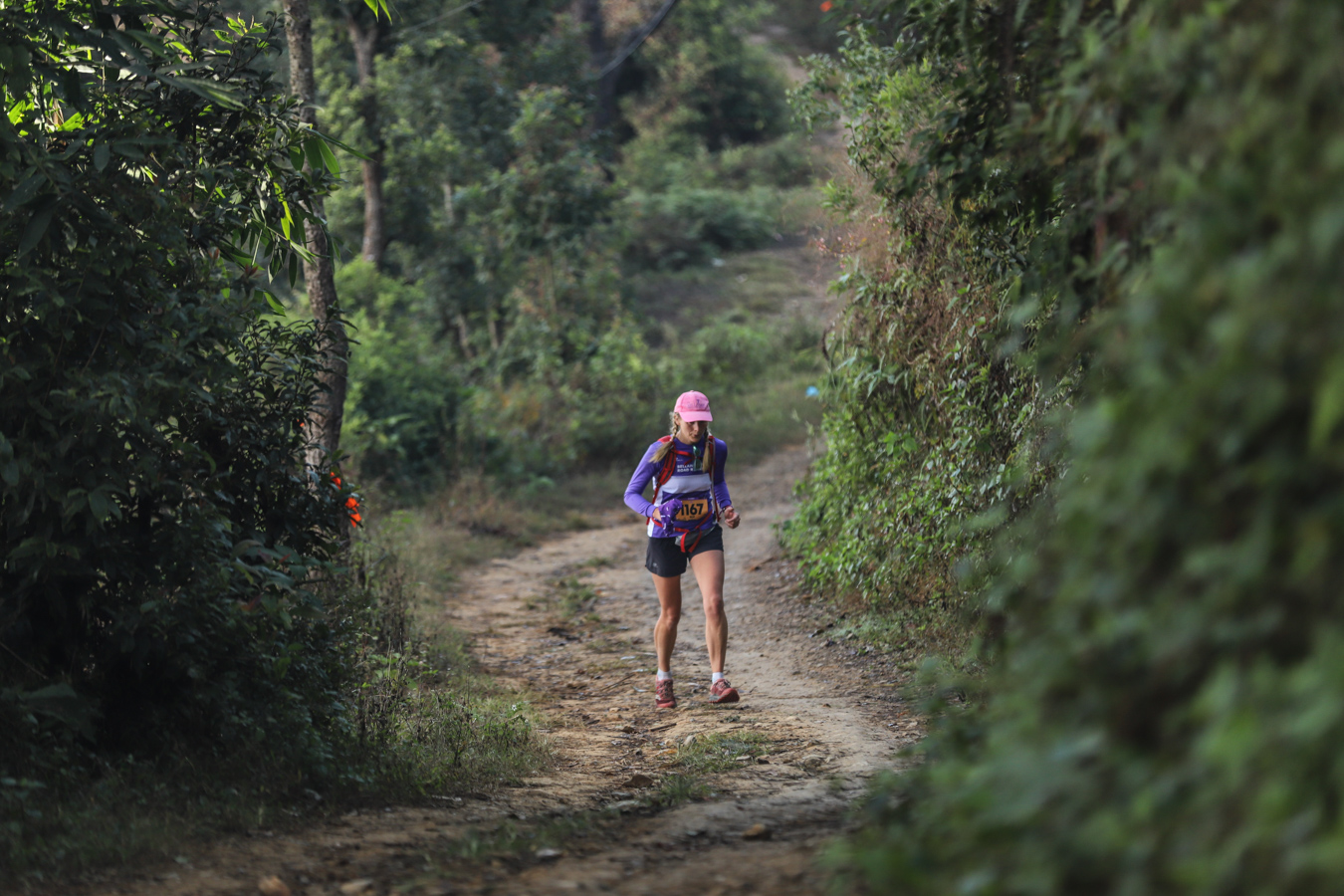 138 photos by:
| | |
| --- | --- |
| | Jeevan Lama |
Trails and Venue
397 photos by:
| | |
| --- | --- |
| | #15 Lubhu |
| | | | |
| --- | --- | --- | --- |
| 35 | | Nepal | |
| 18 | | United States | |
| 7 | | United Kingdom | |
| 6 | | Denmark | |
| | | | |
| --- | --- | --- | --- |
| 1 | | Germany | |
| 1 | | Poland | |
| 1 | | Italy | |
| 1 | | Australia | |
| | | | |
| --- | --- | --- | --- |
| 1 | | Canada | |
| 1 | | Netherlands | |
| 1 | | France | |
10K
Male
9 to 12
| | | | | | |
| --- | --- | --- | --- | --- | --- |
| 1 | 163 | | Oskar Edwards | 9 to 12 | 2:13:49 |
13 to 17
| | | | | | |
| --- | --- | --- | --- | --- | --- |
| 1 | 1542 | | Anil Sunar | 13 to 17 | 0:59:43 |
18 to 39
| | | | | | |
| --- | --- | --- | --- | --- | --- |
| 1 | 1539 | | Nirmal Ghale | 18 to 39 | 1:03:36 |
| 2 | 1547 | | DeMark Schulze | 18 to 39 | 1:17:08 |
| 3 | 185 | | Deepak Shah | 18 to 39 | 1:19:24 |
| 4 | 124 | | Krishna Kumar Maharjan | 18 to 39 | 1:24:52 |
| 5 | 1541 | | Ujjwol Pujari | 18 to 39 | 1:26:14 |
| 6 | 1576 | | Sworup Basnet | 18 to 39 | 1:31:46 |
| 7 | 1571 | | Saroj Bista | 18 to 39 | 1:31:59 |
| 8 | 1572 | | Amir Bista | 18 to 39 | 1:32:04 |
| 9 | 1567 | | Siddhartha Singh | 18 to 39 | 1:43:07 |
| 10 | 1560 | | Prajwal Gadtaula | 18 to 39 | 1:50:44 |
| 11 | 1551 | | Khagendra Prasad Chaudhary | 18 to 39 | 1:51:14 |
| 12 | 1553 | | Sailesh Kasaju | 18 to 39 | 1:51:45 |
| 13 | 1554 | | Sudin Pradhan | 18 to 39 | 1:51:46 |
| 14 | 1577 | | Suresh Giri | 18 to 39 | 1:57:30 |
| 15 | 1538 | | Subin Thakuri | 18 to 39 | 2:01:29 |
| 16 | 1575 | | Santosh Pokharel | 18 to 39 | 3:40:31 |
40 to 49
| | | | | | |
| --- | --- | --- | --- | --- | --- |
| 1 | 155 | | Bibhusan Bista | 40 to 49 | 1:22:24 |
| 2 | 1093 | | Egbert Pos | 40 to 49 | 1:22:50 |
| 3 | 131 | | Ram Gopal Awale | 40 to 49 | 1:25:07 |
| 4 | 1531 | | Jason Seuc | 40 to 49 | 1:26:18 |
| 5 | 584 | | Binay Raj Dangol | 40 to 49 | 1:28:03 |
| 6 | 360 | | Santosh Nath Karmacharya | 40 to 49 | 1:43:23 |
| 7 | 1248 | | Tom Adams | 40 to 49 | 2:06:26 |
| 8 | 1574 | | Purushottam Sapkota | 40 to 49 | 3:02:29 |
50 and above
| | | | | | |
| --- | --- | --- | --- | --- | --- |
| 1 | 1068 | | Bernardo Cocco | 50 and above | 1:17:26 |
| 2 | 190 | | Ganesh Lal Shakya | 50 and above | 1:38:00 |
| 3 | 1545 | | shreekrishna kayastha | 50 and above | 1:50:06 |
| 4 | 1557 | | Mark Templer | 50 and above | 1:50:38 |
| 5 | 1559 | | Douglas Sirkka | 50 and above | 1:59:24 |
| 6 | 1568 | | Paul Jeremy Cohn | 50 and above | 2:01:43 |
| | | | | | |
| --- | --- | --- | --- | --- | --- |
| 1 | 1542 | | Anil Sunar | 13 to 17 | 0:59:43 |
| 2 | 1539 | | Nirmal Ghale | 18 to 39 | 1:03:36 |
| 3 | 1547 | | DeMark Schulze | 18 to 39 | 1:17:08 |
| 4 | 1068 | | Bernardo Cocco | 50 and above | 1:17:26 |
| 5 | 185 | | Deepak Shah | 18 to 39 | 1:19:24 |
| 6 | 155 | | Bibhusan Bista | 40 to 49 | 1:22:24 |
| 7 | 1093 | | Egbert Pos | 40 to 49 | 1:22:50 |
| 8 | 124 | | Krishna Kumar Maharjan | 18 to 39 | 1:24:52 |
| 9 | 131 | | Ram Gopal Awale | 40 to 49 | 1:25:07 |
| 10 | 1541 | | Ujjwol Pujari | 18 to 39 | 1:26:14 |
| 11 | 1531 | | Jason Seuc | 40 to 49 | 1:26:18 |
| 12 | 584 | | Binay Raj Dangol | 40 to 49 | 1:28:03 |
| 13 | 1576 | | Sworup Basnet | 18 to 39 | 1:31:46 |
| 14 | 1571 | | Saroj Bista | 18 to 39 | 1:31:59 |
| 15 | 1572 | | Amir Bista | 18 to 39 | 1:32:04 |
| 16 | 190 | | Ganesh Lal Shakya | 50 and above | 1:38:00 |
| 17 | 1567 | | Siddhartha Singh | 18 to 39 | 1:43:07 |
| 18 | 360 | | Santosh Nath Karmacharya | 40 to 49 | 1:43:23 |
| 19 | 1545 | | shreekrishna kayastha | 50 and above | 1:50:06 |
| 20 | 1557 | | Mark Templer | 50 and above | 1:50:38 |
| 21 | 1560 | | Prajwal Gadtaula | 18 to 39 | 1:50:44 |
| 22 | 1551 | | Khagendra Prasad Chaudhary | 18 to 39 | 1:51:14 |
| 23 | 1553 | | Sailesh Kasaju | 18 to 39 | 1:51:45 |
| 24 | 1554 | | Sudin Pradhan | 18 to 39 | 1:51:46 |
| 25 | 1577 | | Suresh Giri | 18 to 39 | 1:57:30 |
| 26 | 1559 | | Douglas Sirkka | 50 and above | 1:59:24 |
| 27 | 1538 | | Subin Thakuri | 18 to 39 | 2:01:29 |
| 28 | 1568 | | Paul Jeremy Cohn | 50 and above | 2:01:43 |
| 29 | 1248 | | Tom Adams | 40 to 49 | 2:06:26 |
| 30 | 163 | | Oskar Edwards | 9 to 12 | 2:13:49 |
| 31 | 1574 | | Purushottam Sapkota | 40 to 49 | 3:02:29 |
| 32 | 1575 | | Santosh Pokharel | 18 to 39 | 3:40:31 |
Female
9 to 12
| | | | | | |
| --- | --- | --- | --- | --- | --- |
| 1 | 162 | | Freja Edwards | 9 to 12 | 3:01:47 |
18 to 39
| | | | | | |
| --- | --- | --- | --- | --- | --- |
| 1 | 1097 | | Lynn Schneider | 18 to 39 | 1:20:21 |
| 2 | 1534 | | Lindsay Seuc | 18 to 39 | 1:32:55 |
| 3 | 1167 | | Helen Lydia Craig | 18 to 39 | 1:37:29 |
| 4 | 1537 | | Marianne Pivot | 18 to 39 | 2:01:34 |
40 to 49
| | | | | | |
| --- | --- | --- | --- | --- | --- |
| 1 | 122 | | Stine Heiselberg | 40 to 49 | 1:43:52 |
| 2 | 1570 | | Cameron Coale Monti | 40 to 49 | 2:41:33 |
| 3 | 1561 | | Ania Julia Smithers | 40 to 49 | 2:42:09 |
| 4 | 1069 | | Samantha Megan Cocco-Klein | 40 to 49 | 3:01:40 |
50 and above
| | | | | | |
| --- | --- | --- | --- | --- | --- |
| 1 | 1512 | | Sabrina Schmidt-Koschella | 50 and above | 1:23:39 |
| 2 | 1552 | | Anne Stronach Goldie | 50 and above | 1:33:14 |
| 3 | 1249 | | Hilary Adams | 50 and above | 2:06:23 |
| 4 | 1222 | | Bindi Borg | 50 and above | 2:41:23 |
| | | | | | |
| --- | --- | --- | --- | --- | --- |
| 1 | 1097 | | Lynn Schneider | 18 to 39 | 1:20:21 |
| 2 | 1512 | | Sabrina Schmidt-Koschella | 50 and above | 1:23:39 |
| 3 | 1534 | | Lindsay Seuc | 18 to 39 | 1:32:55 |
| 4 | 1552 | | Anne Stronach Goldie | 50 and above | 1:33:14 |
| 5 | 1167 | | Helen Lydia Craig | 18 to 39 | 1:37:29 |
| 6 | 122 | | Stine Heiselberg | 40 to 49 | 1:43:52 |
| 7 | 1537 | | Marianne Pivot | 18 to 39 | 2:01:34 |
| 8 | 1249 | | Hilary Adams | 50 and above | 2:06:23 |
| 9 | 1222 | | Bindi Borg | 50 and above | 2:41:23 |
| 10 | 1570 | | Cameron Coale Monti | 40 to 49 | 2:41:33 |
| 11 | 1561 | | Ania Julia Smithers | 40 to 49 | 2:42:09 |
| 12 | 1069 | | Samantha Megan Cocco-Klein | 40 to 49 | 3:01:40 |
| 13 | 162 | | Freja Edwards | 9 to 12 | 3:01:47 |
3K
Male
8 and below
| | | | | | |
| --- | --- | --- | --- | --- | --- |
| 1 | 1355 | | Ishan Chaudhary | 8 and below | 0:31:23 |
| 2 | 1528 | | Finley MacGyver Ratliff | 8 and below | 0:35:44 |
| 3 | 1024 | | Raul Chaudhary | 8 and below | 0:38:34 |
| 4 | 1533 | | Elliot Seuc | 8 and below | 0:55:58 |
| 5 | 1563 | | Lue Dalgaard Andersen | 8 and below | 1:27:40 |
9 to 12
| | | | | | |
| --- | --- | --- | --- | --- | --- |
| 1 | 624 | | Rasan Awale | 9 to 12 | 0:38:38 |
| 2 | 1139 | | Hardik Maharjan | 9 to 12 | 0:41:27 |
18 to 39
| | | | | | |
| --- | --- | --- | --- | --- | --- |
| 1 | 1168 | | Richard Marshall Craig | 18 to 39 | 0:52:13 |
40 to 49
| | | | | | |
| --- | --- | --- | --- | --- | --- |
| 1 | 1527 | | David Alan Ratliff | 40 to 49 | 0:35:27 |
| 2 | 1555 | | Sijan R. Baral | 40 to 49 | 0:49:05 |
| 3 | 1565 | | Lasse Galschiot Markus | 40 to 49 | 1:27:46 |
| | | | | | |
| --- | --- | --- | --- | --- | --- |
| 1 | 1355 | | Ishan Chaudhary | 8 and below | 0:31:23 |
| 2 | 1527 | | David Alan Ratliff | 40 to 49 | 0:35:27 |
| 3 | 1528 | | Finley MacGyver Ratliff | 8 and below | 0:35:44 |
| 4 | 1024 | | Raul Chaudhary | 8 and below | 0:38:34 |
| 5 | 624 | | Rasan Awale | 9 to 12 | 0:38:38 |
| 6 | 1139 | | Hardik Maharjan | 9 to 12 | 0:41:27 |
| 7 | 1555 | | Sijan R. Baral | 40 to 49 | 0:49:05 |
| 8 | 1168 | | Richard Marshall Craig | 18 to 39 | 0:52:13 |
| 9 | 1533 | | Elliot Seuc | 8 and below | 0:55:58 |
| 10 | 1563 | | Lue Dalgaard Andersen | 8 and below | 1:27:40 |
| 11 | 1565 | | Lasse Galschiot Markus | 40 to 49 | 1:27:46 |
Female
8 and below
| | | | | | |
| --- | --- | --- | --- | --- | --- |
| 1 | 1530 | | Annika Medi Ratliff | 8 and below | 0:37:53 |
| 2 | 1562 | | Athena Pujari | 8 and below | 0:45:15 |
| 3 | 1556 | | Tejaswi Baral | 8 and below | 0:49:02 |
| 4 | 1169 | | Lily Florence Craig | 8 and below | 0:52:11 |
| 5 | 1549 | | Poe Schulze | 8 and below | 0:55:53 |
| 6 | 1532 | | Penelope Seuc | 8 and below | 0:56:08 |
| 7 | 1558 | | Vidhi Shrestha | 8 and below | 1:26:16 |
| 8 | 744 | | Prajnah Shakya | 8 and below | 1:26:35 |
18 to 39
| | | | | | |
| --- | --- | --- | --- | --- | --- |
| 1 | 1540 | | Laura Marie Parrott | 18 to 39 | 0:38:46 |
| 2 | 1535 | | Emma Leering | 18 to 39 | 0:41:42 |
| 3 | 1566 | | Jiya Sherpa | 18 to 39 | 0:56:10 |
| 4 | 1548 | | Colleen O'Donnell | 18 to 39 | 0:56:52 |
40 to 49
| | | | | | |
| --- | --- | --- | --- | --- | --- |
| 1 | 1529 | | Carly Anderson-Ratliff | 40 to 49 | 0:38:06 |
| 2 | 692 | | Shrija Lohani | 40 to 49 | 0:51:24 |
| 3 | 1564 | | Laila Dalgaard Andersen | 40 to 49 | 1:27:53 |
50 and above
| | | | | | |
| --- | --- | --- | --- | --- | --- |
| 1 | 1569 | | Abby Aronson | 50 and above | 0:56:03 |
| 2 | 1573 | | Sushila Lohani | 50 and above | 0:57:37 |
| | | | | | |
| --- | --- | --- | --- | --- | --- |
| 1 | 1530 | | Annika Medi Ratliff | 8 and below | 0:37:53 |
| 2 | 1529 | | Carly Anderson-Ratliff | 40 to 49 | 0:38:06 |
| 3 | 1540 | | Laura Marie Parrott | 18 to 39 | 0:38:46 |
| 4 | 1535 | | Emma Leering | 18 to 39 | 0:41:42 |
| 5 | 1562 | | Athena Pujari | 8 and below | 0:45:15 |
| 6 | 1556 | | Tejaswi Baral | 8 and below | 0:49:02 |
| 7 | 692 | | Shrija Lohani | 40 to 49 | 0:51:24 |
| 8 | 1169 | | Lily Florence Craig | 8 and below | 0:52:11 |
| 9 | 1549 | | Poe Schulze | 8 and below | 0:55:53 |
| 10 | 1569 | | Abby Aronson | 50 and above | 0:56:03 |
| 11 | 1532 | | Penelope Seuc | 8 and below | 0:56:08 |
| 12 | 1566 | | Jiya Sherpa | 18 to 39 | 0:56:10 |
| 13 | 1548 | | Colleen O'Donnell | 18 to 39 | 0:56:52 |
| 14 | 1573 | | Sushila Lohani | 50 and above | 0:57:37 |
| 15 | 1558 | | Vidhi Shrestha | 8 and below | 1:26:16 |
| 16 | 744 | | Prajnah Shakya | 8 and below | 1:26:35 |
| 17 | 1564 | | Laila Dalgaard Andersen | 40 to 49 | 1:27:53 |