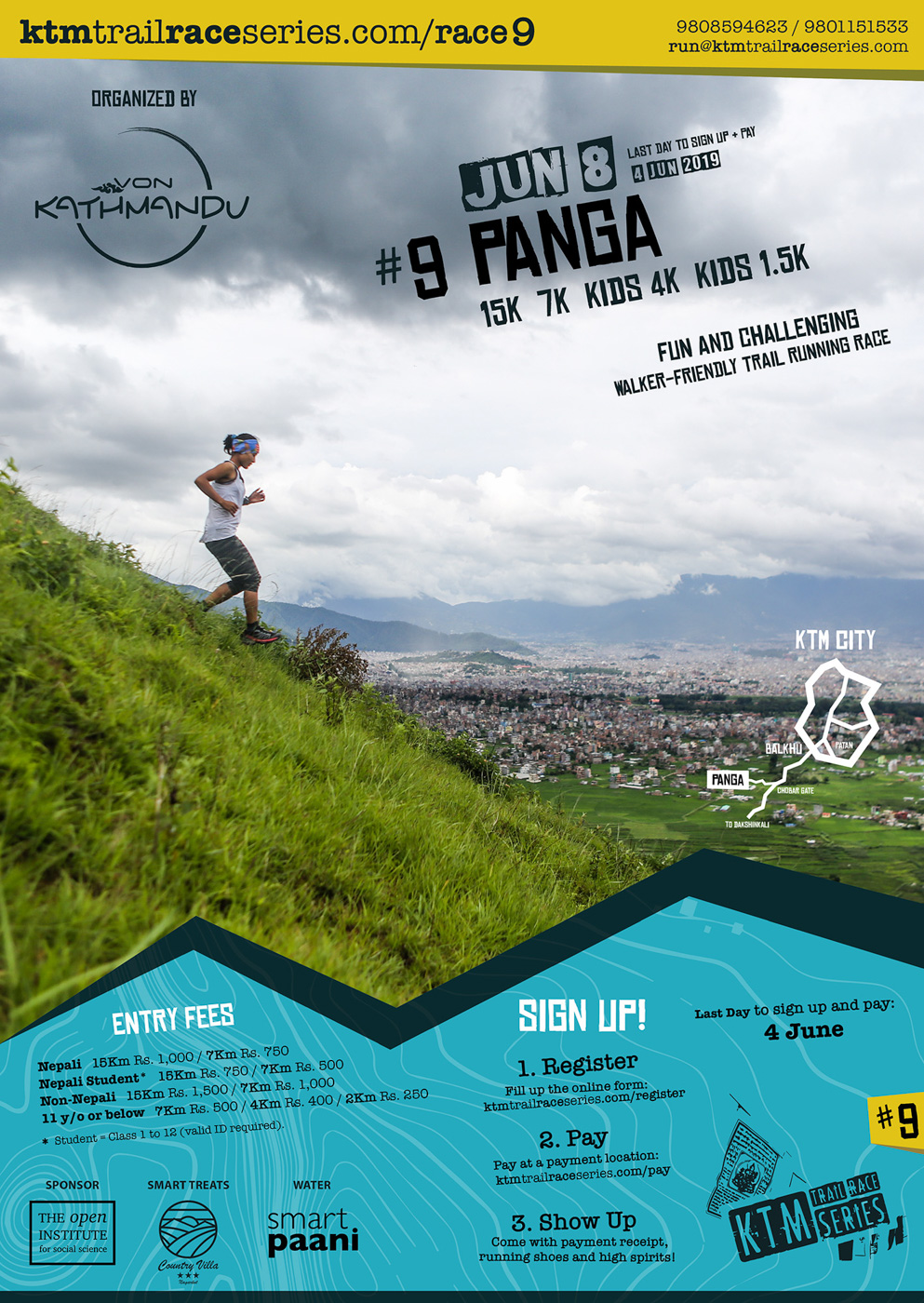 Event Date
June 8, 2019
Venue
Janasewa Secondary School
Located at Panga, Lalitpur
Open pin on Google Map
Distances
12K, 6K and 3K
Observations, updates and note to self
4K kids distance launched.
17 & below category divided into 12 to 17, and 11 & below.
With the increase in the number of winners (added categories), medals switched from handcrafted to normal ones in the interest of not filing for Chapter 9 Bankruptcy and living in a cardboard box.
Collaborated with French School in Kathmanu - 56 badass kids show up!
Start times changed to promote trail safety: staggered start for 15K and 7K (10mins apart), owing to growing numbers. 4K and 2K start 90mins after 7K, to allow lead pack of longer distances to finish.
Trail team relieved and replaced on disciplinary grounds.
Biggest delay for start, 45mins from actual start time.
A handful of cases of heat exhaustion (including one severe) resulting from late start.
Trail chaperons available to run with kids if parents opt for a longer distance.
Website revamped for the third time. Full race pack, photo albums, results and participant summary centralized for easy access.
Trails and some podium
148 photos by:
Trails and some podium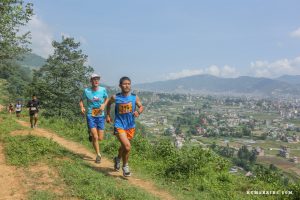 122 photos by:
| | |
| --- | --- |
| | Samdup Gurung |
Start and Finish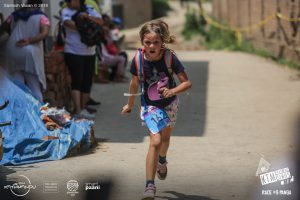 136 photos by:
| | | | |
| --- | --- | --- | --- |
| 95 | | Nepal | |
| 20 | | France | |
| 13 | | United States | |
| 11 | | United Kingdom | |
| 8 | | Belgium | |
| 7 | | Canada | |
| 6 | | Australia | |
| 5 | | Denmark | |
| 5 | | Netherlands | |
| 4 | | Switzerland | |
| | | | |
| --- | --- | --- | --- |
| 4 | | Norway | |
| 4 | | Italy | |
| 2 | | Japan | |
| 2 | | Costa Rica | |
| 2 | | Mexico | |
| 2 | | Germany | |
| 2 | | India | |
| 1 | | Austria | |
| 1 | | Russia | |
| 1 | | Pakistan | |
| | | | |
| --- | --- | --- | --- |
| 1 | | Sweden | |
| 1 | | Finland | |
| 1 | | Slovakia | |
| 1 | | Ireland | |
| 1 | | Democratic Republic Of The Congo | |
| 1 | | Uzbekistan | |
| 1 | | Mongolia | |
| 1 | | Laos | |
15K
Male
12 to 17
| | | | | | |
| --- | --- | --- | --- | --- | --- |
| 1 | 830 | | Laxman Gurung | 12 to 17 | 1:07:14 |
| 2 | 905 | | Pasang Tamang | 12 to 17 | 1:12:31 |
| 3 | 904 | | Ram Lopchan | 12 to 17 | 1:13:31 |
| 4 | 521 | | Sunil Tamang | 12 to 17 | 1:16:38 |
| 5 | 151 | | Nurbu Tamang | 12 to 17 | 1:19:25 |
| 6 | 280 | | Kushal Lamichhane | 12 to 17 | 1:20:20 |
| 7 | 651 | | Tenzin Tsering Lama | 12 to 17 | 1:36:43 |
| 8 | 653 | | Tenzin Gyalpo Gurung | 12 to 17 | 1:37:02 |
| 9 | 642 | | Sabin Dahal | 12 to 17 | 1:44:09 |
18 to 39
| | | | | | |
| --- | --- | --- | --- | --- | --- |
| 1 | 101 | | Tek Bahadur Basnet | 18 to 39 | 1:03:02 |
| 2 | 290 | | Np Purnesh Syangbo | 18 to 39 | 1:04:19 |
| 3 | 292 | | Phurpa Singi Tamang | 18 to 39 | 1:04:30 |
| 4 | 874 | | Sadip Sorali Magar | 18 to 39 | 1:05:11 |
| 5 | 1039 | | Mahesh Thapa | 18 to 39 | 1:07:25 |
| 6 | 580 | | Sayunraj Gurung | 18 to 39 | 1:09:24 |
| 7 | 110 | | Amrit Basnet | 18 to 39 | 1:09:43 |
| 8 | 948 | | Tomohiro Minami | 18 to 39 | 1:10:43 |
| 9 | 291 | | Pemba Dorje Tamang | 18 to 39 | 1:11:48 |
| 10 | 288 | | Nor Lama | 18 to 39 | 1:12:39 |
| 11 | 476 | | Mane Tamang | 18 to 39 | 1:12:44 |
| 12 | 1040 | | Bikash | 18 to 39 | 1:12:52 |
| 13 | 157 | | Jason Finch | 18 to 39 | 1:12:57 |
| 14 | 221 | | Jeevan Lama | 18 to 39 | 1:13:01 |
| 15 | 289 | | Dorje Tamang | 18 to 39 | 1:13:39 |
| 16 | 400 | | Singi Syangbo Tamang | 18 to 39 | 1:15:23 |
| 17 | 957 | | Tatsuhito Kondo | 18 to 39 | 1:20:39 |
| 18 | 702 | | Pascal Fendrich | 18 to 39 | 1:22:06 |
| 19 | 885 | | Pawan Dong | 18 to 39 | 1:22:26 |
| 20 | 947 | | Caron Dhoju | 18 to 39 | 1:36:27 |
| 21 | 330 | | Nils Thomas | 18 to 39 | 1:36:54 |
| 22 | 454 | | Giri Ram Rai | 18 to 39 | 1:37:19 |
| 23 | 584 | | Binay Raj Dangol | 18 to 39 | 1:37:25 |
| 24 | 131 | | Ram Gopal Awale | 18 to 39 | 1:38:08 |
| 25 | 124 | | Krishna Kumar Maharjan | 18 to 39 | 1:40:31 |
| 26 | 537 | | Leon Diaz Garcia | 18 to 39 | 1:43:32 |
| 27 | 646 | | Karma Tashi Gurung | 18 to 39 | 1:46:20 |
| 28 | 360 | | Santosh Nath Karmacharya | 18 to 39 | 1:49:51 |
| 29 | 169 | | Matthew Smith | 18 to 39 | 1:50:14 |
| 30 | 538 | | John Kurunziza Mataratara | 18 to 39 | 1:52:37 |
| 31 | 884 | | Pierre Mathieu | 18 to 39 | 1:55:29 |
| 32 | 192 | | Hussain Uddin | 18 to 39 | 2:37:37 |
| 33 | 460 | | Abhineet Kanodia | 18 to 39 | 2:57:12 |
| 34 | 1007 | | Nitesh Kanodia | 18 to 39 | 2:58:36 |
40 and above
| | | | | | |
| --- | --- | --- | --- | --- | --- |
| 1 | 207 | | Simon Castro-Wooldridge | 40 and above | 0:57:59 |
| 2 | 195 | | Damodar Budha Magar | 40 and above | 0:58:23 |
| 3 | 431 | | Raj Pradhan | 40 and above | 1:07:27 |
| 4 | 1015 | | Shiva Ram Mahato | 40 and above | 1:15:25 |
| 5 | 382 | | Yves Cams | 40 and above | 1:22:09 |
| 6 | 148 | | Nic Raastrup | 40 and above | 1:22:35 |
| 7 | 944 | | Birendra Raj Bajracharya | 40 and above | 1:26:02 |
| 8 | 720 | | Willem Grimminck | 40 and above | 1:37:29 |
| 9 | 570 | | Suman Basnet | 40 and above | 1:38:22 |
| 10 | 310 | | Shant Kumar Mehta | 40 and above | 1:38:56 |
| 11 | 118 | | Diwakar Shah | 40 and above | 1:40:25 |
| 12 | 255 | | Julien Bettler | 40 and above | 1:42:42 |
| 13 | 709 | | Shyam Sundar | 40 and above | 1:42:54 |
| 14 | 267 | | Jaddon Park | 40 and above | 1:47:40 |
| 15 | 190 | | Ganesh Lal Shakya | 40 and above | 2:04:30 |
| 16 | 910 | | Matt Sova | 40 and above | 2:07:42 |
| 17 | 942 | | Gaetan Mareschal | 40 and above | 2:10:12 |
| 18 | 955 | | Philippe Turenne | 40 and above | 2:49:47 |
| | | | | | |
| --- | --- | --- | --- | --- | --- |
| 1 | 207 | | Simon Castro-Wooldridge | 40 and above | 0:57:59 |
| 2 | 195 | | Damodar Budha Magar | 40 and above | 0:58:23 |
| 3 | 101 | | Tek Bahadur Basnet | 18 to 39 | 1:03:02 |
| 4 | 290 | | Np Purnesh Syangbo | 18 to 39 | 1:04:19 |
| 5 | 292 | | Phurpa Singi Tamang | 18 to 39 | 1:04:30 |
| 6 | 874 | | Sadip Sorali Magar | 18 to 39 | 1:05:11 |
| 7 | 830 | | Laxman Gurung | 12 to 17 | 1:07:14 |
| 8 | 1039 | | Mahesh Thapa | 18 to 39 | 1:07:25 |
| 9 | 431 | | Raj Pradhan | 40 and above | 1:07:27 |
| 10 | 580 | | Sayunraj Gurung | 18 to 39 | 1:09:24 |
| 11 | 110 | | Amrit Basnet | 18 to 39 | 1:09:43 |
| 12 | 948 | | Tomohiro Minami | 18 to 39 | 1:10:43 |
| 13 | 291 | | Pemba Dorje Tamang | 18 to 39 | 1:11:48 |
| 14 | 905 | | Pasang Tamang | 12 to 17 | 1:12:31 |
| 15 | 288 | | Nor Lama | 18 to 39 | 1:12:39 |
| 16 | 476 | | Mane Tamang | 18 to 39 | 1:12:44 |
| 17 | 1040 | | Bikash | 18 to 39 | 1:12:52 |
| 18 | 157 | | Jason Finch | 18 to 39 | 1:12:57 |
| 19 | 221 | | Jeevan Lama | 18 to 39 | 1:13:01 |
| 20 | 904 | | Ram Lopchan | 12 to 17 | 1:13:31 |
| 21 | 289 | | Dorje Tamang | 18 to 39 | 1:13:39 |
| 22 | 400 | | Singi Syangbo Tamang | 18 to 39 | 1:15:23 |
| 23 | 1015 | | Shiva Ram Mahato | 40 and above | 1:15:25 |
| 24 | 521 | | Sunil Tamang | 12 to 17 | 1:16:38 |
| 25 | 151 | | Nurbu Tamang | 12 to 17 | 1:19:25 |
| 26 | 280 | | Kushal Lamichhane | 12 to 17 | 1:20:20 |
| 27 | 957 | | Tatsuhito Kondo | 18 to 39 | 1:20:39 |
| 28 | 702 | | Pascal Fendrich | 18 to 39 | 1:22:06 |
| 29 | 382 | | Yves Cams | 40 and above | 1:22:09 |
| 30 | 885 | | Pawan Dong | 18 to 39 | 1:22:26 |
| 31 | 148 | | Nic Raastrup | 40 and above | 1:22:35 |
| 32 | 944 | | Birendra Raj Bajracharya | 40 and above | 1:26:02 |
| 33 | 947 | | Caron Dhoju | 18 to 39 | 1:36:27 |
| 34 | 651 | | Tenzin Tsering Lama | 12 to 17 | 1:36:43 |
| 35 | 330 | | Nils Thomas | 18 to 39 | 1:36:54 |
| 36 | 653 | | Tenzin Gyalpo Gurung | 12 to 17 | 1:37:02 |
| 37 | 454 | | Giri Ram Rai | 18 to 39 | 1:37:19 |
| 38 | 584 | | Binay Raj Dangol | 18 to 39 | 1:37:25 |
| 39 | 720 | | Willem Grimminck | 40 and above | 1:37:29 |
| 40 | 131 | | Ram Gopal Awale | 18 to 39 | 1:38:08 |
| 41 | 570 | | Suman Basnet | 40 and above | 1:38:22 |
| 42 | 310 | | Shant Kumar Mehta | 40 and above | 1:38:56 |
| 43 | 118 | | Diwakar Shah | 40 and above | 1:40:25 |
| 44 | 124 | | Krishna Kumar Maharjan | 18 to 39 | 1:40:31 |
| 45 | 255 | | Julien Bettler | 40 and above | 1:42:42 |
| 46 | 709 | | Shyam Sundar | 40 and above | 1:42:54 |
| 47 | 537 | | Leon Diaz Garcia | 18 to 39 | 1:43:32 |
| 48 | 642 | | Sabin Dahal | 12 to 17 | 1:44:09 |
| 49 | 646 | | Karma Tashi Gurung | 18 to 39 | 1:46:20 |
| 50 | 267 | | Jaddon Park | 40 and above | 1:47:40 |
| 51 | 360 | | Santosh Nath Karmacharya | 18 to 39 | 1:49:51 |
| 52 | 169 | | Matthew Smith | 18 to 39 | 1:50:14 |
| 53 | 538 | | John Kurunziza Mataratara | 18 to 39 | 1:52:37 |
| 54 | 884 | | Pierre Mathieu | 18 to 39 | 1:55:29 |
| 55 | 190 | | Ganesh Lal Shakya | 40 and above | 2:04:30 |
| 56 | 910 | | Matt Sova | 40 and above | 2:07:42 |
| 57 | 942 | | Gaetan Mareschal | 40 and above | 2:10:12 |
| 58 | 192 | | Hussain Uddin | 18 to 39 | 2:37:37 |
| 59 | 955 | | Philippe Turenne | 40 and above | 2:49:47 |
| 60 | 460 | | Abhineet Kanodia | 18 to 39 | 2:57:12 |
| 61 | 1007 | | Nitesh Kanodia | 18 to 39 | 2:58:36 |
Female
18 to 39
| | | | | | |
| --- | --- | --- | --- | --- | --- |
| 1 | 210 | | Humi Budha Magar | 18 to 39 | 1:13:48 |
| 2 | 170 | | Sonya Martin | 18 to 39 | 1:15:49 |
| 3 | 496 | | Nitu Tamang | 18 to 39 | 1:18:04 |
| 4 | 629 | | Petra Maria Sigrist | 18 to 39 | 1:36:47 |
| 5 | 535 | | Sophie Hodder | 18 to 39 | 1:39:07 |
| 6 | 490 | | Haley Katherine Sanner | 18 to 39 | 1:42:17 |
| 7 | 914 | | Megan Elizabeth Eisenbeis | 18 to 39 | 1:42:24 |
| 8 | 1038 | | Aoife | 18 to 39 | 1:44:27 |
| 9 | 332 | | Lauren Figuet | 18 to 39 | 1:46:52 |
| 10 | 701 | | Kalpana Gurung | 18 to 39 | 1:53:33 |
| 11 | 138 | | Nari Blackett | 18 to 39 | 1:54:11 |
| 12 | 135 | | Elise Dano | 18 to 39 | 1:55:49 |
| 13 | 329 | | Dragana Kulovic | 18 to 39 | 2:05:36 |
| 14 | 241 | | Shona Claire Berque | 18 to 39 | 2:06:53 |
| 15 | 285 | | Inka Koch | 18 to 39 | 2:14:56 |
| 16 | 799 | | Kunsang Choedon Lama | 18 to 39 | 2:44:26 |
40 and above
| | | | | | |
| --- | --- | --- | --- | --- | --- |
| 1 | 213 | | Vivian Castro-Wooldridge | 40 and above | 1:22:40 |
| 2 | 979 | | Anne Helene Reboux | 40 and above | 1:37:14 |
| 3 | 485 | | Charu Arjyal | 40 and above | 1:40:49 |
| 4 | 415 | | Marie Aimee Lagrange-Xelot | 40 and above | 1:42:50 |
| 5 | 430 | | Shasa Shrestha | 40 and above | 1:46:36 |
| 6 | 122 | | Stine Heiselberg | 40 and above | 1:53:03 |
| 7 | 708 | | Edle Hamre | 40 and above | 2:02:35 |
| | | | | | |
| --- | --- | --- | --- | --- | --- |
| 1 | 210 | | Humi Budha Magar | 18 to 39 | 1:13:48 |
| 2 | 170 | | Sonya Martin | 18 to 39 | 1:15:49 |
| 3 | 496 | | Nitu Tamang | 18 to 39 | 1:18:04 |
| 4 | 213 | | Vivian Castro-Wooldridge | 40 and above | 1:22:40 |
| 5 | 629 | | Petra Maria Sigrist | 18 to 39 | 1:36:47 |
| 6 | 979 | | Anne Helene Reboux | 40 and above | 1:37:14 |
| 7 | 535 | | Sophie Hodder | 18 to 39 | 1:39:07 |
| 8 | 485 | | Charu Arjyal | 40 and above | 1:40:49 |
| 9 | 490 | | Haley Katherine Sanner | 18 to 39 | 1:42:17 |
| 10 | 914 | | Megan Elizabeth Eisenbeis | 18 to 39 | 1:42:24 |
| 11 | 415 | | Marie Aimee Lagrange-Xelot | 40 and above | 1:42:50 |
| 12 | 1038 | | Aoife | 18 to 39 | 1:44:27 |
| 13 | 430 | | Shasa Shrestha | 40 and above | 1:46:36 |
| 14 | 332 | | Lauren Figuet | 18 to 39 | 1:46:52 |
| 15 | 122 | | Stine Heiselberg | 40 and above | 1:53:03 |
| 16 | 701 | | Kalpana Gurung | 18 to 39 | 1:53:33 |
| 17 | 138 | | Nari Blackett | 18 to 39 | 1:54:11 |
| 18 | 135 | | Elise Dano | 18 to 39 | 1:55:49 |
| 19 | 708 | | Edle Hamre | 40 and above | 2:02:35 |
| 20 | 329 | | Dragana Kulovic | 18 to 39 | 2:05:36 |
| 21 | 241 | | Shona Claire Berque | 18 to 39 | 2:06:53 |
| 22 | 285 | | Inka Koch | 18 to 39 | 2:14:56 |
| 23 | 799 | | Kunsang Choedon Lama | 18 to 39 | 2:44:26 |
7K
Male
11 and below
| | | | | | |
| --- | --- | --- | --- | --- | --- |
| 1 | 704 | | Tholi Lloyd Ghale | 11 and below | 1:12:11 |
| 2 | 1025 | | Edgar | 11 and below | 1:13:22 |
| 3 | 671 | | Tsering Furba Lama | 11 and below | 1:16:58 |
| 4 | 672 | | Lhakpa Wangdue Gurung | 11 and below | 1:26:10 |
| 5 | 172 | | Mateo Graif | 11 and below | 1:29:42 |
| 6 | 333 | | William Brown Spencer | 11 and below | 1:29:46 |
| 7 | 414 | | Nicholas Pietro How | 11 and below | 1:31:22 |
| 8 | 1027 | | Thomas O'Neill | 11 and below | 1:41:30 |
| 9 | 563 | | Samuel Turkington | 11 and below | 1:42:46 |
12 to 17
| | | | | | |
| --- | --- | --- | --- | --- | --- |
| 1 | 650 | | Dipesh Neupane | 12 to 17 | 1:04:44 |
| 2 | 648 | | Pasang Tenzin Gurung | 12 to 17 | 1:05:43 |
| 3 | 654 | | Rinzin Khedup Gurung | 12 to 17 | 1:15:42 |
| 4 | 954 | | Moulik Maharjan | 12 to 17 | 1:25:36 |
18 to 39
| | | | | | |
| --- | --- | --- | --- | --- | --- |
| 1 | 938 | | Jake Drysdale | 18 to 39 | 0:59:10 |
| 2 | 732 | | Santosh Shrestha | 18 to 39 | 1:08:07 |
| 3 | 728 | | Niranjan Kunwar | 18 to 39 | 1:20:03 |
| 4 | 1022 | | Prakash Karki | 18 to 39 | 1:27:31 |
| 5 | 952 | | Jacob Poepping | 18 to 39 | 1:27:35 |
| 6 | 440 | | Sujal Kumar Mehta | 18 to 39 | 1:27:55 |
| 7 | 612 | | Zippy Hari Shrestha | 18 to 39 | 1:31:13 |
| 8 | 941 | | Prabuddha Raj Bastola | 18 to 39 | 1:34:20 |
| 9 | 270 | | Sujan Dhoju | 18 to 39 | 1:36:08 |
| 10 | 946 | | Md Saddam | 18 to 39 | 1:43:43 |
| 11 | 951 | | Kamal Krishna Maharjan | 18 to 39 | 1:45:42 |
| 12 | 455 | | Dil Kumar Sapkota | 18 to 39 | 1:51:04 |
| 13 | 950 | | Sanjaya Kumar Shrestha | 18 to 39 | 2:18:17 |
| 14 | 1019 | | Silas Rapold | 18 to 39 | 2:37:21 |
40 and above
| | | | | | |
| --- | --- | --- | --- | --- | --- |
| 1 | 116 | | Madan Kaji Shakya | 40 and above | 1:12:51 |
| 2 | 881 | | Raj Gyawali | 40 and above | 1:14:05 |
| 3 | 527 | | Ian Patrick | 40 and above | 1:16:57 |
| 4 | 1017 | | Keith Doe | 40 and above | 1:27:48 |
| 5 | 934 | | Ageen Shrestha | 40 and above | 1:28:02 |
| 6 | 795 | | Anand Subedi | 40 and above | 1:32:34 |
| 7 | 1041 | | Krishna Maharjan | 40 and above | 1:34:20 |
| 8 | 108 | | Alistair Turkington | 40 and above | 1:42:42 |
| 9 | 1010 | | Antonio Spinelli | 40 and above | 1:48:41 |
| 10 | 1034 | | Cedric | 40 and above | 1:53:35 |
| 11 | 1026 | | Franck | 40 and above | 2:00:28 |
| 12 | 741 | | Vincent | 40 and above | 3:16:05 |
| | | | | | |
| --- | --- | --- | --- | --- | --- |
| 1 | 938 | | Jake Drysdale | 18 to 39 | 0:59:10 |
| 2 | 650 | | Dipesh Neupane | 12 to 17 | 1:04:44 |
| 3 | 648 | | Pasang Tenzin Gurung | 12 to 17 | 1:05:43 |
| 4 | 732 | | Santosh Shrestha | 18 to 39 | 1:08:07 |
| 5 | 704 | | Tholi Lloyd Ghale | 11 and below | 1:12:11 |
| 6 | 116 | | Madan Kaji Shakya | 40 and above | 1:12:51 |
| 7 | 1025 | | Edgar | 11 and below | 1:13:22 |
| 8 | 881 | | Raj Gyawali | 40 and above | 1:14:05 |
| 9 | 654 | | Rinzin Khedup Gurung | 12 to 17 | 1:15:42 |
| 10 | 527 | | Ian Patrick | 40 and above | 1:16:57 |
| 11 | 671 | | Tsering Furba Lama | 11 and below | 1:16:58 |
| 12 | 728 | | Niranjan Kunwar | 18 to 39 | 1:20:03 |
| 13 | 954 | | Moulik Maharjan | 12 to 17 | 1:25:36 |
| 14 | 672 | | Lhakpa Wangdue Gurung | 11 and below | 1:26:10 |
| 15 | 1022 | | Prakash Karki | 18 to 39 | 1:27:31 |
| 16 | 952 | | Jacob Poepping | 18 to 39 | 1:27:35 |
| 17 | 1017 | | Keith Doe | 40 and above | 1:27:48 |
| 18 | 440 | | Sujal Kumar Mehta | 18 to 39 | 1:27:55 |
| 19 | 934 | | Ageen Shrestha | 40 and above | 1:28:02 |
| 20 | 172 | | Mateo Graif | 11 and below | 1:29:42 |
| 21 | 333 | | William Brown Spencer | 11 and below | 1:29:46 |
| 22 | 612 | | Zippy Hari Shrestha | 18 to 39 | 1:31:13 |
| 23 | 414 | | Nicholas Pietro How | 11 and below | 1:31:22 |
| 24 | 795 | | Anand Subedi | 40 and above | 1:32:34 |
| 25 | 1041 | | Krishna Maharjan | 40 and above | 1:34:20 |
| 26 | 941 | | Prabuddha Raj Bastola | 18 to 39 | 1:34:20 |
| 27 | 270 | | Sujan Dhoju | 18 to 39 | 1:36:08 |
| 28 | 1027 | | Thomas O'Neill | 11 and below | 1:41:30 |
| 29 | 108 | | Alistair Turkington | 40 and above | 1:42:42 |
| 30 | 563 | | Samuel Turkington | 11 and below | 1:42:46 |
| 31 | 946 | | Md Saddam | 18 to 39 | 1:43:43 |
| 32 | 951 | | Kamal Krishna Maharjan | 18 to 39 | 1:45:42 |
| 33 | 1010 | | Antonio Spinelli | 40 and above | 1:48:41 |
| 34 | 455 | | Dil Kumar Sapkota | 18 to 39 | 1:51:04 |
| 35 | 1034 | | Cedric | 40 and above | 1:53:35 |
| 36 | 1026 | | Franck | 40 and above | 2:00:28 |
| 37 | 950 | | Sanjaya Kumar Shrestha | 18 to 39 | 2:18:17 |
| 38 | 1019 | | Silas Rapold | 18 to 39 | 2:37:21 |
| 39 | 741 | | Vincent | 40 and above | 3:16:05 |
Female
11 and below
| | | | | | |
| --- | --- | --- | --- | --- | --- |
| 1 | 522 | | Salina Tamang | 11 and below | 1:26:02 |
| 2 | 663 | | Choeten Magar | 11 and below | 1:56:09 |
12 to 17
| | | | | | |
| --- | --- | --- | --- | --- | --- |
| 1 | 608 | | Rachana Rana Magar | 12 to 17 | 0:59:37 |
| 2 | 961 | | Apsara Kumal | 12 to 17 | 1:02:31 |
| 3 | 669 | | Asmita Bika | 12 to 17 | 1:32:27 |
| 4 | 657 | | Lhamo Gurung | 12 to 17 | 1:39:52 |
| 5 | 656 | | Tenzin Tashi Lama | 12 to 17 | 1:39:56 |
| 6 | 655 | | Lhakpa Dolma Sherpa | 12 to 17 | 1:42:41 |
| 7 | 662 | | Yeshi Tsomo Gurung | 12 to 17 | 1:56:15 |
| 8 | 668 | | Preeti Bika | 12 to 17 | 1:59:05 |
| 9 | 802 | | Dorjee Khando Gurung | 12 to 17 | 1:59:10 |
| 10 | 432 | | Rhea Pradhan | 12 to 17 | 2:30:02 |
| 11 | 714 | | Rewa Tsomo Nyangmi | 12 to 17 | 2:30:07 |
18 to 39
| | | | | | |
| --- | --- | --- | --- | --- | --- |
| 1 | 980 | | Nitisha Shrestha | 18 to 39 | 1:35:24 |
| 2 | 939 | | Anni Maenpaa | 18 to 39 | 1:35:39 |
| 3 | 311 | | Mamta Mehta | 18 to 39 | 1:35:49 |
| 4 | 271 | | Lenka Gengelova | 18 to 39 | 1:35:59 |
| 5 | 1016 | | Preet Shah | 18 to 39 | 1:59:40 |
| 6 | 604 | | Carolyn Margaret Thaxton | 18 to 39 | 2:31:35 |
| 7 | 450 | | Sevara S Hamzaeva | 18 to 39 | 2:37:25 |
| 8 | 953 | | Ammaline Vongsitthi | 18 to 39 | 2:37:25 |
40 and above
| | | | | | |
| --- | --- | --- | --- | --- | --- |
| 1 | 259 | | Mette Nielsen | 40 and above | 1:15:20 |
| 2 | 1009 | | Sara Staino | 40 and above | 1:29:08 |
| 3 | 327 | | Maria Verdecchia | 40 and above | 1:34:47 |
| 4 | 1028 | | Silvia Guerra | 40 and above | 1:42:17 |
| 5 | 1024 | | Catheirine | 40 and above | 1:49:44 |
| 6 | 474 | | Mamta Gurung | 40 and above | 2:00:42 |
| 7 | 1023 | | Sol | 40 and above | 2:08:26 |
| 8 | 943 | | Julie Culp | 40 and above | 2:31:42 |
| 9 | 1008 | | Paola | 40 and above | 3:16:05 |
| | | | | | |
| --- | --- | --- | --- | --- | --- |
| 1 | 608 | | Rachana Rana Magar | 12 to 17 | 0:59:37 |
| 2 | 961 | | Apsara Kumal | 12 to 17 | 1:02:31 |
| 3 | 259 | | Mette Nielsen | 40 and above | 1:15:20 |
| 4 | 522 | | Salina Tamang | 11 and below | 1:26:02 |
| 5 | 1009 | | Sara Staino | 40 and above | 1:29:08 |
| 6 | 669 | | Asmita Bika | 12 to 17 | 1:32:27 |
| 7 | 327 | | Maria Verdecchia | 40 and above | 1:34:47 |
| 8 | 980 | | Nitisha Shrestha | 18 to 39 | 1:35:24 |
| 9 | 939 | | Anni Maenpaa | 18 to 39 | 1:35:39 |
| 10 | 311 | | Mamta Mehta | 18 to 39 | 1:35:49 |
| 11 | 271 | | Lenka Gengelova | 18 to 39 | 1:35:59 |
| 12 | 657 | | Lhamo Gurung | 12 to 17 | 1:39:52 |
| 13 | 656 | | Tenzin Tashi Lama | 12 to 17 | 1:39:56 |
| 14 | 1028 | | Silvia Guerra | 40 and above | 1:42:17 |
| 15 | 655 | | Lhakpa Dolma Sherpa | 12 to 17 | 1:42:41 |
| 16 | 1024 | | Catheirine | 40 and above | 1:49:44 |
| 17 | 663 | | Choeten Magar | 11 and below | 1:56:09 |
| 18 | 662 | | Yeshi Tsomo Gurung | 12 to 17 | 1:56:15 |
| 19 | 668 | | Preeti Bika | 12 to 17 | 1:59:05 |
| 20 | 802 | | Dorjee Khando Gurung | 12 to 17 | 1:59:10 |
| 21 | 1016 | | Preet Shah | 18 to 39 | 1:59:40 |
| 22 | 474 | | Mamta Gurung | 40 and above | 2:00:42 |
| 23 | 1023 | | Sol | 40 and above | 2:08:26 |
| 24 | 432 | | Rhea Pradhan | 12 to 17 | 2:30:02 |
| 25 | 714 | | Rewa Tsomo Nyangmi | 12 to 17 | 2:30:07 |
| 26 | 604 | | Carolyn Margaret Thaxton | 18 to 39 | 2:31:35 |
| 27 | 943 | | Julie Culp | 40 and above | 2:31:42 |
| 28 | 450 | | Sevara S Hamzaeva | 18 to 39 | 2:37:25 |
| 29 | 953 | | Ammaline Vongsitthi | 18 to 39 | 2:37:25 |
| 30 | 1008 | | Paola | 40 and above | 3:16:05 |
4K
Male
11 and below
| | | | | | |
| --- | --- | --- | --- | --- | --- |
| 1 | 526 | | Noa Castro-Wooldridge | 11 and below | 0:47:56 |
| 2 | 901 | | Arual Subedi | 11 and below | 0:49:36 |
| 3 | 987 | | Axel Gobry | 11 and below | 0:50:34 |
| 4 | 994 | | Diego Mareschal | 11 and below | 0:51:11 |
| 5 | 607 | | Shreyash Kumar Shrestha | 11 and below | 0:55:58 |
| 6 | 995 | | Thomas Mareschal | 11 and below | 0:59:34 |
| 7 | 306 | | Phuntsok Bettler | 11 and below | 0:59:41 |
| 8 | 998 | | Aryamann Rana | 11 and below | 0:59:59 |
| 9 | 750 | | Munna Grimminck | 11 and below | 1:00:19 |
| 10 | 876 | | Nijal Jay Shrestha | 11 and below | 1:01:15 |
| 11 | 984 | | Julien Bildstein | 11 and below | 1:02:24 |
| 12 | 494 | | Nirvana Maharjan | 11 and below | 1:05:20 |
| 13 | 216 | | Simon Cams | 11 and below | 1:06:58 |
| 14 | 416 | | Emilien Aime Maillot Lagrange | 11 and below | 1:07:29 |
| 15 | 1002 | | Digby Vearing | 11 and below | 1:09:29 |
| 16 | 163 | | Oskar Edwards | 11 and below | 1:11:27 |
| 17 | 1003 | | Joshua Whitehead | 11 and below | 1:11:28 |
| 18 | 1042 | | Unknown | 11 and below | 1:21:11 |
| 19 | 999 | | Hugo Stephens | 11 and below | 1:22:19 |
| 20 | 964 | | Grant Siddiqi | 11 and below | 1:22:47 |
| 21 | 751 | | Pelle Grimminck | 11 and below | 1:25:54 |
| 22 | 992 | | Muk Gurung | 11 and below | 1:50:01 |
12 to 17
| | | | | | |
| --- | --- | --- | --- | --- | --- |
| 1 | 1018 | | Louis Bildstein | 12 to 17 | 0:54:06 |
18 to 39
| | | | | | |
| --- | --- | --- | --- | --- | --- |
| 1 | 721 | | Hedda Grimminck | 18 to 39 | 1:25:55 |
| | | | | | |
| --- | --- | --- | --- | --- | --- |
| 1 | 526 | | Noa Castro-Wooldridge | 11 and below | 0:47:56 |
| 2 | 901 | | Arual Subedi | 11 and below | 0:49:36 |
| 3 | 987 | | Axel Gobry | 11 and below | 0:50:34 |
| 4 | 994 | | Diego Mareschal | 11 and below | 0:51:11 |
| 5 | 1018 | | Louis Bildstein | 12 to 17 | 0:54:06 |
| 6 | 607 | | Shreyash Kumar Shrestha | 11 and below | 0:55:58 |
| 7 | 995 | | Thomas Mareschal | 11 and below | 0:59:34 |
| 8 | 306 | | Phuntsok Bettler | 11 and below | 0:59:41 |
| 9 | 998 | | Aryamann Rana | 11 and below | 0:59:59 |
| 10 | 750 | | Munna Grimminck | 11 and below | 1:00:19 |
| 11 | 876 | | Nijal Jay Shrestha | 11 and below | 1:01:15 |
| 12 | 984 | | Julien Bildstein | 11 and below | 1:02:24 |
| 13 | 494 | | Nirvana Maharjan | 11 and below | 1:05:20 |
| 14 | 216 | | Simon Cams | 11 and below | 1:06:58 |
| 15 | 416 | | Emilien Aime Maillot Lagrange | 11 and below | 1:07:29 |
| 16 | 1002 | | Digby Vearing | 11 and below | 1:09:29 |
| 17 | 163 | | Oskar Edwards | 11 and below | 1:11:27 |
| 18 | 1003 | | Joshua Whitehead | 11 and below | 1:11:28 |
| 19 | 1042 | | Unknown | 11 and below | 1:21:11 |
| 20 | 999 | | Hugo Stephens | 11 and below | 1:22:19 |
| 21 | 964 | | Grant Siddiqi | 11 and below | 1:22:47 |
| 22 | 751 | | Pelle Grimminck | 11 and below | 1:25:54 |
| 23 | 721 | | Hedda Grimminck | 18 to 39 | 1:25:55 |
| 24 | 992 | | Muk Gurung | 11 and below | 1:50:01 |
Female
11 and below
| | | | | | |
| --- | --- | --- | --- | --- | --- |
| 1 | 452 | | Nala Josephine Maskey | 11 and below | 0:45:03 |
| 2 | 969 | | Maya Van Cappelle | 11 and below | 0:50:58 |
| 3 | 1000 | | Annette Turenne | 11 and below | 0:54:13 |
| 4 | 978 | | Zoya Kumari Joshi | 11 and below | 0:56:59 |
| 5 | 856 | | Mia Osterman | 11 and below | 0:59:38 |
| 6 | 983 | | Tara Bergogne | 11 and below | 1:02:15 |
| 7 | 413 | | Giulia Ann How | 11 and below | 1:02:25 |
| 8 | 528 | | Paloma Castro-Wooldridge | 11 and below | 1:02:30 |
| 9 | 1001 | | Arya Varughese | 11 and below | 1:06:51 |
| 10 | 162 | | Freja Edwards | 11 and below | 1:09:38 |
| 11 | 1004 | | Advaya Wilt-Dorring | 11 and below | 1:09:40 |
| 12 | 307 | | Kunsel Bettler | 11 and below | 1:10:35 |
| 13 | 660 | | Malika Thapaliya | 11 and below | 1:10:48 |
| 14 | 251 | | Anais Osterman | 11 and below | 1:10:48 |
| 15 | 748 | | Tia Hodder | 11 and below | 1:10:51 |
| 16 | 993 | | Juliette Keller | 11 and below | 1:11:24 |
| 17 | 997 | | Una Park | 11 and below | 1:13:02 |
| 18 | 217 | | Isabelle Cams | 11 and below | 1:17:07 |
| 19 | 749 | | Izzy Hodder | 11 and below | 1:17:17 |
| 20 | 402 | | Neelie Reijer | 11 and below | 1:26:09 |
| 21 | 996 | | Caylin Nalbo | 11 and below | 1:26:13 |
| 22 | 717 | | Ivy Irma Malcolm | 11 and below | 1:29:19 |
12 to 17
| | | | | | |
| --- | --- | --- | --- | --- | --- |
| 1 | 1037 | | Emilie | 12 to 17 | 1:08:17 |
| 2 | 985 | | Camille Cauchois | 12 to 17 | 1:09:02 |
| 3 | 1005 | | Maya Wilt-Dorring | 12 to 17 | 1:09:14 |
18 to 39
| | | | | | |
| --- | --- | --- | --- | --- | --- |
| 1 | 945 | | Sanju Lamichhane | 18 to 39 | 1:01:36 |
| | | | | | |
| --- | --- | --- | --- | --- | --- |
| 1 | 452 | | Nala Josephine Maskey | 11 and below | 0:45:03 |
| 2 | 969 | | Maya Van Cappelle | 11 and below | 0:50:58 |
| 3 | 1000 | | Annette Turenne | 11 and below | 0:54:13 |
| 4 | 978 | | Zoya Kumari Joshi | 11 and below | 0:56:59 |
| 5 | 856 | | Mia Osterman | 11 and below | 0:59:38 |
| 6 | 945 | | Sanju Lamichhane | 18 to 39 | 1:01:36 |
| 7 | 983 | | Tara Bergogne | 11 and below | 1:02:15 |
| 8 | 413 | | Giulia Ann How | 11 and below | 1:02:25 |
| 9 | 528 | | Paloma Castro-Wooldridge | 11 and below | 1:02:30 |
| 10 | 1001 | | Arya Varughese | 11 and below | 1:06:51 |
| 11 | 1037 | | Emilie | 12 to 17 | 1:08:17 |
| 12 | 985 | | Camille Cauchois | 12 to 17 | 1:09:02 |
| 13 | 1005 | | Maya Wilt-Dorring | 12 to 17 | 1:09:14 |
| 14 | 162 | | Freja Edwards | 11 and below | 1:09:38 |
| 15 | 1004 | | Advaya Wilt-Dorring | 11 and below | 1:09:40 |
| 16 | 307 | | Kunsel Bettler | 11 and below | 1:10:35 |
| 17 | 660 | | Malika Thapaliya | 11 and below | 1:10:48 |
| 18 | 251 | | Anais Osterman | 11 and below | 1:10:48 |
| 19 | 748 | | Tia Hodder | 11 and below | |