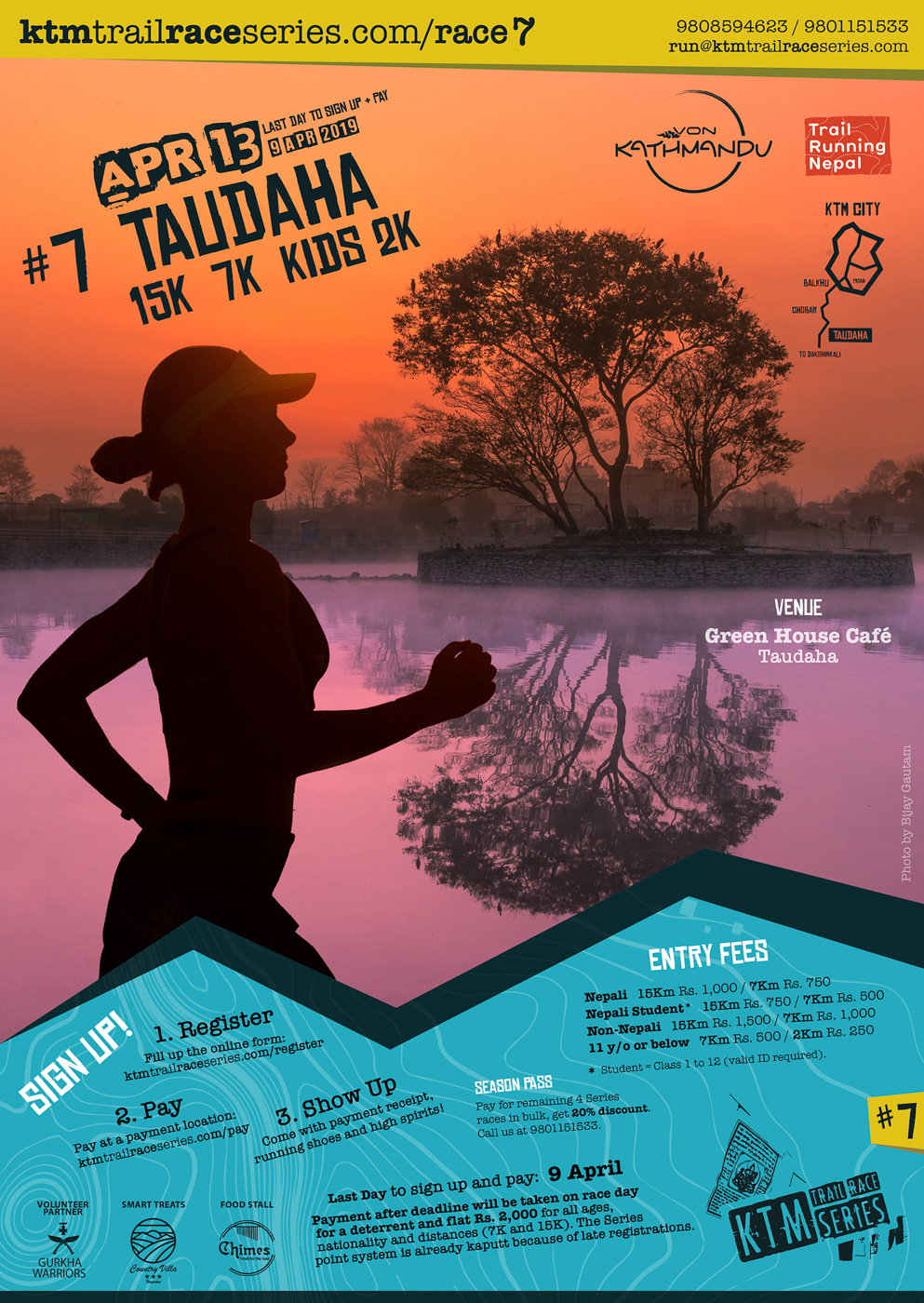 Event Date
April 13, 2019
Venue
Green View Cafe
Located at Taudaha, Kathmandu
Open pin on Google Map
Distances
21K, 12K, 6K and 3K
Observations, updates and note to self
Ownership of KTM Series is fully transferred to Von Kathmandu Adventures. Partnership with Trail Running Nepal discontinued.
2nd iteration of race website launched.
Deadline shifted from Monday to Tuesday with improved admin approach.
Participant summary by country included in race recap.
Elevation profile removed from bib - served little utility for a short distance race. All other fluff from bib removed.
QR code scanning for timekeeping commences.
Race starts on time for the first time. 5mins ahead of schedule, in fact, while some people were still in the loo. Lesson learnt: never start ahead of time.
Number of trail crew increased from 3 to 6.
Trails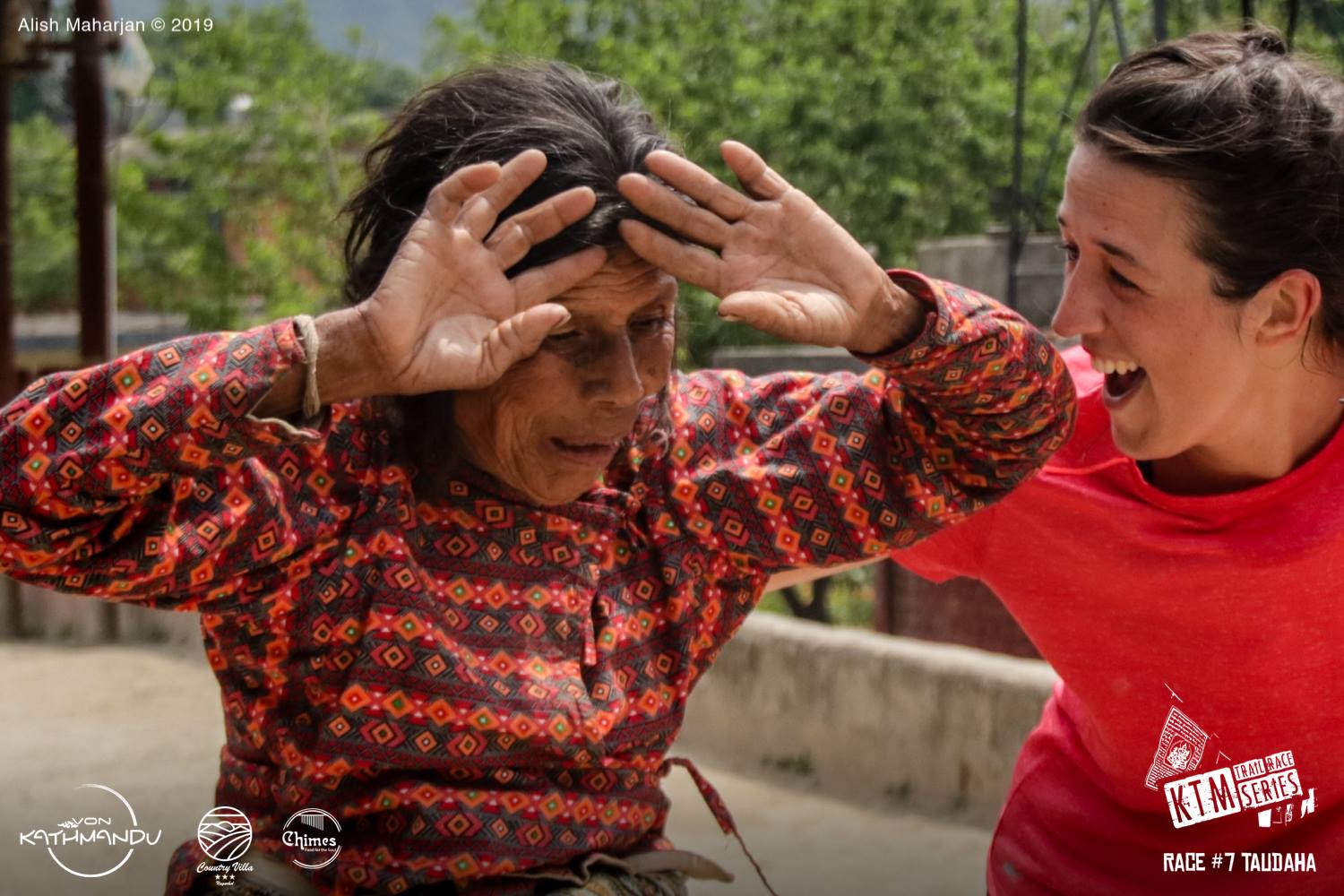 265 photos by:
Trails
164 photos by:
| | |
| --- | --- |
| | Samdup Gurung |
Start and Finish
196 photos by:
| | |
| --- | --- |
| | #7 Taudaha |
| | | | |
| --- | --- | --- | --- |
| 96 | | Nepal | |
| 22 | | United States | |
| 14 | | United Kingdom | |
| 11 | | Denmark | |
| 7 | | Canada | |
| 6 | | France | |
| 5 | | Finland | |
| | | | |
| --- | --- | --- | --- |
| 3 | | Germany | |
| 3 | | India | |
| 2 | | South Korea | |
| 2 | | Australia | |
| 2 | | New Zealand | |
| 2 | | Belgium | |
| 1 | | Austria | |
| | | | |
| --- | --- | --- | --- |
| 1 | | Switzerland | |
| 1 | | China | |
| 1 | | Spain | |
| 1 | | Netherlands | |
| 1 | | Madagascar | |
| 1 | | Latvia | |
15K
Male
17 and below
| | | | | | |
| --- | --- | --- | --- | --- | --- |
| 1 | 830 | | Laxman Gurung | 17 and below | 1:17:20 |
| 2 | 521 | | Sunil Tamang | 17 and below | 1:23:00 |
| 3 | 280 | | Kushal Lamichhane | 17 and below | 1:23:51 |
| 4 | 651 | | Tenzin Tsering Lama | 17 and below | 1:25:41 |
| 5 | 653 | | Tenzin Gyalpo Gurung | 17 and below | 1:38:32 |
| 6 | 7017 | | Prashant Shyango | 17 and below | 1:43:29 |
18 to 39
| | | | | | |
| --- | --- | --- | --- | --- | --- |
| 1 | 291 | | Pemba Dorje Tamang | 18 to 39 | 1:08:28 |
| 2 | 580 | | Sayunraj Gurung | 18 to 39 | 1:08:56 |
| 3 | 7022 | | Roman Evarts | 18 to 39 | 1:11:06 |
| 4 | 221 | | Jeevan Lama | 18 to 39 | 1:14:05 |
| 5 | 290 | | Np Purnesh Syangbo | 18 to 39 | 1:15:35 |
| 6 | 288 | | Nor Lama | 18 to 39 | 1:17:06 |
| 7 | 853 | | Mangal Shrestha | 18 to 39 | 1:20:17 |
| 8 | 400 | | Singi Syangbo Tamang | 18 to 39 | 1:21:46 |
| 9 | 293 | | Ashok Lama | 18 to 39 | 1:22:11 |
| 10 | 712 | | Alastair Charles Norris | 18 to 39 | 1:22:16 |
| 11 | 564 | | Jonathan Oldenburger | 18 to 39 | 1:23:01 |
| 12 | 520 | | Dorje Syangbo | 18 to 39 | 1:24:15 |
| 13 | 645 | | Samdup Tamang | 18 to 39 | 1:25:35 |
| 14 | 833 | | Max Mueller | 18 to 39 | 1:28:00 |
| 15 | 872 | | Andrew Carlile | 18 to 39 | 1:28:05 |
| 16 | 866 | | Prakash Bhatta | 18 to 39 | 1:39:19 |
| 17 | 131 | | Ram Gopal Awale | 18 to 39 | 1:40:17 |
| 18 | 292 | | Phurpa Singi Tamang | 18 to 39 | 1:43:06 |
| 19 | 702 | | Pascal Fendrich | 18 to 39 | 1:43:21 |
| 20 | 185 | | Deepak Shah | 18 to 39 | 1:44:18 |
| 21 | 584 | | Binay Raj Dangol | 18 to 39 | 1:51:21 |
| 22 | 124 | | Krishna Kumar Maharjan | 18 to 39 | 1:52:38 |
| 23 | 119 | | Manish Jung Thapa | 18 to 39 | 1:55:33 |
| 24 | 879 | | Daniel Keys | 18 to 39 | 1:58:52 |
| 25 | 360 | | Santosh Nath Karmacharya | 18 to 39 | 2:02:35 |
| 26 | 869 | | Jake Robert Brockbank | 18 to 39 | 2:05:20 |
| 27 | 786 | | Ashish Shrestha | 18 to 39 | 2:06:11 |
| 28 | 766 | | Salim Ali | 18 to 39 | 2:07:31 |
| 29 | 891 | | Abhishek Agrawal | 18 to 39 | 2:08:53 |
| 30 | 868 | | Sanish Byanjankar | 18 to 39 | 2:17:01 |
| 31 | 192 | | Hussain Uddin | 18 to 39 | 2:40:59 |
40 and above
| | | | | | |
| --- | --- | --- | --- | --- | --- |
| 1 | 431 | | Raj Pradhan | 40 and above | 1:16:45 |
| 2 | 338 | | Nate Boydston Park | 40 and above | 1:17:00 |
| 3 | 148 | | Nic Raastrup | 40 and above | 1:29:30 |
| 4 | 843 | | Subash Thapa | 40 and above | 1:34:24 |
| 5 | 244 | | Richard Mccabe | 40 and above | 1:34:38 |
| 6 | 168 | | Peter Fleming | 40 and above | 1:38:35 |
| 7 | 118 | | Diwakar Shah | 40 and above | 1:51:12 |
| 8 | 855 | | Mike Bacon | 40 and above | 1:56:15 |
| 9 | 850 | | Alan Brewis | 40 and above | 1:57:07 |
| 10 | 190 | | Dr. Ganesh Lal Shakya | 40 and above | 2:00:44 |
| 11 | 368 | | Matthew Stinson | 40 and above | 2:07:19 |
| 12 | 186 | | Michael Mussi | 40 and above | 2:11:58 |
| | | | | | |
| --- | --- | --- | --- | --- | --- |
| 1 | 291 | | Pemba Dorje Tamang | 18 to 39 | 1:08:28 |
| 2 | 580 | | Sayunraj Gurung | 18 to 39 | 1:08:56 |
| 3 | 7022 | | Roman Evarts | 18 to 39 | 1:11:06 |
| 4 | 221 | | Jeevan Lama | 18 to 39 | 1:14:05 |
| 5 | 290 | | Np Purnesh Syangbo | 18 to 39 | 1:15:35 |
| 6 | 431 | | Raj Pradhan | 40 and above | 1:16:45 |
| 7 | 338 | | Nate Boydston Park | 40 and above | 1:17:00 |
| 8 | 288 | | Nor Lama | 18 to 39 | 1:17:06 |
| 9 | 830 | | Laxman Gurung | 17 and below | 1:17:20 |
| 10 | 853 | | Mangal Shrestha | 18 to 39 | 1:20:17 |
| 11 | 400 | | Singi Syangbo Tamang | 18 to 39 | 1:21:46 |
| 12 | 293 | | Ashok Lama | 18 to 39 | 1:22:11 |
| 13 | 712 | | Alastair Charles Norris | 18 to 39 | 1:22:16 |
| 14 | 521 | | Sunil Tamang | 17 and below | 1:23:00 |
| 15 | 564 | | Jonathan Oldenburger | 18 to 39 | 1:23:01 |
| 16 | 280 | | Kushal Lamichhane | 17 and below | 1:23:51 |
| 17 | 520 | | Dorje Syangbo | 18 to 39 | 1:24:15 |
| 18 | 645 | | Samdup Tamang | 18 to 39 | 1:25:35 |
| 19 | 651 | | Tenzin Tsering Lama | 17 and below | 1:25:41 |
| 20 | 833 | | Max Mueller | 18 to 39 | 1:28:00 |
| 21 | 872 | | Andrew Carlile | 18 to 39 | 1:28:05 |
| 22 | 148 | | Nic Raastrup | 40 and above | 1:29:30 |
| 23 | 843 | | Subash Thapa | 40 and above | 1:34:24 |
| 24 | 244 | | Richard Mccabe | 40 and above | 1:34:38 |
| 25 | 653 | | Tenzin Gyalpo Gurung | 17 and below | 1:38:32 |
| 26 | 168 | | Peter Fleming | 40 and above | 1:38:35 |
| 27 | 866 | | Prakash Bhatta | 18 to 39 | 1:39:19 |
| 28 | 131 | | Ram Gopal Awale | 18 to 39 | 1:40:17 |
| 29 | 292 | | Phurpa Singi Tamang | 18 to 39 | 1:43:06 |
| 30 | 702 | | Pascal Fendrich | 18 to 39 | 1:43:21 |
| 31 | 7017 | | Prashant Shyango | 17 and below | 1:43:29 |
| 32 | 185 | | Deepak Shah | 18 to 39 | 1:44:18 |
| 33 | 118 | | Diwakar Shah | 40 and above | 1:51:12 |
| 34 | 584 | | Binay Raj Dangol | 18 to 39 | 1:51:21 |
| 35 | 124 | | Krishna Kumar Maharjan | 18 to 39 | 1:52:38 |
| 36 | 119 | | Manish Jung Thapa | 18 to 39 | 1:55:33 |
| 37 | 855 | | Mike Bacon | 40 and above | 1:56:15 |
| 38 | 850 | | Alan Brewis | 40 and above | 1:57:07 |
| 39 | 879 | | Daniel Keys | 18 to 39 | 1:58:52 |
| 40 | 190 | | Dr. Ganesh Lal Shakya | 40 and above | 2:00:44 |
| 41 | 360 | | Santosh Nath Karmacharya | 18 to 39 | 2:02:35 |
| 42 | 869 | | Jake Robert Brockbank | 18 to 39 | 2:05:20 |
| 43 | 786 | | Ashish Shrestha | 18 to 39 | 2:06:11 |
| 44 | 368 | | Matthew Stinson | 40 and above | 2:07:19 |
| 45 | 766 | | Salim Ali | 18 to 39 | 2:07:31 |
| 46 | 891 | | Abhishek Agrawal | 18 to 39 | 2:08:53 |
| 47 | 186 | | Michael Mussi | 40 and above | 2:11:58 |
| 48 | 868 | | Sanish Byanjankar | 18 to 39 | 2:17:01 |
| 49 | 192 | | Hussain Uddin | 18 to 39 | 2:40:59 |
Female
17 and below
| | | | | | |
| --- | --- | --- | --- | --- | --- |
| 1 | 196 | | Neeta Lama | 17 and below | 1:47:21 |
18 to 39
| | | | | | |
| --- | --- | --- | --- | --- | --- |
| 1 | 129 | | Rashila Tamang | 18 to 39 | 1:22:10 |
| 2 | 827 | | Shweta Bhatta | 18 to 39 | 1:24:25 |
| 3 | 170 | | Sonya Martin | 18 to 39 | 1:24:39 |
| 4 | 146 | | Amanda Claire Hemelik | 18 to 39 | 1:29:24 |
| 5 | 811 | | Julia Conley | 18 to 39 | 1:31:11 |
| 6 | 892 | | Marion Francoise Bonnot | 18 to 39 | 1:37:28 |
| 7 | 111 | | Amy Elizabeth Austin | 18 to 39 | 1:44:30 |
| 8 | 304 | | Mathilde Lefebvre | 18 to 39 | 1:47:50 |
| 9 | 211 | | Sharada Rai | 18 to 39 | 1:48:00 |
| 10 | 102 | | Melissa Jane Mcartney | 18 to 39 | 1:52:57 |
| 11 | 145 | | Ann Howell | 18 to 39 | 1:54:22 |
| 12 | 889 | | Ji Sukyung | 18 to 39 | 2:01:32 |
| 13 | 783 | | Philippa Jefferis | 18 to 39 | 2:07:24 |
| 14 | 718 | | Anika Fletcher | 18 to 39 | 2:07:37 |
| 15 | 765 | | Danielle Alana Preiss | 18 to 39 | 2:07:47 |
| 16 | 130 | | Ruth Mcpake | 18 to 39 | 2:07:59 |
| 17 | 890 | | Swadeepa Bohara | 18 to 39 | 2:21:29 |
| 18 | 799 | | Kunsang Choedon Lama | 18 to 39 | 2:26:25 |
40 and above
| | | | | | |
| --- | --- | --- | --- | --- | --- |
| 1 | 862 | | Suzanne Chatterton | 40 and above | 1:36:07 |
| 2 | 7009 | | Billi Bierling | 40 and above | 1:43:46 |
| 3 | 485 | | Charu Arjyal | 40 and above | 1:47:54 |
| 4 | 430 | | Shasa Shrestha | 40 and above | 1:52:51 |
| 5 | 422 | | Leslie D Iverson | 40 and above | 1:55:22 |
| 6 | 206 | | Phillipa Jill Bradford | 40 and above | 2:05:44 |
| 7 | 122 | | Stine Heiselberg | 40 and above | 2:06:05 |
| 8 | 248 | | Ghislaine Sarah Sandrine Dellisse | 40 and above | 2:10:41 |
| 9 | 839 | | Ryna Sherazi | 40 and above | 2:49:35 |
| | | | | | |
| --- | --- | --- | --- | --- | --- |
| 1 | 129 | | Rashila Tamang | 18 to 39 | 1:22:10 |
| 2 | 827 | | Shweta Bhatta | 18 to 39 | 1:24:25 |
| 3 | 170 | | Sonya Martin | 18 to 39 | 1:24:39 |
| 4 | 146 | | Amanda Claire Hemelik | 18 to 39 | 1:29:24 |
| 5 | 811 | | Julia Conley | 18 to 39 | 1:31:11 |
| 6 | 862 | | Suzanne Chatterton | 40 and above | 1:36:07 |
| 7 | 892 | | Marion Francoise Bonnot | 18 to 39 | 1:37:28 |
| 8 | 7009 | | Billi Bierling | 40 and above | 1:43:46 |
| 9 | 111 | | Amy Elizabeth Austin | 18 to 39 | 1:44:30 |
| 10 | 196 | | Neeta Lama | 17 and below | 1:47:21 |
| 11 | 304 | | Mathilde Lefebvre | 18 to 39 | 1:47:50 |
| 12 | 485 | | Charu Arjyal | 40 and above | 1:47:54 |
| 13 | 211 | | Sharada Rai | 18 to 39 | 1:48:00 |
| 14 | 430 | | Shasa Shrestha | 40 and above | 1:52:51 |
| 15 | 102 | | Melissa Jane Mcartney | 18 to 39 | 1:52:57 |
| 16 | 145 | | Ann Howell | 18 to 39 | 1:54:22 |
| 17 | 422 | | Leslie D Iverson | 40 and above | 1:55:22 |
| 18 | 889 | | Ji Sukyung | 18 to 39 | 2:01:32 |
| 19 | 206 | | Phillipa Jill Bradford | 40 and above | 2:05:44 |
| 20 | 122 | | Stine Heiselberg | 40 and above | 2:06:05 |
| 21 | 783 | | Philippa Jefferis | 18 to 39 | 2:07:24 |
| 22 | 718 | | Anika Fletcher | 18 to 39 | 2:07:37 |
| 23 | 765 | | Danielle Alana Preiss | 18 to 39 | 2:07:47 |
| 24 | 130 | | Ruth Mcpake | 18 to 39 | 2:07:59 |
| 25 | 248 | | Ghislaine Sarah Sandrine Dellisse | 40 and above | 2:10:41 |
| 26 | 890 | | Swadeepa Bohara | 18 to 39 | 2:21:29 |
| 27 | 799 | | Kunsang Choedon Lama | 18 to 39 | 2:26:25 |
| 28 | 839 | | Ryna Sherazi | 40 and above | 2:49:35 |
7K
Male
17 and below
| | | | | | |
| --- | --- | --- | --- | --- | --- |
| 1 | 888 | | Koshish Tamang | 17 and below | 0:38:44 |
| 2 | 7024 | | Pasang Tamang | 17 and below | 0:44:25 |
| 3 | 7019 | | Ram Lopchhan | 17 and below | 0:45:37 |
| 4 | 886 | | Sandesh Darjee | 17 and below | 0:49:04 |
| 5 | 650 | | Dipesh Neupane | 17 and below | 0:51:52 |
| 6 | 806 | | Molam Wangyal Gurung | 17 and below | 0:52:07 |
| 7 | 887 | | Nishan Ghale | 17 and below | 0:52:32 |
| 8 | 672 | | Lhakpa Wangdue Gurung | 17 and below | 1:00:27 |
| 9 | 654 | | Rinzin Khedup Gurung | 17 and below | 1:02:12 |
| 10 | 649 | | Sujan Gurung | 17 and below | 1:02:24 |
| 11 | 671 | | Tsering Furba Lama | 17 and below | 1:02:33 |
| 12 | 172 | | Mateo Graif | 17 and below | 1:02:51 |
| 13 | 519 | | Rory John Park | 17 and below | 1:04:35 |
| 14 | 894 | | Karma Lopsang | 17 and below | 1:05:44 |
| 15 | 845 | | Mahatia Syam Rajaofetra | 17 and below | 1:05:45 |
| 16 | 670 | | Kunchok Dhondup Gurung | 17 and below | 1:05:52 |
| 17 | 7011 | | Colin Park | 17 and below | 1:14:20 |
| 18 | 801 | | Kalsang Gurung | 17 and below | 1:15:52 |
| 19 | 563 | | Samuel Turkington | 17 and below | 1:23:11 |
| 20 | 832 | | Jang Woo Nam | 17 and below | 1:24:57 |
| 21 | 149 | | Gabriel Raastrup Bonefeld | 17 and below | 1:33:15 |
| 22 | 390 | | Aarastu Kanta Pokhrel | 17 and below | 1:33:37 |
| 23 | 358 | | Soren Graif | 17 and below | 1:33:50 |
| 24 | 324 | | Valtteri Borg | 17 and below | 1:50:42 |
| 25 | 840 | | Sufiyan Sherazi | 17 and below | 1:54:55 |
| 26 | 216 | | Simon Cams | 17 and below | 1:55:18 |
| 27 | 163 | | Oskar Edwards | 17 and below | 1:55:43 |
18 to 39
| | | | | | |
| --- | --- | --- | --- | --- | --- |
| 1 | 874 | | Sadip Sorali Magar | 18 to 39 | 0:41:17 |
| 2 | 885 | | Pawan Dong | 18 to 39 | 0:45:30 |
| 3 | 320 | | Tyler Mcmahon | 18 to 39 | 0:52:16 |
| 4 | 732 | | Santosh Shrestha | 18 to 39 | 0:53:51 |
| 5 | 728 | | Niranjan Kunwar | 18 to 39 | 0:58:03 |
| 6 | 689 | | Santosh Vasan | 18 to 39 | 1:01:12 |
| 7 | 778 | | Sameer Rana | 18 to 39 | 1:01:25 |
| 8 | 852 | | Madhu Sudan Dahal | 18 to 39 | 1:04:46 |
| 9 | 857 | | Adrien Gobry | 18 to 39 | 1:05:50 |
| 10 | 265 | | Santosh K.C. | 18 to 39 | 1:14:10 |
| 11 | 171 | | Peter Graif | 18 to 39 | 1:33:52 |
| 12 | 861 | | Rune K Larsen | 18 to 39 | 1:54:42 |
| 13 | 548 | | Ragindra Man Rajbhandari | 18 to 39 | 1:56:49 |
40 and above
| | | | | | |
| --- | --- | --- | --- | --- | --- |
| 1 | 198 | | Joan Casanova | 40 and above | 0:56:27 |
| 2 | 116 | | Madan Kaji Shakya | 40 and above | 0:59:34 |
| 3 | 795 | | Anand Subedi | 40 and above | 1:10:04 |
| 4 | 108 | | Alistair Turkington | 40 and above | 1:23:10 |
| 5 | 814 | | Badal Pradhan | 40 and above | 1:23:23 |
| 6 | 847 | | Ram Bhakta Shrestha | 40 and above | 1:27:18 |
| 7 | 881 | | Raj Gyawali | 40 and above | 1:27:32 |
| 8 | 7007 | | Anil Pokhrel | 40 and above | 1:27:49 |
| 9 | 849 | | Sanjaya Uprety | 40 and above | 1:27:50 |
| | | | | | |
| --- | --- | --- | --- | --- | --- |
| 1 | 888 | | Koshish Tamang | 17 and below | 0:38:44 |
| 2 | 874 | | Sadip Sorali Magar | 18 to 39 | 0:41:17 |
| 3 | 7024 | | Pasang Tamang | 17 and below | 0:44:25 |
| 4 | 885 | | Pawan Dong | 18 to 39 | 0:45:30 |
| 5 | 7019 | | Ram Lopchhan | 17 and below | 0:45:37 |
| 6 | 886 | | Sandesh Darjee | 17 and below | 0:49:04 |
| 7 | 650 | | Dipesh Neupane | 17 and below | 0:51:52 |
| 8 | 806 | | Molam Wangyal Gurung | 17 and below | 0:52:07 |
| 9 | 320 | | Tyler Mcmahon | 18 to 39 | 0:52:16 |
| 10 | 887 | | Nishan Ghale | 17 and below | 0:52:32 |
| 11 | 732 | | Santosh Shrestha | 18 to 39 | 0:53:51 |
| 12 | 198 | | Joan Casanova | 40 and above | 0:56:27 |
| 13 | 728 | | Niranjan Kunwar | 18 to 39 | 0:58:03 |
| 14 | 116 | | Madan Kaji Shakya | 40 and above | 0:59:34 |
| 15 | 672 | | Lhakpa Wangdue Gurung | 17 and below | 1:00:27 |
| 16 | 689 | | Santosh Vasan | 18 to 39 | 1:01:12 |
| 17 | 778 | | Sameer Rana | 18 to 39 | 1:01:25 |
| 18 | 654 | | Rinzin Khedup Gurung | 17 and below | 1:02:12 |
| 19 | 649 | | Sujan Gurung | 17 and below | 1:02:24 |
| 20 | 671 | | Tsering Furba Lama | 17 and below | 1:02:33 |
| 21 | 172 | | Mateo Graif | 17 and below | 1:02:51 |
| 22 | 519 | | Rory John Park | 17 and below | 1:04:35 |
| 23 | 852 | | Madhu Sudan Dahal | 18 to 39 | 1:04:46 |
| 24 | 894 | | Karma Lopsang | 17 and below | 1:05:44 |
| 25 | 845 | | Mahatia Syam Rajaofetra | 17 and below | 1:05:45 |
| 26 | 857 | | Adrien Gobry | 18 to 39 | 1:05:50 |
| 27 | 670 | | Kunchok Dhondup Gurung | 17 and below | 1:05:52 |
| 28 | 795 | | Anand Subedi | 40 and above | 1:10:04 |
| 29 | 265 | | Santosh K.C. | 18 to 39 | 1:14:10 |
| 30 | 7011 | | Colin Park | 17 and below | 1:14:20 |
| 31 | 801 | | Kalsang Gurung | 17 and below | 1:15:52 |
| 32 | 108 | | Alistair Turkington | 40 and above | 1:23:10 |
| 33 | 563 | | Samuel Turkington | 17 and below | 1:23:11 |
| 34 | 814 | | Badal Pradhan | 40 and above | 1:23:23 |
| 35 | 832 | | Jang Woo Nam | 17 and below | 1:24:57 |
| 36 | 847 | | Ram Bhakta Shrestha | 40 and above | 1:27:18 |
| 37 | 881 | | Raj Gyawali | 40 and above | 1:27:32 |
| 38 | 7007 | | Anil Pokhrel | 40 and above | 1:27:49 |
| 39 | 849 | | Sanjaya Uprety | 40 and above | 1:27:50 |
| 40 | 149 | | Gabriel Raastrup Bonefeld | 17 and below | 1:33:15 |
| 41 | 390 | | Aarastu Kanta Pokhrel | 17 and below | 1:33:37 |
| 42 | 358 | | Soren Graif | 17 and below | 1:33:50 |
| 43 | 171 | | Peter Graif | 18 to 39 | 1:33:52 |
| 44 | 324 | | Valtteri Borg | 17 and below | 1:50:42 |
| 45 | 861 | | Rune K Larsen | 18 to 39 | 1:54:42 |
| 46 | 840 | | Sufiyan Sherazi | 17 and below | 1:54:55 |
| 47 | 216 | | Simon Cams | 17 and below | 1:55:18 |
| 48 | 163 | | Oskar Edwards | 17 and below | 1:55:43 |
| 49 | 548 | | Ragindra Man Rajbhandari | 18 to 39 | 1:56:49 |
Female
17 and below
| | | | | | |
| --- | --- | --- | --- | --- | --- |
| 1 | 522 | | Salina Tamang | 17 and below | 0:52:27 |
| 2 | 388 | | Anushka Pokhrel | 17 and below | 1:04:14 |
| 3 | 666 | | Chemi Lhanze Gurung | 17 and below | 1:06:08 |
| 4 | 432 | | Rhea Pradhan | 17 and below | 1:08:42 |
| 5 | 657 | | Lhamo Gurung | 17 and below | 1:08:56 |
| 6 | 608 | | Rachana Rana Magar | 17 and below | 1:09:23 |
| 7 | 669 | | Asmita Bika | 17 and below | 1:15:25 |
| 8 | 676 | | Pemba Lhamo Gurung | 17 and below | 1:15:38 |
| 9 | 804 | | Tenzin Dolker Lama | 17 and below | 1:17:54 |
| 10 | 882 | | Tara Sinsoke Gyawali | 17 and below | 1:27:37 |
| 11 | 662 | | Yeshi Tsomo Gurung | 17 and below | 1:31:33 |
| 12 | 668 | | Preeti Bika | 17 and below | 1:31:43 |
| 13 | 656 | | Tenzin Tashi Lama | 17 and below | 1:31:54 |
| 14 | 859 | | Liv Sindballe Larsen | 17 and below | 1:33:22 |
| 15 | 7012 | | Tara Bergojna | 17 and below | 1:45:39 |
| 16 | 858 | | Naja Sindballe Larsen | 17 and below | 1:53:18 |
| 17 | 162 | | Freja Edwards | 17 and below | 1:55:37 |
| 18 | 562 | | Elisheva Turkington | 17 and below | 2:20:49 |
| 19 | 7010 | | Maya Wang | 17 and below | 2:37:30 |
18 to 39
| | | | | | |
| --- | --- | --- | --- | --- | --- |
| 1 | 836 | | Taylor May Smith | 18 to 39 | 0:52:34 |
| 2 | 837 | | Anna Cadwell | 18 to 39 | 0:54:23 |
| 3 | 332 | | Lauren Figuet | 18 to 39 | 0:54:49 |
| 4 | 701 | | Kalpana Gurung | 18 to 39 | 0:57:13 |
| 5 | 897 | | Anna Orlow | 18 to 39 | 1:00:27 |
| 6 | 513 | | Shweta Malla | 18 to 39 | 1:04:51 |
| 7 | 812 | | Elizabeth Christine Long | 18 to 39 | 1:04:58 |
| 8 | 810 | | Hannah Rodgers | 18 to 39 | 1:05:02 |
| 9 | 264 | | Linda Ris | 18 to 39 | 1:05:38 |
| 10 | 870 | | Jeanne Crepelle | 18 to 39 | 1:07:11 |
| 11 | 871 | | Lucie Dubert | 18 to 39 | 1:07:33 |
| 12 | 543 | | Simrika Sharma | 18 to 39 | 1:08:28 |
| 13 | 250 | | Kelsi Mcgillivray | 18 to 39 | 1:08:51 |
| 14 | 688 | | Radha Verma | 18 to 39 | 1:10:47 |
| 15 | 873 | | Elizabeth Carlile | 18 to 39 | 1:19:33 |
| 16 | 134 | | Amy Delamaide | 18 to 39 | 1:20:27 |
| 17 | 831 | | Julia Ruthus | 18 to 39 | 1:24:08 |
| 18 | 865 | | Meeta Suwal | 18 to 39 | 1:32:23 |
| 19 | 848 | | Shreejana Maharjan | 18 to 39 | 1:32:39 |
| 20 | 177 | | Jeeta Gurung | 18 to 39 | 1:32:57 |
| 21 | 829 | | Barsha Shrestha | 18 to 39 | 1:33:00 |
| 22 | 860 | | Anne Gerd Sindballe | 18 to 39 | 1:33:26 |
| 23 | 547 | | Drishtant Karki | 18 to 39 | 1:56:54 |
| 24 | 544 | | Durga Kumari Lohar | 18 to 39 | 1:57:00 |
40 and above
| | | | | | |
| --- | --- | --- | --- | --- | --- |
| 1 | 867 | | Mari-Sisko Khadgi | 40 and above | 0:56:18 |
| 2 | 582 | | Maureen F Park | 40 and above | 1:13:18 |
| 3 | 109 | | Kirsteen Merrilees | 40 and above | 1:13:44 |
| 4 | 883 | | Birgit Lienhart-Gyawali | 40 and above | 1:27:29 |
| 5 | 791 | | Chandra Laxmi Hada | 40 and above | 1:27:46 |
| 6 | 880 | | Manisha Subedi Pokhrel | 40 and above | 1:33:10 |
| 7 | 899 | | Joana Morrison | 40 and above | 1:42:09 |
| 8 | 323 | | Kati Bhose | 40 and above | 1:50:38 |
| 9 | 459 | | Riitta Mensonen | 40 and above | 1:51:12 |
| 10 | 745 | | Anne Sophie Bonefeld | 40 and above | 1:54:45 |
| 11 | 7020 | | Tammy Decker | 40 and above | 2:03:55 |
| 12 | 139 | | Xiaoping Wang | 40 and above | 2:36:06 |
| | | | | | |
| --- | --- | --- | --- | --- | --- |
| 1 | 522 | | Salina Tamang | 17 and below | 0:52:27 |
| 2 | 836 | | Taylor May Smith | 18 to 39 | 0:52:34 |
| 3 | 837 | | Anna Cadwell | 18 to 39 | 0:54:23 |
| 4 | 332 | | Lauren Figuet | 18 to 39 | 0:54:49 |
| 5 | 867 | | Mari-Sisko Khadgi | 40 and above | 0:56:18 |
| 6 | 701 | | Kalpana Gurung | 18 to 39 | 0:57:13 |
| 7 | 897 | | Anna Orlow | 18 to 39 | 1:00:27 |
| 8 | 388 | | Anushka Pokhrel | 17 and below | 1:04:14 |
| 9 | 513 | | Shweta Malla | 18 to 39 | 1:04:51 |
| 10 | 812 | | Elizabeth Christine Long | 18 to 39 | 1:04:58 |
| 11 | 810 | | Hannah Rodgers | 18 to 39 | 1:05:02 |
| 12 | 264 | | Linda Ris | 18 to 39 | 1:05:38 |
| 13 | 666 | | Chemi Lhanze Gurung | 17 and below | 1:06:08 |
| 14 | 870 | | Jeanne Crepelle | 18 to 39 | 1:07:11 |
| 15 | 871 | | Lucie Dubert | 18 to 39 | 1:07:33 |
| 16 | 543 | | Simrika Sharma | 18 to 39 | 1:08:28 |
| 17 | 432 | | Rhea Pradhan | 17 and below | 1:08:42 |
| 18 | 250 | | Kelsi Mcgillivray | 18 to 39 | 1:08:51 |
| 19 | 657 | | Lhamo Gurung | 17 and below | 1:08:56 |
| 20 | 608 | | Rachana Rana Magar | 17 and below | 1:09:23 |
| 21 | 688 | | Radha Verma | 18 to 39 | 1:10:47 |
| 22 | 582 | | Maureen F Park | 40 and above | 1:13:18 |
| 23 | 109 | | Kirsteen Merrilees | 40 and above | 1:13:44 |
| 24 | 669 | | Asmita Bika | 17 and below | 1:15:25 |
| 25 | 676 | | Pemba Lhamo Gurung | 17 and below | 1:15:38 |
| 26 | 804 | | Tenzin Dolker Lama | 17 and below | 1:17:54 |
| 27 | 873 | | Elizabeth Carlile | 18 to 39 | 1:19:33 |
| 28 | 134 | | Amy Delamaide | 18 to 39 | 1:20:27 |
| 29 | 831 | | Julia Ruthus | 18 to 39 | 1:24:08 |
| 30 | 883 | | Birgit Lienhart-Gyawali | 40 and above | 1:27:29 |
| 31 | 882 | | Tara Sinsoke Gyawali | 17 and below | 1:27:37 |
| 32 | 791 | | Chandra Laxmi Hada | 40 and above | 1:27:46 |
| 33 | 662 | | Yeshi Tsomo Gurung | 17 and below | 1:31:33 |
| 34 | 668 | | Preeti Bika | 17 and below | 1:31:43 |
| 35 | 656 | | Tenzin Tashi Lama | 17 and below | 1:31:54 |
| 36 | 865 | | Meeta Suwal | 18 to 39 | 1:32:23 |
| 37 | 848 | | Shreejana Maharjan | 18 to 39 | 1:32:39 |
| 38 | 177 | | Jeeta Gurung | 18 to 39 | 1:32:57 |
| 39 | 829 | | Barsha Shrestha | 18 to 39 | 1:33:00 |
| 40 | 880 | | Manisha Subedi Pokhrel | 40 and above | 1:33:10 |
| 41 | 859 | | Liv Sindballe Larsen | 17 and below | 1:33:22 |
| 42 | 860 | | Anne Gerd Sindballe | 18 to 39 | 1:33:26 |
| 43 | 899 | | Joana Morrison | 40 and above | 1:42:09 |
| 44 | 7012 | | Tara Bergojna | 17 and below | 1:45:39 |
| 45 | 323 | | Kati Bhose | 40 and above | 1:50:38 |
| 46 | 459 | | Riitta Mensonen | 40 and above | 1:51:12 |
| 47 | 858 | | Naja Sindballe Larsen | 17 and below | 1:53:18 |
| 48 | 745 | | Anne Sophie Bonefeld | 40 and above | 1:54:45 |
| 49 | 162 | | Freja Edwards | 17 and below | 1:55:37 |
| 50 | 547 | | Drishtant Karki | 18 to 39 | 1:56:54 |
| 51 | 544 | | Durga Kumari Lohar | 18 to 39 | 1:57:00 |
| 52 | 7020 | | Tammy Decker | 40 and above | 2:03:55 |
| 53 | 562 | | Elisheva Turkington | 17 and below | 2:20:49 |
| 54 | 139 | | Xiaoping Wang | 40 and above | 2:36:06 |
| 55 | 7010 | | Maya Wang | 17 and below | 2:37:30 |