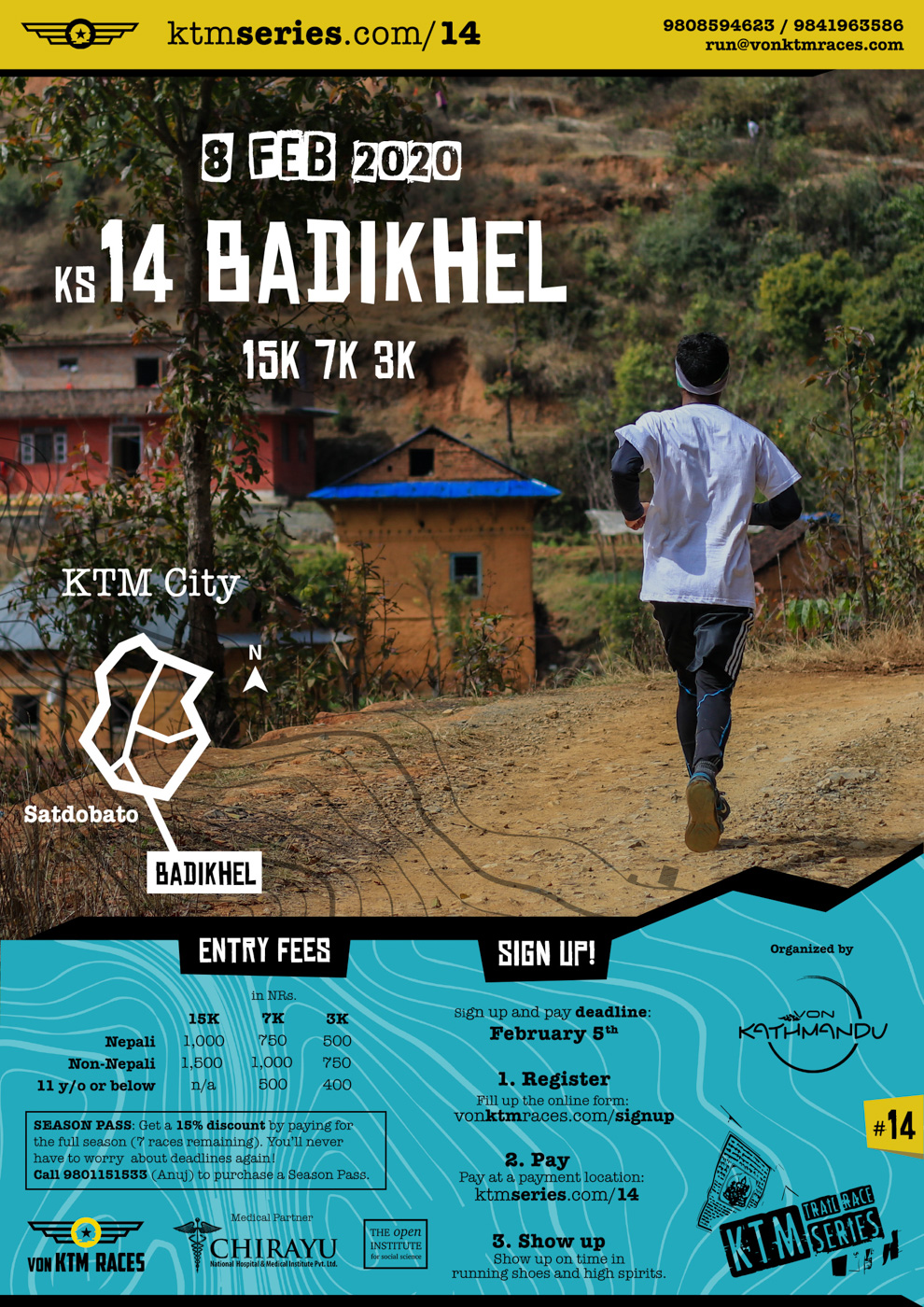 Event Date
February 8, 2020
Venue
Janasewa Secondary School
Located at Panga, Lalitpur
Open pin on Google Map
Distances
12K, 6K and 3K
Observations, updates and note to self
KTM Series repositioned as an open trail event, where anyone can join. The word "race" dropped from most marketing collateral. No change in competitive aspect of the Series.
7K opened for hikers. Two hiking guides deployed.
Introduced Newari stall at venue (Kwaacha - the best Newari joint in town, likely country).
Highest participant numbers till date, with 35% Nepali and 65% expats.
Trails and Award Ceremony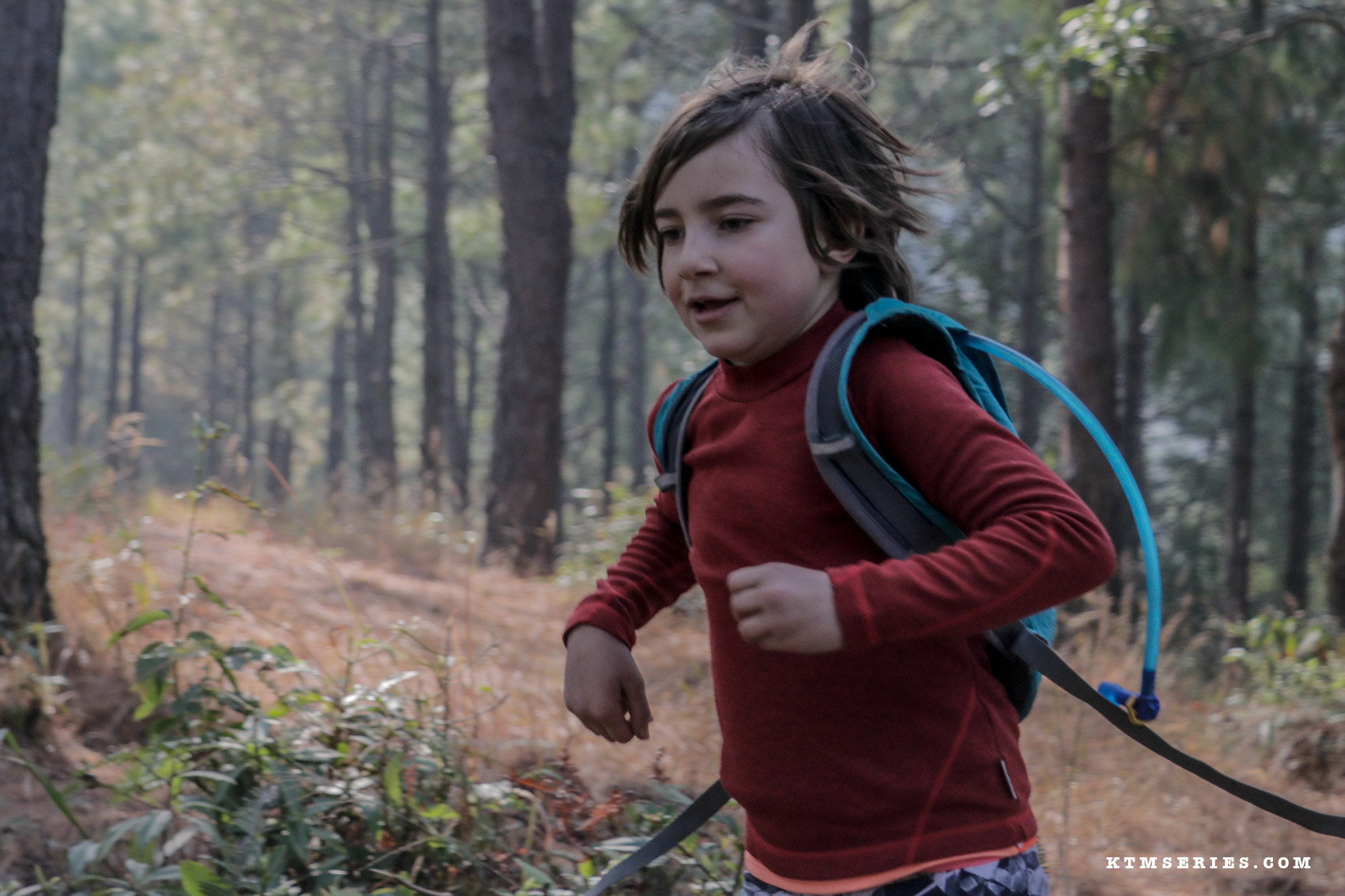 134 photos by:
Start, Finish and Award Ceremony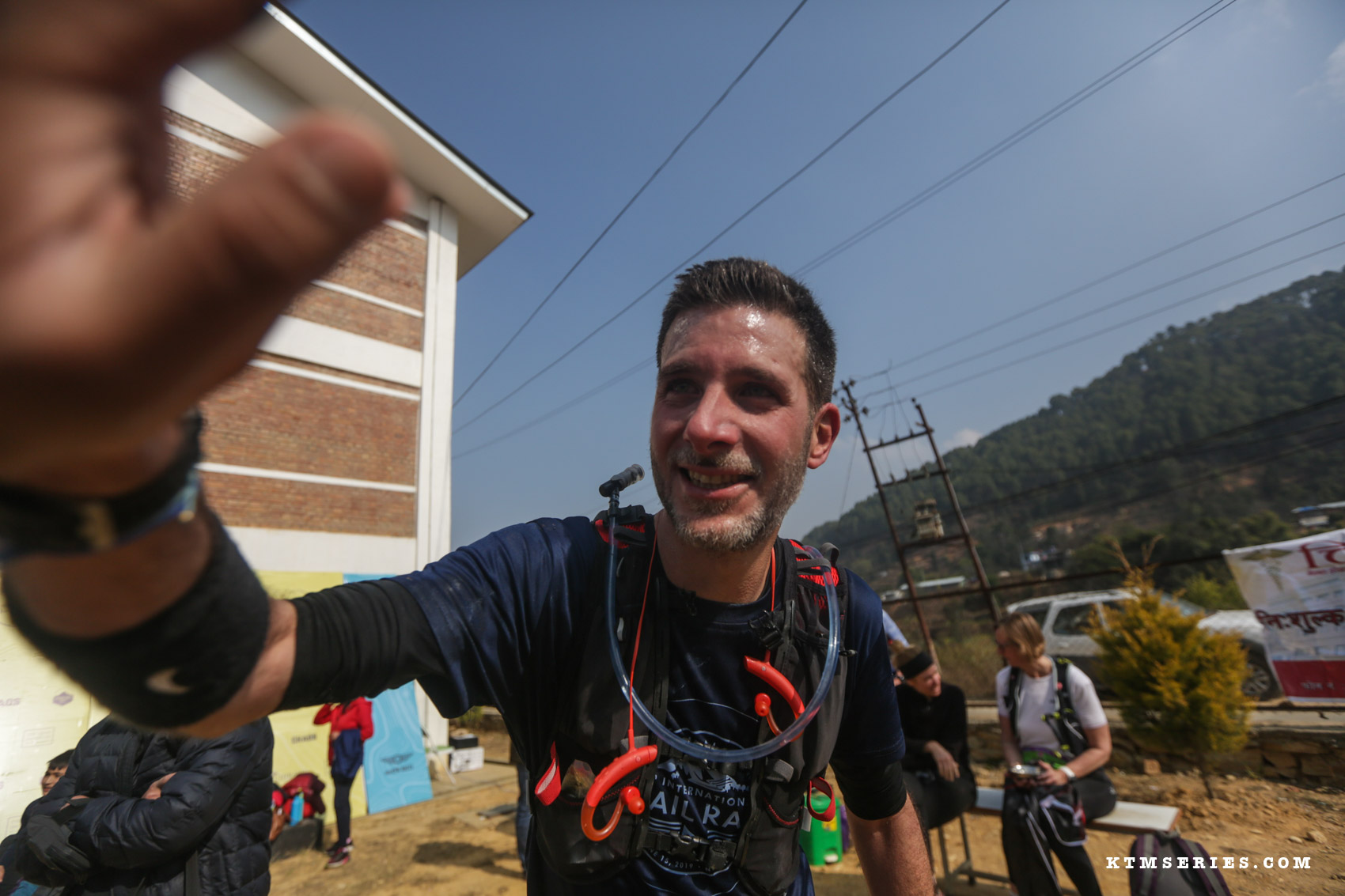 109 photos by:
Start and Trails
195 photos by:
| | |
| --- | --- |
| | Jeevan Lama |
| | | | |
| --- | --- | --- | --- |
| 67 | | Nepal | |
| 33 | | United Kingdom | |
| 24 | | United States | |
| 14 | | France | |
| 8 | | Netherlands | |
| 6 | | Canada | |
| 5 | | Italy | |
| 4 | | Australia | |
| | | | |
| --- | --- | --- | --- |
| 4 | | Norway | |
| 3 | | Switzerland | |
| 2 | | Denmark | |
| 1 | | Finland | |
| 1 | | French Guiana | |
| 1 | | Madagascar | |
| 1 | | Russia | |
| 1 | | India | |
| | | | |
| --- | --- | --- | --- |
| 1 | | Ecuador | |
| 1 | | El Salvador | |
| 1 | | Sweden | |
| 1 | | Bhutan | |
| 1 | | Ireland | |
| 1 | | Colombia | |
| 1 | | Kyrgyzstan | |
15K
Male
12 to 17
| | | | | | |
| --- | --- | --- | --- | --- | --- |
| 1 | 651 | | Tenzin Tsering Lama | 12 to 17 | 2:01:52 |
| 2 | 653 | | Tenzin Gyalpo Gurung | 12 to 17 | 2:02:07 |
18 to 39
| | | | | | |
| --- | --- | --- | --- | --- | --- |
| 1 | 1437 | | Mahesh Thapa | 18 to 39 | 1:19:58 |
| 2 | 1419 | | Pemba Dorje Tamang | 18 to 39 | 1:25:23 |
| 3 | 1420 | | Sunil Tamang | 18 to 39 | 1:33:06 |
| 4 | 1083 | | David Chalmers | 18 to 39 | 1:33:51 |
| 5 | 1361 | | David Walker | 18 to 39 | 1:36:54 |
| 6 | 702 | | Pascal Fendrich | 18 to 39 | 1:42:32 |
| 7 | 339 | | Brian Beckett | 18 to 39 | 1:44:53 |
| 8 | 147 | | Prateek Agarwal | 18 to 39 | 1:53:57 |
| 9 | 320 | | Tyler Mcmahon | 18 to 39 | 2:01:09 |
| 10 | 1316 | | Daniel Zaleski | 18 to 39 | 2:01:10 |
| 11 | 1190 | | Chandra Bahadur Karki | 18 to 39 | 2:01:55 |
| 12 | 112 | | Shashank Agrawal | 18 to 39 | 2:03:32 |
| 13 | 1354 | | Alok Khatri | 18 to 39 | 2:05:31 |
| 14 | 144 | | Andrew Alcock | 18 to 39 | 2:05:32 |
| 15 | 1106 | | Ayaj Ahmad | 18 to 39 | 2:10:56 |
| 16 | 185 | | Deepak Shah | 18 to 39 | 2:11:02 |
| 17 | 156 | | James Andrew Lowe | 18 to 39 | 2:11:03 |
| 18 | 124 | | Krishna Kumar Maharjan | 18 to 39 | 2:17:55 |
| 19 | 1149 | | Abbas Khan | 18 to 39 | 2:18:02 |
| 20 | 806 | | Molam Wangyal Gurung | 18 to 39 | 2:28:07 |
| 21 | 1128 | | Ajaz Ahmad | 18 to 39 | 2:28:20 |
| 22 | 192 | | Hussain Bolt Uddin | 18 to 39 | 2:30:49 |
| 23 | 193 | | Pradeep P Karmacharya | 18 to 39 | 2:38:53 |
| 24 | 1153 | | Thomas Lew | 18 to 39 | 2:45:16 |
40 and above
| | | | | | |
| --- | --- | --- | --- | --- | --- |
| 1 | 195 | | Damodar Budha Magar | 40 and above | 1:19:16 |
| 2 | 1340 | | Philip Jonathan Morris | 40 and above | 1:20:11 |
| 3 | 1068 | | Bernardo Cocco | 40 and above | 1:35:55 |
| 4 | 148 | | Nic Raastrup | 40 and above | 1:45:26 |
| 5 | 1431 | | Tad Brown | 40 and above | 2:00:26 |
| 6 | 118 | | Diwakar Shah | 40 and above | 2:01:05 |
| 7 | 1439 | | Binay Dangol | 40 and above | 2:03:39 |
| 8 | 1231 | | Nagendra Bahadur Baduwal | 40 and above | 2:10:53 |
| 9 | 272 | | Tom Robertson | 40 and above | 2:17:53 |
| 10 | 1428 | | Matthew Stivison | 40 and above | 2:53:26 |
| 11 | 1182 | | Andrew Golda | 40 and above | 3:10:14 |
| | | | | | |
| --- | --- | --- | --- | --- | --- |
| 1 | 195 | | Damodar Budha Magar | 40 and above | 1:19:16 |
| 2 | 1437 | | Mahesh Thapa | 18 to 39 | 1:19:58 |
| 3 | 1340 | | Philip Jonathan Morris | 40 and above | 1:20:11 |
| 4 | 1419 | | Pemba Dorje Tamang | 18 to 39 | 1:25:23 |
| 5 | 1420 | | Sunil Tamang | 18 to 39 | 1:33:06 |
| 6 | 1083 | | David Chalmers | 18 to 39 | 1:33:51 |
| 7 | 1068 | | Bernardo Cocco | 40 and above | 1:35:55 |
| 8 | 1361 | | David Walker | 18 to 39 | 1:36:54 |
| 9 | 702 | | Pascal Fendrich | 18 to 39 | 1:42:32 |
| 10 | 339 | | Brian Beckett | 18 to 39 | 1:44:53 |
| 11 | 148 | | Nic Raastrup | 40 and above | 1:45:26 |
| 12 | 147 | | Prateek Agarwal | 18 to 39 | 1:53:57 |
| 13 | 1431 | | Tad Brown | 40 and above | 2:00:26 |
| 14 | 118 | | Diwakar Shah | 40 and above | 2:01:05 |
| 15 | 320 | | Tyler Mcmahon | 18 to 39 | 2:01:09 |
| 16 | 1316 | | Daniel Zaleski | 18 to 39 | 2:01:10 |
| 17 | 651 | | Tenzin Tsering Lama | 12 to 17 | 2:01:52 |
| 18 | 1190 | | Chandra Bahadur Karki | 18 to 39 | 2:01:55 |
| 19 | 653 | | Tenzin Gyalpo Gurung | 12 to 17 | 2:02:07 |
| 20 | 112 | | Shashank Agrawal | 18 to 39 | 2:03:32 |
| 21 | 1439 | | Binay Dangol | 40 and above | 2:03:39 |
| 22 | 1354 | | Alok Khatri | 18 to 39 | 2:05:31 |
| 23 | 144 | | Andrew Alcock | 18 to 39 | 2:05:32 |
| 24 | 1231 | | Nagendra Bahadur Baduwal | 40 and above | 2:10:53 |
| 25 | 1106 | | Ayaj Ahmad | 18 to 39 | 2:10:56 |
| 26 | 185 | | Deepak Shah | 18 to 39 | 2:11:02 |
| 27 | 156 | | James Andrew Lowe | 18 to 39 | 2:11:03 |
| 28 | 272 | | Tom Robertson | 40 and above | 2:17:53 |
| 29 | 124 | | Krishna Kumar Maharjan | 18 to 39 | 2:17:55 |
| 30 | 1149 | | Abbas Khan | 18 to 39 | 2:18:02 |
| 31 | 806 | | Molam Wangyal Gurung | 18 to 39 | 2:28:07 |
| 32 | 1128 | | Ajaz Ahmad | 18 to 39 | 2:28:20 |
| 33 | 192 | | Hussain Bolt Uddin | 18 to 39 | 2:30:49 |
| 34 | 193 | | Pradeep P Karmacharya | 18 to 39 | 2:38:53 |
| 35 | 1153 | | Thomas Lew | 18 to 39 | 2:45:16 |
| 36 | 1428 | | Matthew Stivison | 40 and above | 2:53:26 |
| 37 | 1182 | | Andrew Golda | 40 and above | 3:10:14 |
Female
12 to 17
| | | | | | |
| --- | --- | --- | --- | --- | --- |
| 1 | 1352 | | Rama Giri | 12 to 17 | 2:00:17 |
| 2 | 1350 | | Pramila Tamang | 12 to 17 | 2:03:42 |
18 to 39
| | | | | | |
| --- | --- | --- | --- | --- | --- |
| 1 | 146 | | Amanda Claire Hemelik | 18 to 39 | 1:48:04 |
| 2 | 577 | | Mingma Sherpa | 18 to 39 | 1:50:38 |
| 3 | 629 | | Petra Maria Sigrist | 18 to 39 | 2:05:20 |
| 4 | 783 | | Philippa Jefferis | 18 to 39 | 2:28:01 |
| 5 | 145 | | Ann Howell | 18 to 39 | 2:28:04 |
| 6 | 254 | | Aoife Bridget Lambe | 18 to 39 | 2:28:11 |
| 7 | 1147 | | Rosalind Ferguson | 18 to 39 | 2:28:14 |
| 8 | 799 | | Kunsang Choedon Lama | 18 to 39 | 2:28:16 |
| 9 | 175 | | Hannah Ruth Straw | 18 to 39 | 2:30:44 |
| 10 | 549 | | Oda Misje Haug | 18 to 39 | 2:33:13 |
| 11 | 718 | | Anika Fletcher | 18 to 39 | 2:36:04 |
| 12 | 574 | | Aino Efraimsson | 18 to 39 | 2:47:02 |
| 13 | 658 | | Pempa Lhamu Gurung | 18 to 39 | 3:00:13 |
40 and above
| | | | | | |
| --- | --- | --- | --- | --- | --- |
| 1 | 170 | | Sonya Martin | 40 and above | 1:49:10 |
| 2 | 430 | | Shasa Shrestha | 40 and above | 2:11:18 |
| 3 | 485 | | Charu Arjyal | 40 and above | 2:11:38 |
| 4 | 422 | | Leslie D Iverson | 40 and above | 2:27:55 |
| 5 | 122 | | Stine Heiselberg | 40 and above | 2:28:22 |
| | | | | | |
| --- | --- | --- | --- | --- | --- |
| 1 | 146 | | Amanda Claire Hemelik | 18 to 39 | 1:48:04 |
| 2 | 170 | | Sonya Martin | 40 and above | 1:49:10 |
| 3 | 577 | | Mingma Sherpa | 18 to 39 | 1:50:38 |
| 4 | 1352 | | Rama Giri | 12 to 17 | 2:00:17 |
| 5 | 1350 | | Pramila Tamang | 12 to 17 | 2:03:42 |
| 6 | 629 | | Petra Maria Sigrist | 18 to 39 | 2:05:20 |
| 7 | 430 | | Shasa Shrestha | 40 and above | 2:11:18 |
| 8 | 485 | | Charu Arjyal | 40 and above | 2:11:38 |
| 9 | 422 | | Leslie D Iverson | 40 and above | 2:27:55 |
| 10 | 783 | | Philippa Jefferis | 18 to 39 | 2:28:01 |
| 11 | 145 | | Ann Howell | 18 to 39 | 2:28:04 |
| 12 | 254 | | Aoife Bridget Lambe | 18 to 39 | 2:28:11 |
| 13 | 1147 | | Rosalind Ferguson | 18 to 39 | 2:28:14 |
| 14 | 799 | | Kunsang Choedon Lama | 18 to 39 | 2:28:16 |
| 15 | 122 | | Stine Heiselberg | 40 and above | 2:28:22 |
| 16 | 175 | | Hannah Ruth Straw | 18 to 39 | 2:30:44 |
| 17 | 549 | | Oda Misje Haug | 18 to 39 | 2:33:13 |
| 18 | 718 | | Anika Fletcher | 18 to 39 | 2:36:04 |
| 19 | 574 | | Aino Efraimsson | 18 to 39 | 2:47:02 |
| 20 | 658 | | Pempa Lhamu Gurung | 18 to 39 | 3:00:13 |
7K
Male
11 and below
| | | | | | |
| --- | --- | --- | --- | --- | --- |
| 1 | 724 | | Fred Grimshaw | 11 and below | 1:05:03 |
| 2 | 1334 | | Leo Sova | 11 and below | 1:09:24 |
| 3 | 1078 | | Thomas O'Neill Guerra | 11 and below | 1:16:43 |
| 4 | 1438 | | Edgar | 11 and below | 1:16:47 |
| 5 | 518 | | Colin William Park | 11 and below | 1:21:05 |
| 6 | 1407 | | Sam Blin | 11 and below | 1:25:48 |
| 7 | 333 | | William Brown Spencer | 11 and below | 1:25:51 |
| 8 | 172 | | Mateo Graif | 11 and below | 1:25:58 |
| 9 | 987 | | Axel Gobry | 11 and below | 1:34:40 |
| 10 | 1406 | | Neil Blin | 11 and below | 1:37:58 |
| 11 | 1424 | | Sam Thomas | 11 and below | 1:39:20 |
| 12 | 414 | | Nicholas Pietro How | 11 and below | 1:39:26 |
| 13 | 1225 | | Tej Ralph Shrestha Bell | 11 and below | 1:39:29 |
| 14 | 876 | | Nijal Jay Shrestha | 11 and below | 1:48:42 |
| 15 | 519 | | Rory John Park | 11 and below | 1:54:40 |
| 16 | 518 | | Colin William Park | 11 and below | 1:54:48 |
| 17 | 563 | | Samuel Turkington | 11 and below | 1:55:00 |
| 18 | 1429 | | David Turkington | 11 and below | 1:55:10 |
12 to 17
| | | | | | |
| --- | --- | --- | --- | --- | --- |
| 1 | 1381 | | Paul Mjos | 12 to 17 | 1:09:21 |
| 2 | 845 | | Mahatia Syam Rajaofetra | 12 to 17 | 1:23:11 |
| 3 | 1436 | | Joshep Bessette | 12 to 17 | 1:37:14 |
18 to 39
| | | | | | |
| --- | --- | --- | --- | --- | --- |
| 1 | 1425 | | Indra Man Tamang | 18 to 39 | 1:04:52 |
| 2 | 1382 | | Anders Magnusson | 18 to 39 | 1:09:06 |
| 3 | 1344 | | Gian Melloni | 18 to 39 | 1:14:19 |
| 4 | 1168 | | Richard Marshall Craig | 18 to 39 | 1:15:47 |
| 5 | 1365 | | Abhinav Shakya | 18 to 39 | 1:16:57 |
| 6 | 243 | | Sohnish Dali | 18 to 39 | 1:17:19 |
| 7 | 1088 | | Nikesh Shrestha | 18 to 39 | 1:22:25 |
| 8 | 1416 | | Paul Rutter | 18 to 39 | 1:23:19 |
| 9 | 612 | | Zippy Hari Shrestha | 18 to 39 | 1:24:04 |
| 10 | 1422 | | Andrew Seller | 18 to 39 | 1:24:07 |
| 11 | 1386 | | Vikash Kumar Agrawal | 18 to 39 | 1:30:03 |
| 12 | 621 | | Rishi Agawal | 18 to 39 | 1:30:18 |
| 13 | 240 | | Gaurav Bir Singh Kansakar | 18 to 39 | 1:31:16 |
| 14 | 1384 | | Patrick Valentine Fetz Chettri | 18 to 39 | 1:31:43 |
| 15 | 620 | | Tushar Shroff | 18 to 39 | 1:32:42 |
| 16 | 857 | | Adrien Gobry | 18 to 39 | 1:34:44 |
| 17 | 1435 | | Abhishek Agrawal | 18 to 39 | 1:35:25 |
| 18 | 1131 | | Sumit Dugar | 18 to 39 | 1:44:41 |
| 19 | 1364 | | Ankur Agrawal | 18 to 39 | 1:49:24 |
| 20 | 1378 | | Dan Scott | 18 to 39 | 1:50:06 |
| 21 | 1366 | | Rajeev Singh | 18 to 39 | 1:55:51 |
| 22 | 548 | | Ragindra Man Rajbhandari | 18 to 39 | 2:06:11 |
| 23 | 1403 | | Pelden Dorji | 18 to 39 | 2:06:20 |
| 24 | 1400 | | Praney Manandhar | 18 to 39 | 2:32:25 |
| 25 | 1396 | | Samin Singh | 18 to 39 | 2:32:31 |
| 26 | 1317 | | Raihan Ahmad | 18 to 39 | 3:00:41 |
40 and above
| | | | | | |
| --- | --- | --- | --- | --- | --- |
| 1 | 1075 | | Jim O'Neill | 40 and above | 1:17:05 |
| 2 | 1054 | | Mark Richard Waltham | 40 and above | 1:18:55 |
| 3 | 1421 | | Michael Mussi | 40 and above | 1:20:21 |
| 4 | 934 | | Ageen Shrestha | 40 and above | 1:20:49 |
| 5 | 910 | | Matt Sova | 40 and above | 1:22:12 |
| 6 | 1430 | | Ben Spencer | 40 and above | 1:25:54 |
| 7 | 1248 | | Tom Adams | 40 and above | 1:35:39 |
| 8 | 1397 | | Thomas D Bell | 40 and above | 1:48:35 |
| 9 | 108 | | Alistair Turkington | 40 and above | 1:55:03 |
| 10 | 1433 | | Bessette Kranck | 40 and above | 2:05:59 |
| 11 | 1254 | | Michael Patrick Leahy | 40 and above | 2:23:25 |
| 12 | 732 | | Santosh Shrestha | 40 and above | 2:30:06 |
| 13 | 1093 | | Egbert Pos | 40 and above | 2:30:24 |
| 14 | 1409 | | Allen Seif | 40 and above | 2:39:57 |
| 15 | 1385 | | Bipin Agrawal | 40 and above | 3:01:08 |
| | | | | | |
| --- | --- | --- | --- | --- | --- |
| 1 | 1425 | | Indra Man Tamang | 18 to 39 | 1:04:52 |
| 2 | 724 | | Fred Grimshaw | 11 and below | 1:05:03 |
| 3 | 1382 | | Anders Magnusson | 18 to 39 | 1:09:06 |
| 4 | 1381 | | Paul Mjos | 12 to 17 | 1:09:21 |
| 5 | 1334 | | Leo Sova | 11 and below | 1:09:24 |
| 6 | 1344 | | Gian Melloni | 18 to 39 | 1:14:19 |
| 7 | 1168 | | Richard Marshall Craig | 18 to 39 | 1:15:47 |
| 8 | 1078 | | Thomas O'Neill Guerra | 11 and below | 1:16:43 |
| 9 | 1438 | | Edgar | 11 and below | 1:16:47 |
| 10 | 1365 | | Abhinav Shakya | 18 to 39 | 1:16:57 |
| 11 | 1075 | | Jim O'Neill | 40 and above | 1:17:05 |
| 12 | 243 | | Sohnish Dali | 18 to 39 | 1:17:19 |
| 13 | 1054 | | Mark Richard Waltham | 40 and above | 1:18:55 |
| 14 | 1421 | | Michael Mussi | 40 and above | 1:20:21 |
| 15 | 934 | | Ageen Shrestha | 40 and above | 1:20:49 |
| 16 | 518 | | Colin William Park | 11 and below | 1:21:05 |
| 17 | 910 | | Matt Sova | 40 and above | 1:22:12 |
| 18 | 1088 | | Nikesh Shrestha | 18 to 39 | 1:22:25 |
| 19 | 845 | | Mahatia Syam Rajaofetra | 12 to 17 | 1:23:11 |
| 20 | 1416 | | Paul Rutter | 18 to 39 | 1:23:19 |
| 21 | 612 | | Zippy Hari Shrestha | 18 to 39 | 1:24:04 |
| 22 | 1422 | | Andrew Seller | 18 to 39 | 1:24:07 |
| 23 | 1407 | | Sam Blin | 11 and below | 1:25:48 |
| 24 | 333 | | William Brown Spencer | 11 and below | 1:25:51 |
| 25 | 1430 | | Ben Spencer | 40 and above | 1:25:54 |
| 26 | 172 | | Mateo Graif | 11 and below | 1:25:58 |
| 27 | 1386 | | Vikash Kumar Agrawal | 18 to 39 | 1:30:03 |
| 28 | 621 | | Rishi Agawal | 18 to 39 | 1:30:18 |
| 29 | 240 | | Gaurav Bir Singh Kansakar | 18 to 39 | 1:31:16 |
| 30 | 1384 | | Patrick Valentine Fetz Chettri | 18 to 39 | 1:31:43 |
| 31 | 620 | | Tushar Shroff | 18 to 39 | 1:32:42 |
| 32 | 987 | | Axel Gobry | 11 and below | 1:34:40 |
| 33 | 857 | | Adrien Gobry | 18 to 39 | 1:34:44 |
| 34 | 1435 | | Abhishek Agrawal | 18 to 39 | 1:35:25 |
| 35 | 1248 | | Tom Adams | 40 and above | 1:35:39 |
| 36 | 1436 | | Joshep Bessette | 12 to 17 | 1:37:14 |
| 37 | 1406 | | Neil Blin | 11 and below | 1:37:58 |
| 38 | 1424 | | Sam Thomas | 11 and below | 1:39:20 |
| 39 | 414 | | Nicholas Pietro How | 11 and below | 1:39:26 |
| 40 | 1225 | | Tej Ralph Shrestha Bell | 11 and below | 1:39:29 |
| 41 | 1131 | | Sumit Dugar | 18 to 39 | 1:44:41 |
| 42 | 1397 | | Thomas D Bell | 40 and above | 1:48:35 |
| 43 | 876 | | Nijal Jay Shrestha | 11 and below | 1:48:42 |
| 44 | 1364 | | Ankur Agrawal | 18 to 39 | 1:49:24 |
| 45 | 1378 | | Dan Scott | 18 to 39 | 1:50:06 |
| 46 | 519 | | Rory John Park | 11 and below | 1:54:40 |
| 47 | 518 | | Colin William Park | 11 and below | 1:54:48 |
| 48 | 563 | | Samuel Turkington | 11 and below | 1:55:00 |
| 49 | 108 | | Alistair Turkington | 40 and above | 1:55:03 |
| 50 | 1429 | | David Turkington | 11 and below | 1:55:10 |
| 51 | 1366 | | Rajeev Singh | 18 to 39 | 1:55:51 |
| 52 | 1433 | | Bessette Kranck | 40 and above | 2:05:59 |
| 53 | 548 | | Ragindra Man Rajbhandari | 18 to 39 | 2:06:11 |
| 54 | 1403 | | Pelden Dorji | 18 to 39 | 2:06:20 |
| 55 | 1254 | | Michael Patrick Leahy | 40 and above | 2:23:25 |
| 56 | 732 | | Santosh Shrestha | 40 and above | 2:30:06 |
| 57 | 1093 | | Egbert Pos | 40 and above | 2:30:24 |
| 58 | 1400 | | Praney Manandhar | 18 to 39 | 2:32:25 |
| 59 | 1396 | | Samin Singh | 18 to 39 | 2:32:31 |
| 60 | 1409 | | Allen Seif | 40 and above | 2:39:57 |
| 61 | 1317 | | Raihan Ahmad | 18 to 39 | 3:00:41 |
| 62 | 1385 | | Bipin Agrawal | 40 and above | 3:01:08 |
Female
11 and below
| | | | | | |
| --- | --- | --- | --- | --- | --- |
| 1 | 1402 | | Niki Pelden Ritsma | 11 and below | 1:25:39 |
| 2 | 413 | | Giulia Ann How | 11 and below | 1:43:10 |
| 3 | 1401 | | Tara Dorji Ritsma | 11 and below | 1:45:28 |
| 4 | 1226 | | Anushna Miriam Shrestha Bell | 11 and below | 1:48:31 |
| 5 | 562 | | Elisheva Turkington | 11 and below | 1:54:53 |
| 6 | 1391 | | Evie Kunsang Dolma Gurung | 11 and below | 2:00:24 |
| 7 | 1405 | | Maud Blin | 11 and below | 2:00:26 |
| 8 | 1392 | | Alice Domjo Gurung | 11 and below | 2:06:09 |
| 9 | 1374 | | Lilian Pos | 11 and below | 2:30:18 |
12 to 17
| | | | | | |
| --- | --- | --- | --- | --- | --- |
| 1 | 1357 | | Lise Lancelot--Hamel | 12 to 17 | 1:45:20 |
| 2 | 1250 | | Lucy Adams | 12 to 17 | 1:45:35 |
| 3 | 864 | | Dipaashna Gurung | 12 to 17 | 2:12:58 |
| 4 | 1313 | | Sabiha Khatoon Siddique | 12 to 17 | 3:00:36 |
18 to 39
| | | | | | |
| --- | --- | --- | --- | --- | --- |
| 1 | 1245 | | Roz Beckett | 18 to 39 | 1:17:58 |
| 2 | 1144 | | Emeline Claire Suzanne Tacheau | 18 to 39 | 1:20:16 |
| 3 | 1369 | | Maria Melnikova | 18 to 39 | 1:24:49 |
| 4 | 688 | | Radha Verma | 18 to 39 | 1:29:06 |
| 5 | 1343 | | Kristina Nilsson | 18 to 39 | 1:31:20 |
| 6 | 1331 | | Annie Ban | 18 to 39 | 1:32:23 |
| 7 | 1412 | | Michelle Han | 18 to 39 | 1:33:03 |
| 8 | 1148 | | Emma Jane Langham | 18 to 39 | 1:50:03 |
| 9 | 622 | | Eleanor Bainbridge | 18 to 39 | 1:55:21 |
| 10 | 1372 | | Moragh Loose | 18 to 39 | 2:06:35 |
| 11 | 1399 | | Priya Tamang | 18 to 39 | 2:08:25 |
| 12 | 1387 | | Min Agrawal | 18 to 39 | 2:13:04 |
| 13 | 875 | | Rumee Singh | 18 to 39 | 2:30:14 |
| 14 | 1398 | | Ranjita Gurung | 18 to 39 | 2:31:35 |
| 15 | 1061 | | Zarina Trapman | 18 to 39 | 2:31:40 |
40 and above
| | | | | | |
| --- | --- | --- | --- | --- | --- |
| 1 | 582 | | Maureen F Park | 40 and above | 1:21:15 |
| 2 | 1408 | | Silvana Hogg | 40 and above | 1:23:05 |
| 3 | 437 | | Vivian Hilde Opsvik | 40 and above | 1:23:32 |
| 4 | 1404 | | Nanda Ritsma | 40 and above | 1:25:42 |
| 5 | 1432 | | Bindi Borg | 40 and above | 1:35:23 |
| 6 | 1249 | | Hilary Adams | 40 and above | 1:35:37 |
| 7 | 1413 | | Janie M Carpenter | 40 and above | 1:35:45 |
| 8 | 1380 | | Sarah Blin | 40 and above | 1:37:53 |
| 9 | 1323 | | Dagny Mjos | 40 and above | 1:42:13 |
| 10 | 1076 | | Silvia Guerra | 40 and above | 1:42:32 |
| 11 | 327 | | Maria Verdecchia | 40 and above | 1:43:21 |
| 12 | 1434 | | Bessette Catherine | 40 and above | 1:44:06 |
| 13 | 1087 | | Anne Aimee Lancelot | 40 and above | 1:45:56 |
| 14 | 1224 | | Subina Shrestha | 40 and above | 1:48:46 |
| 15 | 1165 | | Erika Hernandez | 40 and above | 1:50:25 |
| 16 | 1414 | | Jane Celia English | 40 and above | 1:55:13 |
| 17 | 863 | | Dipshikha Thapa Gurung | 40 and above | 2:01:03 |
| 18 | 1390 | | Florence Elizabeth Gurung | 40 and above | 2:06:05 |
| 19 | 1371 | | Amanda Duff | 40 and above | 2:06:28 |
| 20 | 1426 | | Valerie Julliane | 40 and above | 2:30:48 |
| 21 | 1427 | | Paula Castillo | 40 and above | 2:30:52 |
| 22 | 1373 | | Hanlie Grobbelaar | 40 and above | 2:31:46 |
| 23 | 1415 | | Elisabeth Pratten | 40 and above | 2:32:01 |
| 24 | 1418 | | Bibha Waltham | 40 and above | 2:54:20 |
| | | | | | |
| --- | --- | --- | --- | --- | --- |
| 1 | 1245 | | Roz Beckett | 18 to 39 | 1:17:58 |
| 2 | 1144 | | Emeline Claire Suzanne Tacheau | 18 to 39 | 1:20:16 |
| 3 | 582 | | Maureen F Park | 40 and above | 1:21:15 |
| 4 | 1408 | | Silvana Hogg | 40 and above | 1:23:05 |
| 5 | 437 | | Vivian Hilde Opsvik | 40 and above | 1:23:32 |
| 6 | 1369 | | Maria Melnikova | 18 to 39 | 1:24:49 |
| 7 | 1402 | | Niki Pelden Ritsma | 11 and below | 1:25:39 |
| 8 | 1404 | | Nanda Ritsma | 40 and above | 1:25:42 |
| 9 | 688 | | Radha Verma | 18 to 39 | 1:29:06 |
| 10 | 1343 | | Kristina Nilsson | 18 to 39 | 1:31:20 |
| 11 | 1331 | | Annie Ban | 18 to 39 | 1:32:23 |
| 12 | 1412 | | Michelle Han | 18 to 39 | 1:33:03 |
| 13 | 1432 | | Bindi Borg | 40 and above | 1:35:23 |
| 14 | 1249 | | Hilary Adams | 40 and above | 1:35:37 |
| 15 | 1413 | | Janie M Carpenter | 40 and above | 1:35:45 |
| 16 | 1380 | | Sarah Blin | 40 and above | 1:37:53 |
| 17 | 1323 | | Dagny Mjos | 40 and above | 1:42:13 |
| 18 | 1076 | | Silvia Guerra | 40 and above | 1:42:32 |
| 19 | 413 | | Giulia Ann How | 11 and below | 1:43:10 |
| 20 | 327 | | Maria Verdecchia | 40 and above | 1:43:21 |
| 21 | 1434 | | Bessette Catherine | 40 and above | 1:44:06 |
| 22 | 1357 | | Lise Lancelot--Hamel | 12 to 17 | 1:45:20 |
| 23 | 1401 | | Tara Dorji Ritsma | 11 and below | 1:45:28 |
| 24 | 1250 | | Lucy Adams | 12 to 17 | 1:45:35 |
| 25 | 1087 | | Anne Aimee Lancelot | 40 and above | 1:45:56 |
| 26 | 1226 | | Anushna Miriam Shrestha Bell | 11 and below | 1:48:31 |
| 27 | 1224 | | Subina Shrestha | 40 and above | 1:48:46 |
| 28 | 1148 | | Emma Jane Langham | 18 to 39 | 1:50:03 |
| 29 | 1165 | | Erika Hernandez | 40 and above | 1:50:25 |
| 30 | 562 | | Elisheva Turkington | 11 and below | 1:54:53 |
| 31 | 1414 | | Jane Celia English | 40 and above | 1:55:13 |
| 32 | 622 | | Eleanor Bainbridge | 18 to 39 | 1:55:21 |
| 33 | 1391 | | Evie Kunsang Dolma Gurung | 11 and below | 2:00:24 |
| 34 | 1405 | | Maud Blin | 11 and below | 2:00:26 |
| 35 | 863 | | Dipshikha Thapa Gurung | 40 and above | 2:01:03 |
| 36 | 1390 | | Florence Elizabeth Gurung | 40 and above | 2:06:05 |
| 37 | 1392 | | Alice Domjo Gurung | 11 and below | 2:06:09 |
| 38 | 1371 | | Amanda Duff | 40 and above | 2:06:28 |
| 39 | 1372 | | Moragh Loose | 18 to 39 | 2:06:35 |
| 40 | 1399 | | Priya Tamang | 18 to 39 | 2:08:25 |
| 41 | 864 | | Dipaashna Gurung | 12 to 17 | 2:12:58 |
| 42 | 1387 | | Min Agrawal | 18 to 39 | 2:13:04 |
| 43 | 875 | | Rumee Singh | 18 to 39 | 2:30:14 |
| 44 | 1374 | | Lilian Pos | 11 and below | 2:30:18 |
| 45 | 1426 | | Valerie Julliane | 40 and above | 2:30:48 |
| 46 | 1427 | | Paula Castillo | 40 and above | 2:30:52 |
| 47 | 1398 | | Ranjita Gurung | 18 to 39 | 2:31:35 |
| 48 | 1061 | | Zarina Trapman | 18 to 39 | 2:31:40 |
| 49 | 1373 | | Hanlie Grobbelaar | 40 and above | 2:31:46 |
| 50 | 1415 | | Elisabeth Pratten | 40 and above | 2:32:01 |
| 51 | 1418 | | Bibha Waltham | 40 and above | 2:54:20 |
| 52 | 1313 | | Sabiha Khatoon Siddique | 12 to 17 | 3:00:36 |
3K
Male
11 and below
| | | | | | |
| --- | --- | --- | --- | --- | --- |
| 1 | 1441 | | Shrijit Ghimire | 11 and below | 0:26:30 |
| 2 | 1024 | | Raul Chaudhary | 11 and below | 0:27:13 |
| 3 | 725 | | Rapha Grimshaw | 11 and below | 0:27:16 |
| 4 | 751 | | Pelle Grimminck | 11 and below | 0:54:14 |
| | | | | | |
| --- | --- | --- | --- | --- | --- |
| 1 | 1441 | | Shrijit Ghimire | 11 and below | 0:26:30 |
| 2 | 1024 | | Raul Chaudhary | 11 and below | 0:27:13 |
| 3 | 725 | | Rapha Grimshaw | 11 and below | 0:27:16 |
| 4 | 751 | | Pelle Grimminck | 11 and below | 0:54:14 |
Female
11 and below
| | | | | | |
| --- | --- | --- | --- | --- | --- |
| 1 | 341 | | Leah Beckett | 11 and below | 0:27:22 |
| 2 | 1388 | | Yukta Goenka | 11 and below | 0:27:24 |
| 3 | 1389 | | Diya Agrawal | 11 and below | 0:29:07 |
| 4 | 1362 | | Ehipa Maharjan | 11 and below | 0:31:07 |
| 5 | 1169 | | Lily Florence Craig | 11 and below | 0:31:56 |
18 to 39
| | | | | | |
| --- | --- | --- | --- | --- | --- |
| 1 | 848 | | Shreejana Maharjan | 18 to 39 | 0:31:03 |
| 2 | 721 | | Hedda Steenhauer | 18 to 39 | 0:51:28 |
| | | | | | |
| --- | --- | --- | --- | --- | --- |
| 1 | 341 | | Leah Beckett | 11 and below | 0:27:22 |
| 2 | 1388 | | Yukta Goenka | 11 and below | 0:27:24 |
| 3 | 1389 | | Diya Agrawal | 11 and below | 0:29:07 |
| 4 | 848 | | Shreejana Maharjan | 18 to 39 | 0:31:03 |
| 5 | 1362 | | Ehipa Maharjan | 11 and below | 0:31:07 |
| 6 | 1169 | | Lily Florence Craig | 11 and below | 0:31:56 |
| 7 | 721 | | Hedda Steenhauer | 18 to 39 | 0:51:28 |