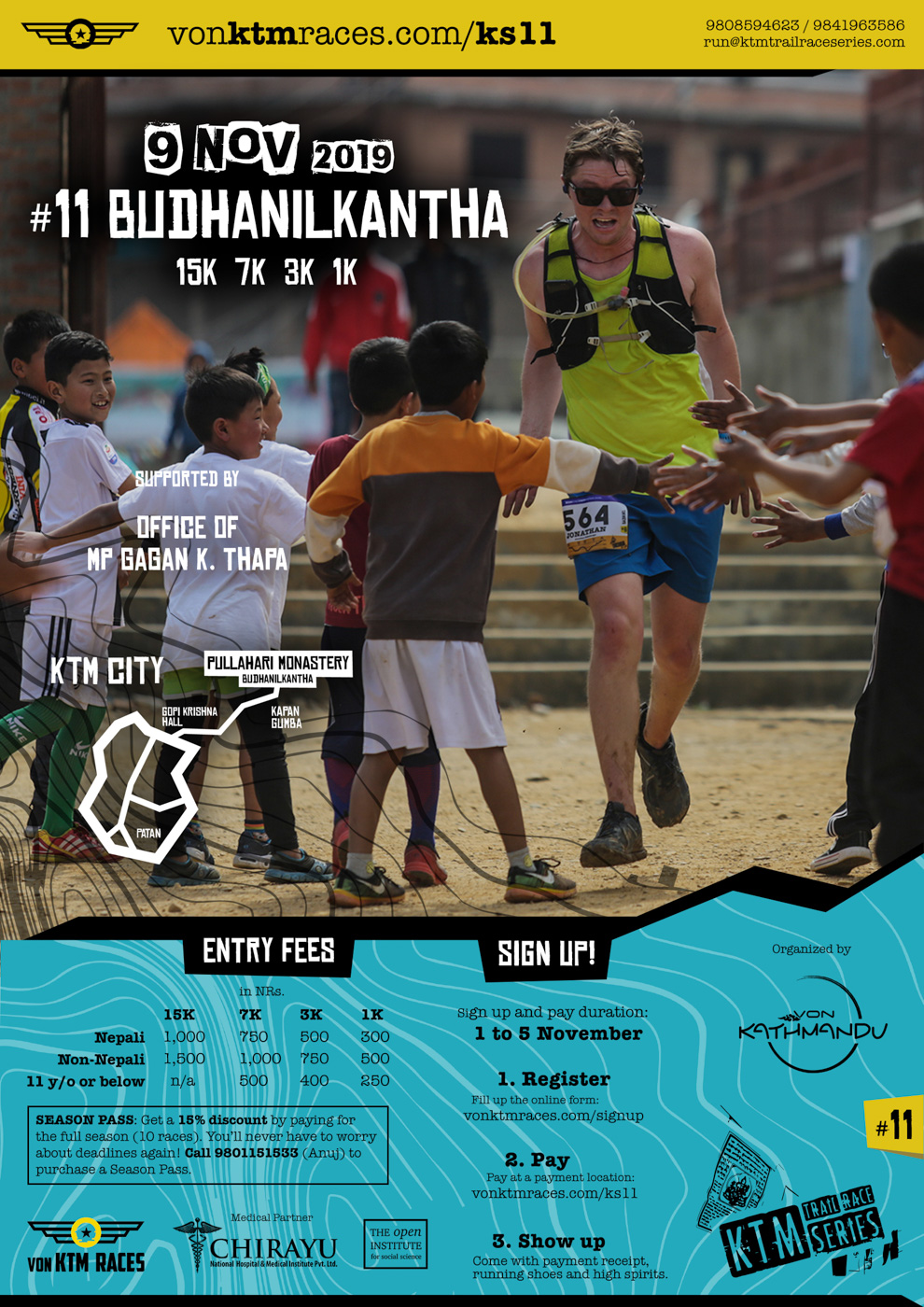 Event Date
November 9, 2019
Venue
Fulari Gumba
Located at Kapan, Budhanilkantha
Open pin on Google Map
Distances
21K, 12K, 6K and 3K
Observations, updates and note to self
Timekeeping system overhauled. Results are available real time in print.
Award ceremony shifted 1 hour in advance. Race concludes before 12pm for the first time.
4K and 2K kids distances merged to a single 3K distance.
Started overkill wake up calls to shuttle bus drivers.
Safeguard Policy re-introduced to ensure stringent rules against harassment.
4th redo of the website for better UX/UI. Startlist by distance and gender added to race pack.
Race badge (buttons) gets the axe.
Pancake stall at race venue.
Number of trail crew increased from 6 to 8.
Start, trails and some finish
209 photos by:
| | | | |
| --- | --- | --- | --- |
| 81 | | Nepal | |
| 21 | | United States | |
| 18 | | United Kingdom | |
| 13 | | | |
| 9 | | France | |
| 7 | | Netherlands | |
| 5 | | Denmark | |
| 3 | | Pakistan | |
| | | | |
| --- | --- | --- | --- |
| 3 | | Bangladesh | |
| 3 | | Switzerland | |
| 3 | | Germany | |
| 2 | | Norway | |
| 2 | | India | |
| 2 | | Canada | |
| 2 | | Costa Rica | |
| 1 | | Australia | |
| | | | |
| --- | --- | --- | --- |
| 1 | | Finland | |
| 1 | | Japan | |
| 1 | | Madagascar | |
| 1 | | French Guiana | |
| 1 | | Spain | |
| 1 | | Italy | |
| 1 | | Malawi | |
| 1 | | Ireland | |
15K
Male
12 to 17
| | | | | | |
| --- | --- | --- | --- | --- | --- |
| 1 | 1120 | | Suman B Tamang | 12 to 17 | 1:22:12 |
| 2 | 1118 | | Sunil B Tamang | 12 to 17 | 1:23:24 |
| 3 | 1125 | | Sabin B Tamang | 12 to 17 | 1:25:17 |
| 4 | 1115 | | Som Bahadur Tamang | 12 to 17 | 1:29:08 |
| 5 | 1122 | | Bikram B Bayalkuti | 12 to 17 | 1:36:52 |
| 6 | 1116 | | Pasang B Tamang | 12 to 17 | 1:37:18 |
| 7 | 1124 | | Saroj B Tamang | 12 to 17 | 1:37:21 |
| 8 | 1117 | | Bir B Tamang | 12 to 17 | 1:37:31 |
| 9 | 1123 | | Achut S Shrestha | 12 to 17 | 1:52:18 |
18 to 39
| | | | | | |
| --- | --- | --- | --- | --- | --- |
| 1 | 523 | | Bikash Tamang | 18 to 39 | 1:09:43 |
| 2 | 101 | | Tek Bahadur Basnet | 18 to 39 | 1:15:52 |
| 3 | 505 | | Mahesh Thapa | 18 to 39 | 1:19:43 |
| 4 | 1182 | | Pramod Rai | 18 to 39 | 1:20:46 |
| 5 | 1126 | | Som B Tamang | 18 to 39 | 1:21:06 |
| 6 | 520 | | Dorje Syangbo | 18 to 39 | 1:21:38 |
| 7 | 794 | | Prazol Bista | 18 to 39 | 1:23:33 |
| 8 | 289 | | Dorje Tamang | 18 to 39 | 1:24:37 |
| 9 | 1045 | | Pemba Tamang | 18 to 39 | 1:24:45 |
| 10 | 1184 | | Geljen Sherpa | 18 to 39 | 1:26:31 |
| 11 | 238 | | James Gray | 18 to 39 | 1:26:33 |
| 12 | 1083 | | David Chalmers | 18 to 39 | 1:29:11 |
| 13 | 1166 | | Bashudev Puri | 18 to 39 | 1:29:40 |
| 14 | 354 | | Neelesh Shrestha | 18 to 39 | 1:30:07 |
| 15 | 712 | | Alastair Charles Norris | 18 to 39 | 1:30:08 |
| 16 | 292 | | Phurpa Singi Tamang | 18 to 39 | 1:30:38 |
| 17 | 702 | | Pascal Fendrich | 18 to 39 | 1:31:39 |
| 18 | 1135 | | Harshotsav Jalan | 18 to 39 | 1:33:01 |
| 19 | 1133 | | Shashwat Bahadur Singh | 18 to 39 | 1:41:28 |
| 20 | 418 | | Nick Kershaw | 18 to 39 | 1:43:16 |
| 21 | 1175 | | Gesman Tamang | 18 to 39 | 1:44:09 |
| 22 | 584 | | Binay Raj Dangol | 18 to 39 | 1:44:27 |
| 23 | 320 | | Tyler Mcmahon | 18 to 39 | 1:45:45 |
| 24 | 156 | | James Andrew Lowe | 18 to 39 | 1:46:02 |
| 25 | 169 | | Matthew Smith | 18 to 39 | 1:46:31 |
| 26 | 124 | | Krishna Kumar Maharjan | 18 to 39 | 1:47:03 |
| 27 | 436 | | Alim Kumar Shakya | 18 to 39 | 1:48:50 |
| 28 | 360 | | Santosh Nath Karmacharya | 18 to 39 | 1:55:06 |
| 29 | 446 | | Karan Agrawal | 18 to 39 | 2:03:15 |
| 30 | 1149 | | Abbas Khan | 18 to 39 | 2:04:34 |
| 31 | 1105 | | Prashant Shahi | 18 to 39 | 2:07:32 |
| 32 | 1128 | | Ajaz Ahmad | 18 to 39 | 2:17:35 |
| 33 | 192 | | Hussain Bolt Uddin | 18 to 39 | 2:32:50 |
| 34 | 612 | | Zippy Hari Shrestha | 18 to 39 | 2:33:01 |
| 35 | 1106 | | Ayaj Ahmad | 18 to 39 | 2:33:08 |
| 36 | 1132 | | Mohan Singh Khatri | 18 to 39 | 2:47:51 |
| 37 | 1181 | | Anil Maharjan | 18 to 39 | 2:47:52 |
| 38 | 1086 | | Vijaya Adhikari | 18 to 39 | 3:04:44 |
40 and above
| | | | | | |
| --- | --- | --- | --- | --- | --- |
| 1 | 195 | | Damodar Budha Magar | 40 and above | 1:09:49 |
| 2 | 207 | | Simon Castro-Wooldridge | 40 and above | 1:14:38 |
| 3 | 336 | | Sergi Montane Ayuso | 40 and above | 1:24:39 |
| 4 | 1113 | | Stefan Bock | 40 and above | 1:25:28 |
| 5 | 338 | | Nate Boydston Park | 40 and above | 1:25:34 |
| 6 | 1068 | | Bernardo Cocco | 40 and above | 1:31:46 |
| 7 | 118 | | Diwakar Shah | 40 and above | 1:38:49 |
| 8 | 272 | | Tom Robertson | 40 and above | 1:41:13 |
| 9 | 1180 | | Clinton Brown | 40 and above | 1:41:33 |
| 10 | 255 | | Julien Bettler | 40 and above | 1:42:22 |
| 11 | 155 | | Bibhusan Bista | 40 and above | 1:45:48 |
| 12 | 131 | | Ram Gopal Awale | 40 and above | 1:48:44 |
| 13 | 222 | | Shalav Rana | 40 and above | 1:50:08 |
| 14 | 1163 | | Overtoun Placido Mgemezulu | 40 and above | 1:53:43 |
| 15 | 381 | | Markus E Mayer | 40 and above | 1:56:47 |
| 16 | 1090 | | Rajesh Dhungel | 40 and above | 2:10:22 |
| 17 | 1096 | | Rakesh Manandhar | 40 and above | 2:14:57 |
| | | | | | |
| --- | --- | --- | --- | --- | --- |
| 1 | 523 | | Bikash Tamang | 18 to 39 | 1:09:43 |
| 2 | 195 | | Damodar Budha Magar | 40 and above | 1:09:49 |
| 3 | 207 | | Simon Castro-Wooldridge | 40 and above | 1:14:38 |
| 4 | 101 | | Tek Bahadur Basnet | 18 to 39 | 1:15:52 |
| 5 | 505 | | Mahesh Thapa | 18 to 39 | 1:19:43 |
| 6 | 1182 | | Pramod Rai | 18 to 39 | 1:20:46 |
| 7 | 1126 | | Som B Tamang | 18 to 39 | 1:21:06 |
| 8 | 520 | | Dorje Syangbo | 18 to 39 | 1:21:38 |
| 9 | 1120 | | Suman B Tamang | 12 to 17 | 1:22:12 |
| 10 | 1118 | | Sunil B Tamang | 12 to 17 | 1:23:24 |
| 11 | 794 | | Prazol Bista | 18 to 39 | 1:23:33 |
| 12 | 289 | | Dorje Tamang | 18 to 39 | 1:24:37 |
| 13 | 336 | | Sergi Montane Ayuso | 40 and above | 1:24:39 |
| 14 | 1045 | | Pemba Tamang | 18 to 39 | 1:24:45 |
| 15 | 1125 | | Sabin B Tamang | 12 to 17 | 1:25:17 |
| 16 | 1113 | | Stefan Bock | 40 and above | 1:25:28 |
| 17 | 338 | | Nate Boydston Park | 40 and above | 1:25:34 |
| 18 | 1184 | | Geljen Sherpa | 18 to 39 | 1:26:31 |
| 19 | 238 | | James Gray | 18 to 39 | 1:26:33 |
| 20 | 1115 | | Som Bahadur Tamang | 12 to 17 | 1:29:08 |
| 21 | 1083 | | David Chalmers | 18 to 39 | 1:29:11 |
| 22 | 1166 | | Bashudev Puri | 18 to 39 | 1:29:40 |
| 23 | 354 | | Neelesh Shrestha | 18 to 39 | 1:30:07 |
| 24 | 712 | | Alastair Charles Norris | 18 to 39 | 1:30:08 |
| 25 | 292 | | Phurpa Singi Tamang | 18 to 39 | 1:30:38 |
| 26 | 702 | | Pascal Fendrich | 18 to 39 | 1:31:39 |
| 27 | 1068 | | Bernardo Cocco | 40 and above | 1:31:46 |
| 28 | 1135 | | Harshotsav Jalan | 18 to 39 | 1:33:01 |
| 29 | 1122 | | Bikram B Bayalkuti | 12 to 17 | 1:36:52 |
| 30 | 1116 | | Pasang B Tamang | 12 to 17 | 1:37:18 |
| 31 | 1124 | | Saroj B Tamang | 12 to 17 | 1:37:21 |
| 32 | 1117 | | Bir B Tamang | 12 to 17 | 1:37:31 |
| 33 | 118 | | Diwakar Shah | 40 and above | 1:38:49 |
| 34 | 272 | | Tom Robertson | 40 and above | 1:41:13 |
| 35 | 1133 | | Shashwat Bahadur Singh | 18 to 39 | 1:41:28 |
| 36 | 1180 | | Clinton Brown | 40 and above | 1:41:33 |
| 37 | 255 | | Julien Bettler | 40 and above | 1:42:22 |
| 38 | 418 | | Nick Kershaw | 18 to 39 | 1:43:16 |
| 39 | 1175 | | Gesman Tamang | 18 to 39 | 1:44:09 |
| 40 | 584 | | Binay Raj Dangol | 18 to 39 | 1:44:27 |
| 41 | 320 | | Tyler Mcmahon | 18 to 39 | 1:45:45 |
| 42 | 155 | | Bibhusan Bista | 40 and above | 1:45:48 |
| 43 | 156 | | James Andrew Lowe | 18 to 39 | 1:46:02 |
| 44 | 169 | | Matthew Smith | 18 to 39 | 1:46:31 |
| 45 | 124 | | Krishna Kumar Maharjan | 18 to 39 | 1:47:03 |
| 46 | 131 | | Ram Gopal Awale | 40 and above | 1:48:44 |
| 47 | 436 | | Alim Kumar Shakya | 18 to 39 | 1:48:50 |
| 48 | 222 | | Shalav Rana | 40 and above | 1:50:08 |
| 49 | 1123 | | Achut S Shrestha | 12 to 17 | 1:52:18 |
| 50 | 1163 | | Overtoun Placido Mgemezulu | 40 and above | 1:53:43 |
| 51 | 360 | | Santosh Nath Karmacharya | 18 to 39 | 1:55:06 |
| 52 | 381 | | Markus E Mayer | 40 and above | 1:56:47 |
| 53 | 446 | | Karan Agrawal | 18 to 39 | 2:03:15 |
| 54 | 1149 | | Abbas Khan | 18 to 39 | 2:04:34 |
| 55 | 1105 | | Prashant Shahi | 18 to 39 | 2:07:32 |
| 56 | 1090 | | Rajesh Dhungel | 40 and above | 2:10:22 |
| 57 | 1096 | | Rakesh Manandhar | 40 and above | 2:14:57 |
| 58 | 1128 | | Ajaz Ahmad | 18 to 39 | 2:17:35 |
| 59 | 192 | | Hussain Bolt Uddin | 18 to 39 | 2:32:50 |
| 60 | 612 | | Zippy Hari Shrestha | 18 to 39 | 2:33:01 |
| 61 | 1106 | | Ayaj Ahmad | 18 to 39 | 2:33:08 |
| 62 | 1132 | | Mohan Singh Khatri | 18 to 39 | 2:47:51 |
| 63 | 1181 | | Anil Maharjan | 18 to 39 | 2:47:52 |
| 64 | 1086 | | Vijaya Adhikari | 18 to 39 | 3:04:44 |
Female
12 to 17
| | | | | | |
| --- | --- | --- | --- | --- | --- |
| 1 | 1114 | | Ganu Maya Tamang | 12 to 17 | 1:37:16 |
| 2 | 1095 | | Mingma Sherpa | 12 to 17 | 1:52:42 |
18 to 39
| | | | | | |
| --- | --- | --- | --- | --- | --- |
| 1 | 183 | | Sara Louise Harman | 18 to 39 | 1:34:23 |
| 2 | 1097 | | Lynn Schneider | 18 to 39 | 1:35:41 |
| 3 | 629 | | Petra Maria Sigrist | 18 to 39 | 1:45:20 |
| 4 | 1143 | | Marina Cauchy | 18 to 39 | 1:50:36 |
| 5 | 1107 | | Caitlin Haner | 18 to 39 | 1:51:12 |
| 6 | 1038 | | Danielle Aron | 18 to 39 | 1:54:39 |
| 7 | 254 | | Aoife Bridget Lambe | 18 to 39 | 1:55:55 |
| 8 | 1178 | | Steffie Aldenkamp | 18 to 39 | 1:56:06 |
| 9 | 536 | | Alison Mcewen | 18 to 39 | 1:59:56 |
| 10 | 1082 | | Bethany Boll | 18 to 39 | 2:03:31 |
| 11 | 1167 | | Helen Lydia Craig | 18 to 39 | 2:20:37 |
| 12 | 1141 | | Aanchal Bansal | 18 to 39 | 3:04:03 |
40 and above
| | | | | | |
| --- | --- | --- | --- | --- | --- |
| 1 | 170 | | Sonya Martin | 40 and above | 1:32:00 |
| 2 | 485 | | Charu Arjyal | 40 and above | 1:51:19 |
| 3 | 122 | | Stine Heiselberg | 40 and above | 2:01:05 |
| 4 | 259 | | Mette Nielsen | 40 and above | 2:02:00 |
| | | | | | |
| --- | --- | --- | --- | --- | --- |
| 1 | 170 | | Sonya Martin | 40 and above | 1:32:00 |
| 2 | 183 | | Sara Louise Harman | 18 to 39 | 1:34:23 |
| 3 | 1097 | | Lynn Schneider | 18 to 39 | 1:35:41 |
| 4 | 1114 | | Ganu Maya Tamang | 12 to 17 | 1:37:16 |
| 5 | 629 | | Petra Maria Sigrist | 18 to 39 | 1:45:20 |
| 6 | 1143 | | Marina Cauchy | 18 to 39 | 1:50:36 |
| 7 | 1107 | | Caitlin Haner | 18 to 39 | 1:51:12 |
| 8 | 485 | | Charu Arjyal | 40 and above | 1:51:19 |
| 9 | 1095 | | Mingma Sherpa | 12 to 17 | 1:52:42 |
| 10 | 1038 | | Danielle Aron | 18 to 39 | 1:54:39 |
| 11 | 254 | | Aoife Bridget Lambe | 18 to 39 | 1:55:55 |
| 12 | 1178 | | Steffie Aldenkamp | 18 to 39 | 1:56:06 |
| 13 | 536 | | Alison Mcewen | 18 to 39 | 1:59:56 |
| 14 | 122 | | Stine Heiselberg | 40 and above | 2:01:05 |
| 15 | 259 | | Mette Nielsen | 40 and above | 2:02:00 |
| 16 | 1082 | | Bethany Boll | 18 to 39 | 2:03:31 |
| 17 | 1167 | | Helen Lydia Craig | 18 to 39 | 2:20:37 |
| 18 | 1141 | | Aanchal Bansal | 18 to 39 | 3:04:03 |
7K
Male
11 and below
| | | | | | |
| --- | --- | --- | --- | --- | --- |
| 1 | 987 | | Axel Gobry | 11 and below | 0:53:48 |
| 2 | 306 | | Phuntsok Bettler | 11 and below | 1:02:52 |
| 3 | 163 | | Oskar Edwards | 11 and below | 1:02:53 |
| 4 | 519 | | Rory John Park | 11 and below | 1:03:50 |
| 5 | 172 | | Mateo Graif | 11 and below | 1:06:17 |
| 6 | 333 | | William Brown Spencer | 11 and below | 1:06:18 |
| 7 | 563 | | Samuel Turkington | 11 and below | 1:10:01 |
| 8 | 342 | | Joseph Beckett | 11 and below | 1:16:06 |
12 to 17
| | | | | | |
| --- | --- | --- | --- | --- | --- |
| 1 | 845 | | Mahatia Syam Rajaofetra | 12 to 17 | 0:53:46 |
18 to 39
| | | | | | |
| --- | --- | --- | --- | --- | --- |
| 1 | 1110 | | Yak Bahadur Rikham | 18 to 39 | 0:31:53 |
| 2 | 112 | | Shashank Agrawal | 18 to 39 | 0:39:12 |
| 3 | 330 | | Nils Thomas | 18 to 39 | 0:44:08 |
| 4 | 205 | | Shivam Agrawal | 18 to 39 | 0:44:16 |
| 5 | 1109 | | Daya Kaji | 18 to 39 | 0:44:21 |
| 6 | 920 | | Brian Jacob Van Hoven | 18 to 39 | 0:46:06 |
| 7 | 1102 | | Maximilian Krafft | 18 to 39 | 0:49:22 |
| 8 | 728 | | Niranjan Kunwar | 18 to 39 | 0:50:00 |
| 9 | 1136 | | Akseli Emil Lamminmaki | 18 to 39 | 0:51:42 |
| 10 | 1103 | | Udayan Kabra | 18 to 39 | 0:51:46 |
| 11 | 857 | | Adrien Gobry | 18 to 39 | 0:53:45 |
| 12 | 1104 | | Pundrik Kabra | 18 to 39 | 0:54:38 |
| 13 | 1183 | | Andrew Sellers | 18 to 39 | 0:55:15 |
| 14 | 1134 | | Chirag Goyal | 18 to 39 | 0:56:52 |
| 15 | 946 | | Md Saddam | 18 to 39 | 0:57:07 |
| 16 | 921 | | Ruben Astorga | 18 to 39 | 0:58:17 |
| 17 | 339 | | Brian Beckett | 18 to 39 | 1:16:07 |
| 18 | 1131 | | Sumit Dugar | 18 to 39 | 1:24:28 |
| 19 | 1159 | | Mahesh Dulal | 18 to 39 | 2:13:09 |
40 and above
| | | | | | |
| --- | --- | --- | --- | --- | --- |
| 1 | 1111 | | Ramesh Singh Bhandari | 40 and above | 0:43:16 |
| 2 | 732 | | Santosh Shrestha | 40 and above | 0:48:29 |
| 3 | 186 | | Michael Mussi | 40 and above | 0:50:07 |
| 4 | 1093 | | Egbert Pos | 40 and above | 0:51:14 |
| 5 | 1142 | | Alex C Smith | 40 and above | 1:00:43 |
| 6 | 108 | | Alistair Turkington | 40 and above | 1:10:01 |
| | | | | | |
| --- | --- | --- | --- | --- | --- |
| 1 | 1110 | | Yak Bahadur Rikham | 18 to 39 | 0:31:53 |
| 2 | 112 | | Shashank Agrawal | 18 to 39 | 0:39:12 |
| 3 | 1111 | | Ramesh Singh Bhandari | 40 and above | 0:43:16 |
| 4 | 330 | | Nils Thomas | 18 to 39 | 0:44:08 |
| 5 | 205 | | Shivam Agrawal | 18 to 39 | 0:44:16 |
| 6 | 1109 | | Daya Kaji | 18 to 39 | 0:44:21 |
| 7 | 920 | | Brian Jacob Van Hoven | 18 to 39 | 0:46:06 |
| 8 | 732 | | Santosh Shrestha | 40 and above | 0:48:29 |
| 9 | 1102 | | Maximilian Krafft | 18 to 39 | 0:49:22 |
| 10 | 728 | | Niranjan Kunwar | 18 to 39 | 0:50:00 |
| 11 | 186 | | Michael Mussi | 40 and above | 0:50:07 |
| 12 | 1093 | | Egbert Pos | 40 and above | 0:51:14 |
| 13 | 1136 | | Akseli Emil Lamminmaki | 18 to 39 | 0:51:42 |
| 14 | 1103 | | Udayan Kabra | 18 to 39 | 0:51:46 |
| 15 | 857 | | Adrien Gobry | 18 to 39 | 0:53:45 |
| 16 | 845 | | Mahatia Syam Rajaofetra | 12 to 17 | 0:53:46 |
| 17 | 987 | | Axel Gobry | 11 and below | 0:53:48 |
| 18 | 1104 | | Pundrik Kabra | 18 to 39 | 0:54:38 |
| 19 | 1183 | | Andrew Sellers | 18 to 39 | 0:55:15 |
| 20 | 1134 | | Chirag Goyal | 18 to 39 | 0:56:52 |
| 21 | 946 | | Md Saddam | 18 to 39 | 0:57:07 |
| 22 | 921 | | Ruben Astorga | 18 to 39 | 0:58:17 |
| 23 | 1142 | | Alex C Smith | 40 and above | 1:00:43 |
| 24 | 306 | | Phuntsok Bettler | 11 and below | 1:02:52 |
| 25 | 163 | | Oskar Edwards | 11 and below | 1:02:53 |
| 26 | 519 | | Rory John Park | 11 and below | 1:03:50 |
| 27 | 172 | | Mateo Graif | 11 and below | 1:06:17 |
| 28 | 333 | | William Brown Spencer | 11 and below | 1:06:18 |
| 29 | 108 | | Alistair Turkington | 40 and above | 1:10:01 |
| 30 | 563 | | Samuel Turkington | 11 and below | 1:10:01 |
| 31 | 342 | | Joseph Beckett | 11 and below | 1:16:06 |
| 32 | 339 | | Brian Beckett | 18 to 39 | 1:16:07 |
| 33 | 1131 | | Sumit Dugar | 18 to 39 | 1:24:28 |
| 34 | 1159 | | Mahesh Dulal | 18 to 39 | 2:13:09 |
Female
11 and below
| | | | | | |
| --- | --- | --- | --- | --- | --- |
| 1 | 307 | | Kunsel Bettler | 11 and below | 1:15:17 |
| 2 | 341 | | Leah Beckett | 11 and below | 1:16:03 |
| 3 | 162 | | Freja Edwards | 11 and below | 1:44:45 |
18 to 39
| | | | | | |
| --- | --- | --- | --- | --- | --- |
| 1 | 332 | | Lauren Figuet | 18 to 39 | 0:49:00 |
| 2 | 1171 | | Eline Christina Van Der Kaaden | 18 to 39 | 0:49:42 |
| 3 | 549 | | Oda Misje Haug | 18 to 39 | 0:49:51 |
| 4 | 632 | | Jemma Elson | 18 to 39 | 0:49:51 |
| 5 | 1147 | | Rosalind Ferguson | 18 to 39 | 0:51:15 |
| 6 | 1173 | | Amy Francisca Petronella Ruiters | 18 to 39 | 0:51:27 |
| 7 | 1146 | | Chiaki Ota | 18 to 39 | 0:52:04 |
| 8 | 1179 | | Elena Maria Swartz | 18 to 39 | 0:53:31 |
| 9 | 1144 | | Emeline Claire Suzanne Tacheau | 18 to 39 | 0:54:48 |
| 10 | 688 | | Radha Verma | 18 to 39 | 0:55:41 |
| 11 | 492 | | Pauline Delaporte | 18 to 39 | 0:59:37 |
| 12 | 1170 | | Julie Caldairou | 18 to 39 | 0:59:41 |
| 13 | 1176 | | Valentine Levy | 18 to 39 | 0:59:43 |
| 14 | 622 | | Eleanor Bainbridge | 18 to 39 | 1:08:48 |
| 15 | 931 | | Saloni Sethia | 18 to 39 | 1:08:49 |
| 16 | 1108 | | Roshni Rayamajhi | 18 to 39 | 1:13:23 |
| 17 | 544 | | Durga Kumari Lohar | 18 to 39 | 1:24:32 |
| 18 | 123 | | Marie Stissing Jensen | 18 to 39 | 1:37:46 |
40 and above
| | | | | | |
| --- | --- | --- | --- | --- | --- |
| 1 | 437 | | Vivian Hilde Opsvik | 40 and above | 0:55:04 |
| 2 | 481 | | Kay Standing | 40 and above | 1:01:22 |
| 3 | 582 | | Maureen F Park | 40 and above | 1:04:12 |
| 4 | 1087 | | Anne Aimée Lancelot | 40 and above | 1:11:36 |
| 5 | 1172 | | Sabita Thapa | 40 and above | 1:25:13 |
| 6 | 1174 | | Babita Thapa | 40 and above | 1:25:23 |
| 7 | 1130 | | Corona Ranjit | 40 and above | 1:27:13 |
| | | | | | |
| --- | --- | --- | --- | --- | --- |
| 1 | 332 | | Lauren Figuet | 18 to 39 | 0:49:00 |
| 2 | 1171 | | Eline Christina Van Der Kaaden | 18 to 39 | 0:49:42 |
| 3 | 549 | | Oda Misje Haug | 18 to 39 | 0:49:51 |
| 4 | 632 | | Jemma Elson | 18 to 39 | 0:49:51 |
| 5 | 1147 | | Rosalind Ferguson | 18 to 39 | 0:51:15 |
| 6 | 1173 | | Amy Francisca Petronella Ruiters | 18 to 39 | 0:51:27 |
| 7 | 1146 | | Chiaki Ota | 18 to 39 | 0:52:04 |
| 8 | 1179 | | Elena Maria Swartz | 18 to 39 | 0:53:31 |
| 9 | 1144 | | Emeline Claire Suzanne Tacheau | 18 to 39 | 0:54:48 |
| 10 | 437 | | Vivian Hilde Opsvik | 40 and above | 0:55:04 |
| 11 | 688 | | Radha Verma | 18 to 39 | 0:55:41 |
| 12 | 492 | | Pauline Delaporte | 18 to 39 | 0:59:37 |
| 13 | 1170 | | Julie Caldairou | 18 to 39 | 0:59:41 |
| 14 | 1176 | | Valentine Levy | 18 to 39 | 0:59:43 |
| 15 | 481 | | Kay Standing | 40 and above | 1:01:22 |
| 16 | 582 | | Maureen F Park | 40 and above | 1:04:12 |
| 17 | 622 | | Eleanor Bainbridge | 18 to 39 | 1:08:48 |
| 18 | 931 | | Saloni Sethia | 18 to 39 | 1:08:49 |
| 19 | 1087 | | Anne Aimée Lancelot | 40 and above | 1:11:36 |
| 20 | 1108 | | Roshni Rayamajhi | 18 to 39 | 1:13:23 |
| 21 | 307 | | Kunsel Bettler | 11 and below | 1:15:17 |
| 22 | 341 | | Leah Beckett | 11 and below | 1:16:03 |
| 23 | 544 | | Durga Kumari Lohar | 18 to 39 | 1:24:32 |
| 24 | 1172 | | Sabita Thapa | 40 and above | 1:25:13 |
| 25 | 1174 | | Babita Thapa | 40 and above | 1:25:23 |
| 26 | 1130 | | Corona Ranjit | 40 and above | 1:27:13 |
| 27 | 123 | | Marie Stissing Jensen | 18 to 39 | 1:37:46 |
| 28 | 162 | | Freja Edwards | 11 and below | 1:44:45 |
3K
Male
11 and below
| | | | | | |
| --- | --- | --- | --- | --- | --- |
| 1 | 1062 | | Daniel Trapman | 11 and below | 0:17:38 |
| 2 | 592 | | Stawan Marasini | 11 and below | 0:18:26 |
| 3 | 1185 | | Woody | 11 and below | 0:21:49 |
| 4 | 750 | | Munna Grimminck | 11 and below | 0:21:53 |
| 5 | 526 | | Noa Castro-Wooldridge | 11 and below | 0:22:14 |
| 6 | 1151 | | Mohammad Aliyan Hussain | 11 and below | 0:22:54 |
| 7 | 494 | | Nirvana Maharjan | 11 and below | 0:22:57 |
| 8 | 1187 | | Daniel Alexander Van Ooij | 11 and below | 0:24:23 |
| 9 | 876 | | Nijal Jay Shrestha | 11 and below | 0:28:28 |
| 10 | 1020 | | Jeremy Callanan | 11 and below | 0:28:30 |
| 11 | 358 | | Soren Graif | 11 and below | 0:29:00 |
| 12 | 1139 | | Hardik Maharjan | 11 and below | 0:31:32 |
| 13 | 624 | | Rasan Awale | 11 and below | 0:31:39 |
| 14 | 607 | | Shreyash Kumar Shrestha | 11 and below | 0:31:57 |
| 15 | 751 | | Pelle Grimminck | 11 and below | 0:35:42 |
18 to 39
| | | | | | |
| --- | --- | --- | --- | --- | --- |
| 1 | 1168 | | Richard Marshall Craig | 18 to 39 | 0:33:36 |
| 2 | 1099 | | Mohammad Harun Or Rashid | 18 to 39 | 0:33:48 |
40 and above
| | | | | | |
| --- | --- | --- | --- | --- | --- |
| 1 | 1191 | | Frank | 40 and above | 0:22:13 |
| 2 | 1186 | | Pepijn Trapman | 40 and above | 0:22:51 |
| 3 | 1154 | | Khalid Hussain | 40 and above | 0:23:51 |
| | | | | | |
| --- | --- | --- | --- | --- | --- |
| 1 | 1062 | | Daniel Trapman | 11 and below | 0:17:38 |
| 2 | 592 | | Stawan Marasini | 11 and below | 0:18:26 |
| 3 | 1185 | | Woody | 11 and below | 0:21:49 |
| 4 | 750 | | Munna Grimminck | 11 and below | 0:21:53 |
| 5 | 1191 | | Frank | 40 and above | 0:22:13 |
| 6 | 526 | | Noa Castro-Wooldridge | 11 and below | 0:22:14 |
| 7 | 1186 | | Pepijn Trapman | 40 and above | 0:22:51 |
| 8 | 1151 | | Mohammad Aliyan Hussain | 11 and below | 0:22:54 |
| 9 | 494 | | Nirvana Maharjan | 11 and below | 0:22:57 |
| 10 | 1154 | | Khalid Hussain | 40 and above | 0:23:51 |
| 11 | 1187 | | Daniel Alexander Van Ooij | 11 and below | 0:24:23 |
| 12 | 876 | | Nijal Jay Shrestha | 11 and below | 0:28:28 |
| 13 | 1020 | | Jeremy Callanan | 11 and below | 0:28:30 |
| 14 | 358 | | Soren Graif | 11 and below | 0:29:00 |
| 15 | 1139 | | Hardik Maharjan | 11 and below | 0:31:32 |
| 16 | 624 | | Rasan Awale | 11 and below | 0:31:39 |
| 17 | 607 | | Shreyash Kumar Shrestha | 11 and below | 0:31:57 |
| 18 | 1168 | | Richard Marshall Craig | 18 to 39 | 0:33:36 |
| 19 | 1099 | | Mohammad Harun Or Rashid | 18 to 39 | 0:33:48 |
| 20 | 751 | | Pelle Grimminck | 11 and below | 0:35:42 |
Female
11 and below
| | | | | | |
| --- | --- | --- | --- | --- | --- |
| 1 | 1063 | | Naomi Trapman | 11 and below | 0:22:45 |
| 2 | 528 | | Paloma Castro-Wooldridge | 11 and below | 0:23:29 |
| 3 | 1152 | | Gohar Fatima | 11 and below | 0:24:17 |
| 4 | 1169 | | Lily Florence Craig | 11 and below | 0:33:32 |
| 5 | 1101 | | Wafia Rashid | 11 and below | 0:33:45 |
| 6 | 842 | | Swikriti Karmacharya | 11 and below | 0:35:02 |
12 to 17
| | | | | | |
| --- | --- | --- | --- | --- | --- |
| 1 | 1138 | | Diwa Shree Maharjan | 12 to 17 | 0:29:29 |
18 to 39
| | | | | | |
| --- | --- | --- | --- | --- | --- |
| 1 | 1190 | | Mami Kyo | 18 to 39 | 0:30:06 |
| 2 | 1100 | | Mariam Jamila | 18 to 39 | 0:33:51 |
| 3 | 848 | | Shreejana Maharjan | 18 to 39 | 0:34:00 |
| 4 | 721 | | Hedda Steenhauer | 18 to 39 | 0:35:52 |
40 and above
| | | | | | |
| --- | --- | --- | --- | --- | --- |
| 1 | 1188 | | Simone Alexander | 40 and above | 0:35:18 |
| 2 | 1069 | | Samantha Megan Cocco-Klein | 40 and above | 0:35:25 |
| | | | | | |
| --- | --- | --- | --- | --- | --- |
| 1 | 1063 | | Naomi Trapman | 11 and below | 0:22:45 |
| 2 | 528 | | Paloma Castro-Wooldridge | 11 and below | 0:23:29 |
| 3 | 1152 | | Gohar Fatima | 11 and below | 0:24:17 |
| 4 | 1138 | | Diwa Shree Maharjan | 12 to 17 | 0:29:29 |
| 5 | 1190 | | Mami Kyo | 18 to 39 | 0:30:06 |
| 6 | 1169 | | Lily Florence Craig | 11 and below | 0:33:32 |
| 7 | 1101 | | Wafia Rashid | 11 and below | 0:33:45 |
| 8 | 1100 | | Mariam Jamila | 18 to 39 | 0:33:51 |
| 9 | 848 | | Shreejana Maharjan | 18 to 39 | 0:34:00 |
| 10 | 842 | | Swikriti Karmacharya | 11 and below | 0:35:02 |
| 11 | 1188 | | Simone Alexander | 40 and above | 0:35:18 |
| 12 | 1069 | | Samantha Megan Cocco-Klein | 40 and above | 0:35:25 |
| 13 | 721 | | Hedda Steenhauer | 18 to 39 | 0:35:52 |
1K
Male
11 and below
| | | | | | |
| --- | --- | --- | --- | --- | --- |
| 1 | 1091 | | Kritanya Bikram Shah | 11 and below | 0:09:37 |
40 and above
| | | | | | |
| --- | --- | --- | --- | --- | --- |
| 1 | 1092 | | Dambar Jaisi | 40 and above | 0:09:42 |
| | | | | | |
| --- | --- | --- | --- | --- | --- |
| 1 | 1091 | | Kritanya Bikram Shah | 11 and below | 0:09:37 |
| 2 | 1092 | | Dambar Jaisi | 40 and above | 0:09:42 |
Female
11 and below
| | | | | | |
| --- | --- | --- | --- | --- | --- |
| 1 | 593 | | Pradakshina Marasini | 11 and below | 0:08:41 |
| 2 | 877 | | Siyah Jay Shrestha | 11 and below | 0:28:07 |
40 and above
| | | | | | |
| --- | --- | --- | --- | --- | --- |
| 1 | 1189 | | Dakshyata Shah | 40 and above | 0:09:44 |
| | | | | | |
| --- | --- | --- | --- | --- | --- |
| 1 | 593 | | Pradakshina Marasini | 11 and below | 0:08:41 |
| 2 | 1189 | | Dakshyata Shah | 40 and above | 0:09:44 |
| 3 | 877 | | Siyah Jay Shrestha | 11 and below | 0:28:07 |