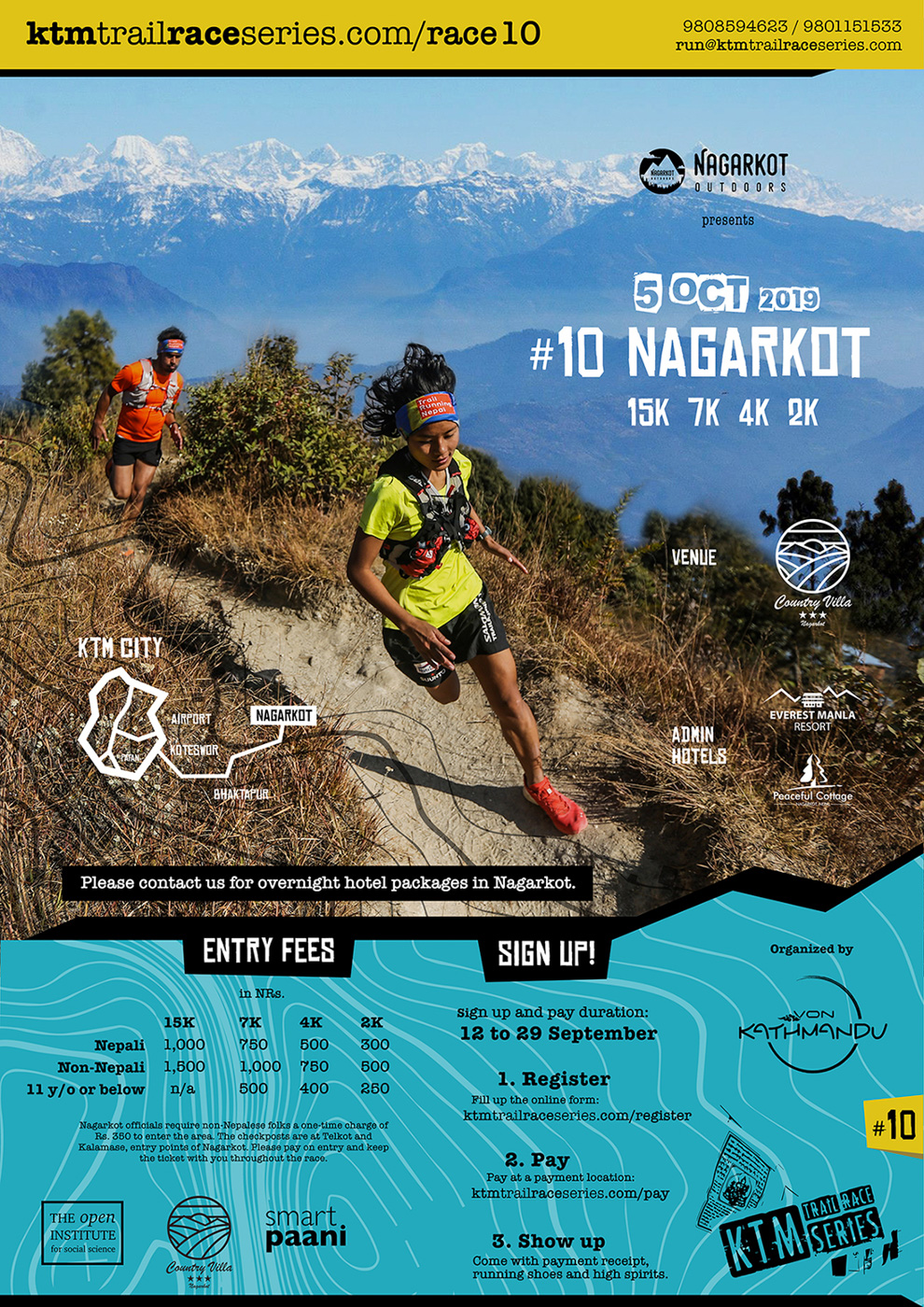 Event Date
October 5, 2019
Distances
12K, 6K and 3K
Observations, updates and note to self
Second and last distant venue for KTM Series as several complications caused by long travel times - inhumanly packed bus, nauseated kids, 4am wake up time for most, overall costs, etc.
Shuttle bus shows up one hour late for pick up. The driver overslept and we didn't confirm his whereabouts in the morning. Ultimately our logistical oversight.
Partnered with Chirayu Hospital as medic partner for KTM Series.
4K and 2K distances open for adults.
Race starts an hour early to avoid midday heat and humidity.
Start and Finish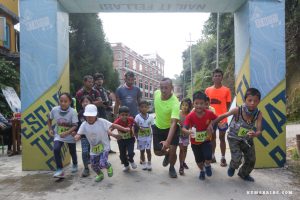 74 photos by:
Trails
85 photos by:
Finish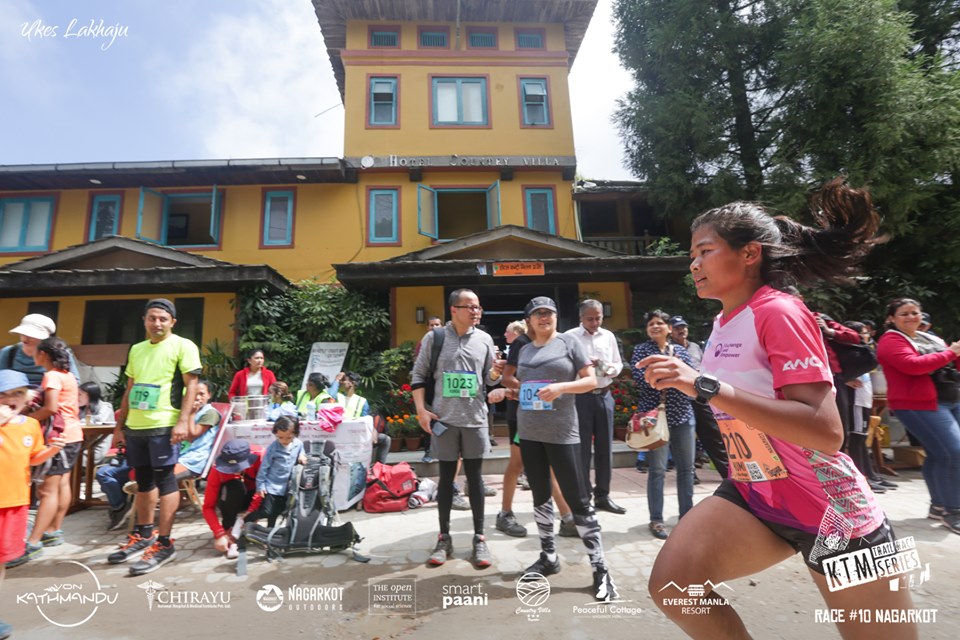 97 photos by:
| | |
| --- | --- |
| | Ukes Lakaju |
| | | | |
| --- | --- | --- | --- |
| 77 | | Nepal | |
| 13 | | United Kingdom | |
| 11 | | United States | |
| 10 | | | |
| 6 | | Netherlands | |
| 5 | | Canada | |
| 3 | | Denmark | |
| 2 | | Costa Rica | |
| | | | |
| --- | --- | --- | --- |
| 2 | | Mexico | |
| 1 | | Spain | |
| 1 | | Italy | |
| 1 | | Germany | |
| 1 | | Ecuador | |
| 1 | | Peru | |
| 1 | | Kyrgyzstan | |
| 1 | | New Zealand | |
| | | | |
| --- | --- | --- | --- |
| 1 | | Switzerland | |
| 1 | | Australia | |
| 1 | | Japan | |
| 1 | | France | |
| 1 | | Austria | |
| 1 | | India | |
15K
Male
12 to 17
| | | | | | |
| --- | --- | --- | --- | --- | --- |
| 1 | 905 | | Pasang Tamang | 12 to 17 | 1:37:03 |
| 2 | 904 | | Ram Lopchan | 12 to 17 | 1:45:54 |
| 3 | 280 | | Kushal Lamichhane | 12 to 17 | 1:56:20 |
| 4 | 651 | | Tenzin Tsering Lama | 12 to 17 | 2:05:48 |
| 5 | 1085 | | Molan | 12 to 17 | 2:08:07 |
| 6 | 1084 | | Dipesh | 12 to 17 | 2:53:14 |
18 to 39
| | | | | | |
| --- | --- | --- | --- | --- | --- |
| 1 | 292 | | Phurpa Singi Tamang | 18 to 39 | 1:21:50 |
| 2 | 291 | | Pemba Dorje Tamang | 18 to 39 | 1:21:52 |
| 3 | 288 | | Nor Lama | 18 to 39 | 1:25:12 |
| 4 | 1045 | | Pemba Tamang | 18 to 39 | 1:25:47 |
| 5 | 454 | | Giri Ram Rai | 18 to 39 | 1:25:55 |
| 6 | 874 | | Sadip Sorali Magar | 18 to 39 | 1:26:23 |
| 7 | 520 | | DorjeSyangbo | 18 to 39 | 1:29:46 |
| 8 | 157 | | Jason Finch | 18 to 39 | 1:30:33 |
| 9 | 289 | | Dorje Tamang | 18 to 39 | 1:30:37 |
| 10 | 290 | | Np Purnesh Syangbo | 18 to 39 | 1:32:59 |
| 11 | 120 | | Anupam Bista | 18 to 39 | 1:38:51 |
| 12 | 885 | | Pawan Dong | 18 to 39 | 1:39:00 |
| 13 | 433 | | Tobias Pantel | 18 to 39 | 1:47:31 |
| 14 | 1087 | | Abhishek Raj Bahak | 18 to 39 | 1:55:11 |
| 15 | 1026 | | Elder Christian Bejar | 18 to 39 | 1:56:01 |
| 16 | 1052 | | Daniel Michael Bowyer | 18 to 39 | 2:01:35 |
| 17 | 584 | | Binay Raj Dangol | 18 to 39 | 2:02:43 |
| 18 | 212 | | Rakesh Prajapati | 18 to 39 | 2:05:42 |
| 19 | 887 | | Nishan Ghale | 18 to 39 | 2:08:29 |
| 20 | 879 | | Daniel Keys | 18 to 39 | 2:14:43 |
| 21 | 124 | | Krishna Kumar Maharjan | 18 to 39 | 2:17:46 |
| 22 | 1088 | | Chris | 18 to 39 | 2:20:21 |
| 23 | 360 | | Santosh Nath Karmacharya | 18 to 39 | 2:23:38 |
| 24 | 1042 | | Sujan Shrestha | 18 to 39 | 2:25:56 |
| 25 | 1055 | | Mangal Singh Tamang | 18 to 39 | 2:28:08 |
| 26 | 192 | | Hussain Bolt Uddin | 18 to 39 | 3:03:54 |
40 and above
| | | | | | |
| --- | --- | --- | --- | --- | --- |
| 1 | 195 | | Damodar Budha Magar | 40 and above | 1:22:47 |
| 2 | 207 | | Simon Castro-Wooldridge | 40 and above | 1:24:18 |
| 3 | 338 | | Nate Boydston Park | 40 and above | 1:37:24 |
| 4 | 1068 | | Bernardo Cocco | 40 and above | 1:41:13 |
| 5 | 944 | | Birendra Raj Bajracharya | 40 and above | 1:48:51 |
| 6 | 310 | | Shant Kumar Mehta | 40 and above | 2:00:33 |
| 7 | 118 | | Diwakar Shah | 40 and above | 2:00:55 |
| 8 | 226 | | Raju Byanjankar | 40 and above | 2:01:02 |
| 9 | 1040 | | Josué Farías | 40 and above | 2:08:09 |
| 10 | 1074 | | Jaya Prakash Rai | 40 and above | 2:18:12 |
| 11 | 267 | | Jaddon Park | 40 and above | 2:20:16 |
| 12 | 131 | | Ram Gopal Awale | 40 and above | 2:20:33 |
| 13 | 1073 | | Manoj Gongajy | 40 and above | 2:34:15 |
| 14 | 222 | | Shalav Rana | 40 and above | 2:41:07 |
| 15 | 777 | | David Entwisle | 40 and above | 2:42:51 |
| 16 | 407 | | RakeshShakya | 40 and above | 3:09:40 |
| | | | | | |
| --- | --- | --- | --- | --- | --- |
| 1 | 292 | | Phurpa Singi Tamang | 18 to 39 | 1:21:50 |
| 2 | 291 | | Pemba Dorje Tamang | 18 to 39 | 1:21:52 |
| 3 | 195 | | Damodar Budha Magar | 40 and above | 1:22:47 |
| 4 | 207 | | Simon Castro-Wooldridge | 40 and above | 1:24:18 |
| 5 | 288 | | Nor Lama | 18 to 39 | 1:25:12 |
| 6 | 1045 | | Pemba Tamang | 18 to 39 | 1:25:47 |
| 7 | 454 | | Giri Ram Rai | 18 to 39 | 1:25:55 |
| 8 | 874 | | Sadip Sorali Magar | 18 to 39 | 1:26:23 |
| 9 | 520 | | DorjeSyangbo | 18 to 39 | 1:29:46 |
| 10 | 157 | | Jason Finch | 18 to 39 | 1:30:33 |
| 11 | 289 | | Dorje Tamang | 18 to 39 | 1:30:37 |
| 12 | 290 | | Np Purnesh Syangbo | 18 to 39 | 1:32:59 |
| 13 | 905 | | Pasang Tamang | 12 to 17 | 1:37:03 |
| 14 | 338 | | Nate Boydston Park | 40 and above | 1:37:24 |
| 15 | 120 | | Anupam Bista | 18 to 39 | 1:38:51 |
| 16 | 885 | | Pawan Dong | 18 to 39 | 1:39:00 |
| 17 | 1068 | | Bernardo Cocco | 40 and above | 1:41:13 |
| 18 | 904 | | Ram Lopchan | 12 to 17 | 1:45:54 |
| 19 | 433 | | Tobias Pantel | 18 to 39 | 1:47:31 |
| 20 | 944 | | Birendra Raj Bajracharya | 40 and above | 1:48:51 |
| 21 | 1087 | | Abhishek Raj Bahak | 18 to 39 | 1:55:11 |
| 22 | 1026 | | Elder Christian Bejar | 18 to 39 | 1:56:01 |
| 23 | 280 | | Kushal Lamichhane | 12 to 17 | 1:56:20 |
| 24 | 310 | | Shant Kumar Mehta | 40 and above | 2:00:33 |
| 25 | 118 | | Diwakar Shah | 40 and above | 2:00:55 |
| 26 | 226 | | Raju Byanjankar | 40 and above | 2:01:02 |
| 27 | 1052 | | Daniel Michael Bowyer | 18 to 39 | 2:01:35 |
| 28 | 584 | | Binay Raj Dangol | 18 to 39 | 2:02:43 |
| 29 | 212 | | Rakesh Prajapati | 18 to 39 | 2:05:42 |
| 30 | 651 | | Tenzin Tsering Lama | 12 to 17 | 2:05:48 |
| 31 | 1085 | | Molan | 12 to 17 | 2:08:07 |
| 32 | 1040 | | Josué Farías | 40 and above | 2:08:09 |
| 33 | 887 | | Nishan Ghale | 18 to 39 | 2:08:29 |
| 34 | 879 | | Daniel Keys | 18 to 39 | 2:14:43 |
| 35 | 124 | | Krishna Kumar Maharjan | 18 to 39 | 2:17:46 |
| 36 | 1074 | | Jaya Prakash Rai | 40 and above | 2:18:12 |
| 37 | 267 | | Jaddon Park | 40 and above | 2:20:16 |
| 38 | 1088 | | Chris | 18 to 39 | 2:20:21 |
| 39 | 131 | | Ram Gopal Awale | 40 and above | 2:20:33 |
| 40 | 360 | | Santosh Nath Karmacharya | 18 to 39 | 2:23:38 |
| 41 | 1042 | | Sujan Shrestha | 18 to 39 | 2:25:56 |
| 42 | 1055 | | Mangal Singh Tamang | 18 to 39 | 2:28:08 |
| 43 | 1073 | | Manoj Gongajy | 40 and above | 2:34:15 |
| 44 | 222 | | Shalav Rana | 40 and above | 2:41:07 |
| 45 | 777 | | David Entwisle | 40 and above | 2:42:51 |
| 46 | 1084 | | Dipesh | 12 to 17 | 2:53:14 |
| 47 | 192 | | Hussain Bolt Uddin | 18 to 39 | 3:03:54 |
| 48 | 407 | | RakeshShakya | 40 and above | 3:09:40 |
Female
18 to 39
| | | | | | |
| --- | --- | --- | --- | --- | --- |
| 1 | 210 | | Humi Budha Magar | 18 to 39 | 1:33:25 |
| 2 | 1039 | | Clara Ruiz | 18 to 39 | 1:34:59 |
| 3 | 1093 | | Nita | 18 to 39 | 1:47:35 |
| 4 | 146 | | Amanda Claire Hemelik | 18 to 39 | 2:01:23 |
| 5 | 1030 | | Madison Wrobley | 18 to 39 | 2:06:46 |
| 6 | 1086 | | Clairie | 18 to 39 | 2:17:04 |
| 7 | 793 | | Alexandra Wrigley | 18 to 39 | 2:19:57 |
| 8 | 138 | | Nari Blackett | 18 to 39 | 2:21:07 |
| 9 | 196 | | Neeta Lama | 18 to 39 | 2:22:24 |
| 10 | 1082 | | Podocea Cristina | 18 to 39 | 2:22:47 |
| 11 | 1038 | | Danielle Aron | 18 to 39 | 2:25:02 |
| 12 | 799 | | Kunsang Choedon Lama | 18 to 39 | 2:52:21 |
40 and above
| | | | | | |
| --- | --- | --- | --- | --- | --- |
| 1 | 485 | | Charu Arjyal | 40 and above | 2:16:42 |
| 2 | 122 | | Stine Heiselberg | 40 and above | 2:16:47 |
| 3 | 907 | | Tomomi Takei | 40 and above | 2:40:23 |
| | | | | | |
| --- | --- | --- | --- | --- | --- |
| 1 | 210 | | Humi Budha Magar | 18 to 39 | 1:33:25 |
| 2 | 1039 | | Clara Ruiz | 18 to 39 | 1:34:59 |
| 3 | 1093 | | Nita | 18 to 39 | 1:47:35 |
| 4 | 146 | | Amanda Claire Hemelik | 18 to 39 | 2:01:23 |
| 5 | 1030 | | Madison Wrobley | 18 to 39 | 2:06:46 |
| 6 | 485 | | Charu Arjyal | 40 and above | 2:16:42 |
| 7 | 122 | | Stine Heiselberg | 40 and above | 2:16:47 |
| 8 | 1086 | | Clairie | 18 to 39 | 2:17:04 |
| 9 | 793 | | Alexandra Wrigley | 18 to 39 | 2:19:57 |
| 10 | 138 | | Nari Blackett | 18 to 39 | 2:21:07 |
| 11 | 196 | | Neeta Lama | 18 to 39 | 2:22:24 |
| 12 | 1082 | | Podocea Cristina | 18 to 39 | 2:22:47 |
| 13 | 1038 | | Danielle Aron | 18 to 39 | 2:25:02 |
| 14 | 907 | | Tomomi Takei | 40 and above | 2:40:23 |
| 15 | 799 | | Kunsang Choedon Lama | 18 to 39 | 2:52:21 |
7K
Male
11 and below
| | | | | | |
| --- | --- | --- | --- | --- | --- |
| 1 | 671 | | Tsering Furba Lama | 11 and below | 1:10:55 |
| 2 | 1062 | | Daniel Trapman | 11 and below | 1:13:28 |
| 3 | 518 | | Colin William Park | 11 and below | 1:13:42 |
| 4 | 824 | | Daniel Alexander Van Ooij | 11 and below | 1:23:07 |
| 5 | 519 | | Rory John Park | 11 and below | 1:25:03 |
| 6 | 163 | | Oskar Edwards | 11 and below | 1:28:22 |
| 7 | 1078 | | Thomas O'Neill Guerra | 11 and below | 1:47:46 |
| 8 | 333 | | William Brown Spencer | 11 and below | 2:24:07 |
12 to 17
| | | | | | |
| --- | --- | --- | --- | --- | --- |
| 1 | 440 | | Sujal Kumar Mehta | 12 to 17 | 1:01:40 |
| 2 | 654 | | Rinzin Khedup Gurung | 12 to 17 | 1:02:48 |
| 3 | 670 | | Kunchok Dhondup Gurung | 12 to 17 | 1:10:14 |
| 4 | 648 | | Pasang Tenzin Gurung | 12 to 17 | 1:10:17 |
| 5 | 1070 | | Gabe Cocco | 12 to 17 | 1:22:53 |
| 6 | 1089 | | Arjyan | 12 to 17 | 2:19:00 |
18 to 39
| | | | | | |
| --- | --- | --- | --- | --- | --- |
| 1 | 119 | | Manish Jung Thapa | 18 to 39 | 0:57:23 |
| 2 | 1049 | | Jean-Christophe Cugny | 18 to 39 | 0:58:02 |
| 3 | 1056 | | Shyam Chandra Budhathoki | 18 to 39 | 0:58:07 |
| 4 | 728 | | Niranjan Kunwar | 18 to 39 | 1:04:56 |
| 5 | 1053 | | Rahul Shahi | 18 to 39 | 1:07:54 |
| 6 | 1059 | | Urgyen Shakya | 18 to 39 | 1:15:04 |
| 7 | 1036 | | Manish Maharjan | 18 to 39 | 1:22:19 |
| 8 | 946 | | Md Saddam | 18 to 39 | 1:23:59 |
| 9 | 265 | | Santosh K.C. | 18 to 39 | 1:25:41 |
| 10 | 1079 | | Francisco Javier Herrera Solis | 18 to 39 | 1:28:01 |
| 11 | 1058 | | Prashan Shrestha | 18 to 39 | 1:28:26 |
40 and above
| | | | | | |
| --- | --- | --- | --- | --- | --- |
| 1 | 108 | | Alistair Turkington | 40 and above | 1:00:54 |
| 2 | 881 | | Raj Gyawali | 40 and above | 1:05:20 |
| 3 | 1032 | | Peterson Dangol | 40 and above | 1:06:09 |
| 4 | 1054 | | Mark Richard Waltham | 40 and above | 1:10:00 |
| 5 | 1023 | | Kunda Bikram Shah | 40 and above | 1:11:13 |
| 6 | 1025 | | Milan Gurung | 40 and above | 1:21:00 |
| 7 | 1075 | | Jim O'Neill | 40 and above | 2:01:57 |
| | | | | | |
| --- | --- | --- | --- | --- | --- |
| 1 | 119 | | Manish Jung Thapa | 18 to 39 | 0:57:23 |
| 2 | 1049 | | Jean-Christophe Cugny | 18 to 39 | 0:58:02 |
| 3 | 1056 | | Shyam Chandra Budhathoki | 18 to 39 | 0:58:07 |
| 4 | 108 | | Alistair Turkington | 40 and above | 1:00:54 |
| 5 | 440 | | Sujal Kumar Mehta | 12 to 17 | 1:01:40 |
| 6 | 654 | | Rinzin Khedup Gurung | 12 to 17 | 1:02:48 |
| 7 | 728 | | Niranjan Kunwar | 18 to 39 | 1:04:56 |
| 8 | 881 | | Raj Gyawali | 40 and above | 1:05:20 |
| 9 | 1032 | | Peterson Dangol | 40 and above | 1:06:09 |
| 10 | 1053 | | Rahul Shahi | 18 to 39 | 1:07:54 |
| 11 | 1054 | | Mark Richard Waltham | 40 and above | 1:10:00 |
| 12 | 670 | | Kunchok Dhondup Gurung | 12 to 17 | 1:10:14 |
| 13 | 648 | | Pasang Tenzin Gurung | 12 to 17 | 1:10:17 |
| 14 | 671 | | Tsering Furba Lama | 11 and below | 1:10:55 |
| 15 | 1023 | | Kunda Bikram Shah | 40 and above | 1:11:13 |
| 16 | 1062 | | Daniel Trapman | 11 and below | 1:13:28 |
| 17 | 518 | | Colin William Park | 11 and below | 1:13:42 |
| 18 | 1059 | | Urgyen Shakya | 18 to 39 | 1:15:04 |
| 19 | 1025 | | Milan Gurung | 40 and above | 1:21:00 |
| 20 | 1036 | | Manish Maharjan | 18 to 39 | 1:22:19 |
| 21 | 1070 | | Gabe Cocco | 12 to 17 | 1:22:53 |
| 22 | 824 | | Daniel Alexander Van Ooij | 11 and below | 1:23:07 |
| 23 | 946 | | Md Saddam | 18 to 39 | 1:23:59 |
| 24 | 519 | | Rory John Park | 11 and below | 1:25:03 |
| 25 | 265 | | Santosh K.C. | 18 to 39 | 1:25:41 |
| 26 | 1079 | | Francisco Javier Herrera Solis | 18 to 39 | 1:28:01 |
| 27 | 163 | | Oskar Edwards | 11 and below | 1:28:22 |
| 28 | 1058 | | Prashan Shrestha | 18 to 39 | 1:28:26 |
| 29 | 1078 | | Thomas O'Neill Guerra | 11 and below | 1:47:46 |
| 30 | 1075 | | Jim O'Neill | 40 and above | 2:01:57 |
| 31 | 1089 | | Arjyan | 12 to 17 | 2:19:00 |
| 32 | 333 | | William Brown Spencer | 11 and below | 2:24:07 |
Female
11 and below
| | | | | | |
| --- | --- | --- | --- | --- | --- |
| 1 | 522 | | Salina Tamang | 11 and below | 0:59:35 |
| 2 | 882 | | Tara Sinsoke Gyawali | 11 and below | 2:01:45 |
| 3 | 1063 | | Naomi Trapman | 11 and below | 2:01:49 |
| 4 | 162 | | Freja Edwards | 11 and below | 2:13:33 |
| 5 | 334 | | Adeline Lasell Spencer | 11 and below | 2:23:31 |
12 to 17
| | | | | | |
| --- | --- | --- | --- | --- | --- |
| 1 | 1081 | | Amber Darrick | 12 to 17 | 1:09:02 |
| 2 | 666 | | Chemi Lhanze Gurung | 12 to 17 | 1:23:37 |
| 3 | 312 | | Prerana Mehta | 12 to 17 | 1:30:43 |
| 4 | 662 | | Yeshi Tsomo Gurung | 12 to 17 | 1:32:36 |
| 5 | 864 | | Dipaashna Gurung | 12 to 17 | 1:44:33 |
| 6 | 1077 | | Emily O'Neill Guerra | 12 to 17 | 2:01:43 |
| 7 | 657 | | Lhamo Gurung | 12 to 17 | 2:05:07 |
| 8 | 656 | | Tenzin Tashi Lama | 12 to 17 | 2:05:10 |
| 9 | 802 | | Dorjee Khando Gurung | 12 to 17 | 2:05:18 |
| 10 | 1071 | | Sara Cocco | 12 to 17 | 2:12:09 |
18 to 39
| | | | | | |
| --- | --- | --- | --- | --- | --- |
| 1 | 1067 | | Frederique Lang | 18 to 39 | 0:55:47 |
| 2 | 1027 | | Isobel Robertson | 18 to 39 | 0:55:48 |
| 3 | 919 | | Crishpa Budha Magar | 18 to 39 | 1:02:08 |
| 4 | 264 | | Linda Ris | 18 to 39 | 1:16:24 |
| 5 | 125 | | Freya Perry | 18 to 39 | 1:25:12 |
| 6 | 311 | | Mamta Mehta | 18 to 39 | 1:25:58 |
| 7 | 1080 | | Tenzin Tseyang | 18 to 39 | 2:05:04 |
| 8 | 1061 | | Zarina Trapman | 18 to 39 | 2:08:31 |
| 9 | 1083 | | Marie Jensen | 18 to 39 | 2:13:44 |
40 and above
| | | | | | |
| --- | --- | --- | --- | --- | --- |
| 1 | 582 | | Maureen F Park | 40 and above | 1:08:03 |
| 2 | 883 | | Birgit Lienhart-Gyawali | 40 and above | 1:12:13 |
| 3 | 733 | | Simone Alexander | 40 and above | 1:23:34 |
| 4 | 202 | | Luna Ranjit | 40 and above | 1:40:28 |
| 5 | 474 | | Mamta Gurung | 40 and above | 1:44:30 |
| 6 | 863 | | Dipshikha Thapa Gurung | 40 and above | 1:46:18 |
| 7 | 1076 | | Silvia Guerra | 40 and above | 1:47:48 |
| 8 | 1069 | | Samantha Megan Cocco-Klein | 40 and above | 2:14:46 |
| 9 | 1092 | | Jenn | 40 and above | 2:24:11 |
| | | | | | |
| --- | --- | --- | --- | --- | --- |
| 1 | 1067 | | Frederique Lang | 18 to 39 | 0:55:47 |
| 2 | 1027 | | Isobel Robertson | 18 to 39 | 0:55:48 |
| 3 | 522 | | Salina Tamang | 11 and below | 0:59:35 |
| 4 | 919 | | Crishpa Budha Magar | 18 to 39 | 1:02:08 |
| 5 | 582 | | Maureen F Park | 40 and above | 1:08:03 |
| 6 | 1081 | | Amber Darrick | 12 to 17 | 1:09:02 |
| 7 | 883 | | Birgit Lienhart-Gyawali | 40 and above | 1:12:13 |
| 8 | 264 | | Linda Ris | 18 to 39 | 1:16:24 |
| 9 | 733 | | Simone Alexander | 40 and above | 1:23:34 |
| 10 | 666 | | Chemi Lhanze Gurung | 12 to 17 | 1:23:37 |
| 11 | 125 | | Freya Perry | 18 to 39 | 1:25:12 |
| 12 | 311 | | Mamta Mehta | 18 to 39 | 1:25:58 |
| 13 | 312 | | Prerana Mehta | 12 to 17 | 1:30:43 |
| 14 | 662 | | Yeshi Tsomo Gurung | 12 to 17 | 1:32:36 |
| 15 | 202 | | Luna Ranjit | 40 and above | 1:40:28 |
| 16 | 474 | | Mamta Gurung | 40 and above | 1:44:30 |
| 17 | 864 | | Dipaashna Gurung | 12 to 17 | 1:44:33 |
| 18 | 863 | | Dipshikha Thapa Gurung | 40 and above | 1:46:18 |
| 19 | 1076 | | Silvia Guerra | 40 and above | 1:47:48 |
| 20 | 1077 | | Emily O'Neill Guerra | 12 to 17 | 2:01:43 |
| 21 | 882 | | Tara Sinsoke Gyawali | 11 and below | 2:01:45 |
| 22 | 1063 | | Naomi Trapman | 11 and below | 2:01:49 |
| 23 | 1080 | | Tenzin Tseyang | 18 to 39 | 2:05:04 |
| 24 | 657 | | Lhamo Gurung | 12 to 17 | 2:05:07 |
| 25 | 656 | | Tenzin Tashi Lama | 12 to 17 | 2:05:10 |
| 26 | 802 | | Dorjee Khando Gurung | 12 to 17 | 2:05:18 |
| 27 | 1061 | | Zarina Trapman | 18 to 39 | 2:08:31 |
| 28 | 1071 | | Sara Cocco | 12 to 17 | 2:12:09 |
| 29 | 162 | | Freja Edwards | 11 and below | 2:13:33 |
| 30 | 1083 | | Marie Jensen | 18 to 39 | 2:13:44 |
| 31 | 1069 | | Samantha Megan Cocco-Klein | 40 and above | 2:14:46 |
| 32 | 334 | | Adeline Lasell Spencer | 11 and below | 2:23:31 |
| 33 | 1092 | | Jenn | 40 and above | 2:24:11 |
4K
Male
11 and below
| | | | | | |
| --- | --- | --- | --- | --- | --- |
| 1 | 750 | | Munna Grimminck | 11 and below | 0:38:45 |
| 2 | 624 | | Rasan Awale | 11 and below | 0:43:49 |
| 3 | 607 | | Shreyash Kumar Shrestha | 11 and below | 0:45:33 |
| 4 | 526 | | Noa Castro-Wooldridge | 11 and below | 0:45:41 |
| 5 | 751 | | Pelle Grimminck | 11 and below | 1:06:19 |
18 to 39
| | | | | | |
| --- | --- | --- | --- | --- | --- |
| 1 | 909 | | Sanan Rana | 18 to 39 | 0:23:51 |
| | | | | | |
| --- | --- | --- | --- | --- | --- |
| 1 | 909 | | Sanan Rana | 18 to 39 | 0:23:51 |
| 2 | 750 | | Munna Grimminck | 11 and below | 0:38:45 |
| 3 | 624 | | Rasan Awale | 11 and below | 0:43:49 |
| 4 | 607 | | Shreyash Kumar Shrestha | 11 and below | 0:45:33 |
| 5 | 526 | | Noa Castro-Wooldridge | 11 and below | 0:45:41 |
| 6 | 751 | | Pelle Grimminck | 11 and below | 1:06:19 |
Female
11 and below
| | | | | | |
| --- | --- | --- | --- | --- | --- |
| 1 | 528 | | Paloma Castro-Wooldridge | 11 and below | 0:54:11 |
| 2 | 997 | | Una Park | 11 and below | 0:54:13 |
| 3 | 717 | | Ivy Irma Malcolm | 11 and below | 1:05:24 |
| 4 | 633 | | Yugie K Khadka | 11 and below | 1:22:07 |
18 to 39
| | | | | | |
| --- | --- | --- | --- | --- | --- |
| 1 | 865 | | Meeta Suwal | 18 to 39 | 0:53:09 |
| 2 | 1064 | | Alison Malcolm | 18 to 39 | 1:05:31 |
| 3 | 321 | | Rashmi Kc | 18 to 39 | 1:22:11 |
40 and above
| | | | | | |
| --- | --- | --- | --- | --- | --- |
| 1 | 1041 | | Dakshata Rana Shah | 40 and above | 0:50:53 |